---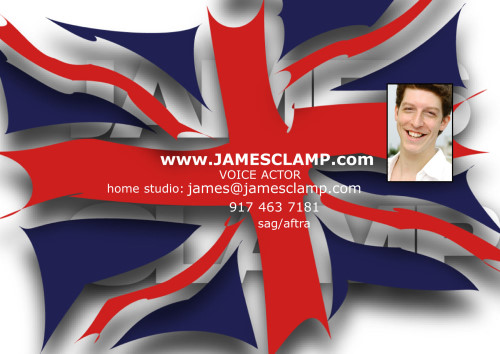 James Clamp promotes his "Brit in the U.S." niche brand with this post card to voice-over clients.
VO Interview
James Clamp: A Young Brit Rides
The VO Fast Track in New York City
By John Florian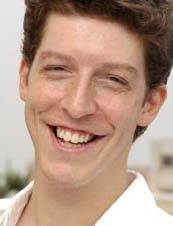 What began as a few notes for a Home Studio Tour article at VoiceOverXtra.com has blossomed into a jolly good chat with a rising star on New York City's voice-over skyline.
James Clamp – a young British voice talent with a carriage-full of accents and indeed, a home studio – is a model of success in the fast lane.
Yet all the while he retains an endearing humility and wit.
Consider the past three years as Act One in James's career script. Listen to a couple of his demos, and a vision forms in your mind of a young Hugh Grant.
Better yet, watch Mayor Poppins, a humorous video prepared for a birthday bash for New York City Mayor Michael Bloomberg. James got the narrator gig for this video when – but wait, let's let the story unfold for itself in this VoiceOverXtra VO Interview …
VOXtra:
James, you're on a fast track in voice-overs. How did it begin?
Well, back in September 2005 whilst dutifully waiting tables in New York, another server told me that, no matter what, I should be taking lessons with Marla Kirban, a great VO coach.
So I met with Marla the next day and immediately signed up to her regular private VO classes - which continue to this day. She quickly became a friend and mentor.
We produced a demo in January 2006 and by March, I had signed with the commercial department at Don Buchwald & Associates (DBA), New York.
That revelation from a co-worker about your voice talent just came out of the blue?
Oh no. I remember from a very early age back in the U.K. that if you misbehaved in school, you were made to miss "games," which were always outside in a field somewhere. Instead, you were forced to stay in the classroom with a teacher and read out loud from the reading class books.
Unfortunately, I misbehaved a lot and what transpired was that every time we had an actual reading class I was always four books ahead of everyone else. And my diction, grammar and vocabulary was therefore substantially better than most.
Fortunately, I was never told to wait for the others and I just kept on reading out loud until I changed schools at 13.
My soccer skills could be better, but now I have a real career that I love.
Early lessons pay off.
Yes, and I've noticed this with music too.
I play the piano – socially, not professionally - and have many friends who do so, as well. I find there's a very clear difference between those who counted aloud - the beats in a bar - in their first few years of learning to play, and those who didn't.
The ones who did are now blessed with good rhythm and can keep time accurately, while those who didn't are usually all over the place. I won't say to which group I belong.
Getting back to your start in voice-overs, it took just three months to get an agent? How did you get one so fast?
Marla Kirban. She advised me how to target five agents that didn't have a voice like mine on their roster. I picked, I wrote, I sent my demo and I waited.
Within two weeks, CESD granted me an interview and Paradigm wanted to start flirting. By the beginning of March 2006, Abrams and Atlas hadn't replied and Buchwald just wanted to sign.
Then how long was it until you landed jobs?
March 2nd - my brother Andrew's birthday and the day I signed with Buchwald. It was a promo for the History Channel - now my longest standing account.
Since then I've done radio and TV commercials for, amongst others, Land Rover, British Airways, Coca-Cola, Motorola and Gwen Stefani. Also, TV political ads, English-language DVDs and ESL courses for companies including Hooked on Phonics.
And there have been Internet marketing and training videos for Fortune 500 companies, and TV promos for AETN International and the History and Biography channels.
I also did a Random House audiobook, Waves, by Sharon Dogar, which got me good professional reviews.
I never imagined how fun and enjoyable this industry could be, and by October 2007, I had installed a home studio and finally resigned from the restaurant.
And now that you're full time in voice acting …

Fortunately, 2008 started well with bookings.
I'm flirting with two additional agencies on the West Coast –
VOX
in LA, and
In Both Ears
in Portland, which deals with the Pacific Northwest.

A radio spot for Honda was my first audition and booking for VOX. It was a spoof of American Idol and we had a barrel of laughs trying to get Simon Cowell's arrogance, cockiness and downright rudeness to shine through in my voice. Actually, I'm surprised how easily it came to me!

This year I've also done a TV VO commercial for TRESemme, running now in the U.K.; a promo with multiple tag lines for MTV's new show, Rock the Cradle, airing in the U.S.; my two Coca-Cola TV commercials are still running in the U.S. either side of the Charlie Rose show on PBS; a corporate video for Absolut in Europe – and lots more.

Aside from all that, a short-term goal is to start up a series of VO podcasts and webinars.
We'd love to hear more about the Mayor Poppins video. How did that job come about?

It was a surprise video for the Mayor's birthday party in April 2007. Around that time, people were starting to talk about Michael Bloomberg running for president.

The job came to me thanks to the Harry Potter spot on my demo. And I got it through one of the agents who concentrates on political promos at DBA.

It was a last-minute thing that had to be composed, filmed and edited within a weekend. The idea was to do a young pseudo Dick Van Dyke narration voice, and we all had a great time recording it.
It's turned into a nice little account for me, too, with additional spots for Bloomberg.
And now for your home studio. Earlier you shared with me a list of your equipment (below). Can you tell us how these selections are working out for you?
Dell Inspiron laptop
Adobe Audition recording/editing software
AT4040 mic, gooseneck pop filter and music stand
M-Audio Fast Track Pro interface
True Systems P-Solo pre-amp
That-1 phone patch
Audio Technica M40fs headphones
Sony external DVD/CD rewritable drive
Maxtor 750GB external hard drive
two Alessis 120w monitors
The equipment decisions for the studio were based on a class taken with Bryant Falk at Abacus Audio, who had recorded my initial demo.
I'm currently preparing to change from the Dell laptop to the Mac platform this summer when I'll buy an iMac. It's just far more stable.
The AT4040 mic is perfect for giving any voice a rich, smooth feel, and the True Systems P-Solo pre-amp simply takes a good microphone and makes it great.
In addition, I read an article by the VO great
Bobbin Beam
about building a professional isolation booth according to designs purchased from
Dawbox
- the cost of construction is in the region of $800.
So feeling somewhat handy one rainy weekend in February and with the wife and child in the mood to wield hammers, we built an isolation booth 5-ft. by 4-ft. by 7-ft. high, which can accommodate two people comfortably.

This new booth helps my work enormously – allowing me to actually work at any time on any day, even if my little 22-month-old son is screaming in the background, which he does frequently – clearly his mother's son.

And in terms of sound, it's super. I get a wonderfully quiet room tone. There's no echo, and it's very clear. It keeps the sound waves wonderfully in line.

I have it set up with a TV monitor inside, and a wireless mouse and keyboard. That way I can concentrate on recording in the booth undisturbed, rather than exiting and re-entering to edit or start another take.
All in, I've spent around $2,000 on the studio.
Marketing. Let's move to that.
I'm really trying to get the hang of marketing, and for me, a Brit in the U.S., I think a brand logo in a niche market is the way forward, which is what I have and continue to try to develop.
My goal is to be the go-to British voice over here. And so my marketing efforts – and staying on top of networking – are all done with that in mind.
I've started reading various marketing books. The Trump University ones are very insightful and really to the point.
What else are you doing off-mic?
I continue to study commercial and promo VO at Marla Kirban Voiceovers. It's amazing how much you learn every time you go to class – even if it's just remembering all the old lessons.
Also, I practice the exercises in
James Alburger
's
book,
The Art of Voice Acting
. That is my bible. I read and re-read that whenever I have a few moments to spare. Visitors to my house never fail to be amused/scared as I answer the door, wine cork held firmly in my teeth, lisping through crazy passages from Dr Seuss books.
Otherwise, I trawl the Internet and look for articles and newsletters and web sites that can help me in becoming better at VO, and in understanding the industry.
Yes, maybe I'm obsessed and a workaholic and genuinely in love with what I do – either way, don't tell the wife and child.
OK. That'll be our secret. Speaking of secrets, as a parting shot here, what else can you tell us about succeeding in voice-overs?
Get training and keep at it. That's essential.
And get a strong support team together. Marla Kirban has really guided me from the moment I met her. With her expert ear and brutal honesty, she encourages and motivates me to reach for the skies. I make sure to see her at least twice a month.
Two others have and continue to help me a great deal – Bryant Falk, a brilliant sound engineer with all the answers and David Lyerly, a new teacher with Marla, who I also study with once every two weeks. David is clear, concise, gets his message out and understood, and he opens up my eyes every time we meet.
Well, I think you've opened up eyes here, too, James. Thank you, and best wishes for continued success.
To contact James Clamp: