---
VOICE OVER INDUSTRY
World-Voices.Org Is Moving Forward:
Drafting Standards For Voice Over Industry
July 14, 2012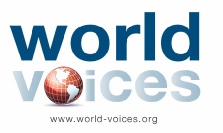 (VOXtra) -

World-Voices

- an organization aimed at setting voice over industry standards is "about to evolve out of a period of foundational development to a full-fledged active organization through membership sign-up and participation," says Executive Board member

Dave Courvoisier

.

Already posted on the organization's website (www.world-voices.org) are draft "Best Practices" guides for voice talents, producers and coaches.

"A world-class community-building and information-sharing website is all but finished," Courvoisier notes in a recent message to members.

Also a priority: a tiered membership program and an automated way to begin accepting membership.

"We want a seamless, user-friendly system that is easy to navigate and understand," Courvoisier explains. "It's not easy, and we want to get it right."

Executive Board members and officers are:

Dustin Ebaugh

, President;

Dave Courvoisie

r, Vice President;

Kat Keesling

, Secretary / Treasurer;

Dan Lenard

, Technology Review;

Chris Mezzolesta

, Membership;

Andy Bowyer

, At Large); and

Rob Sciglimpaglia

, Counsel.

For more about the organization, please visit www.world-voices.org.



Your Daily Resource For Voice-Over Success