---
Spanish Voice-Overs:
'Neutral' And
Precise
Reaches The Most Listeners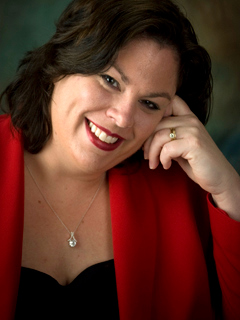 What exactly is "neutral Spanish"?
Ask 10 people and you'll probably get 10 different answers.
In my opinion, neutral Spanish is what the television news anchors speak.
Those who do it well have no discernable accent, and that is what I try to achieve when doing Spanish voice-overs.
The Spanish television anchors in the U.S. speak neutral Spanish in order to communicate with the masses. Likewise, when I'm asked
by a voice seeker what kind of Spanish I speak, I tell them that my Spanish is neutral.
I define it as Latin American Spanish, spoken specifically to be understood by as many people of Hispanic descent as possible.
To achieve this, I do not use regional words or drop the "s" - and I make sure to enunciate each word.
The reason is this: if my audience includes people from Mexico, Chile, Cuba and Tenerife, my goal is to have each one understand the message.
I don't have a country-specific accent. I learned Spanish initially while living in Spain.
I got a degree in Spanish, then worked in Puerto Rico as a news anchor for a largely bilingual audience.
While on the air, I was taught to speak deliberately and to enunciate each word.
UNIVERSAL TERMINOLOGY, TOO
One key thing to keep in mind when doing Spanish voice-overs, especially if you're the one with the task of translating the script, is to use the most universal terminology possible.
For example,

baterias

is a common way to say

batteries

in many Spanish-speaking countries, but

pilas

is more widely understood.
Similarly, the word

pantallas

is understood in Puerto Rico as

earrings

, but in most countries the words

aretes

and

pendientes

are the acceptable way to say

earrings

.
Now, if I wanted to buy a pair of earrings in Old San Juan, I'd ask the vendor how much the

pantallas

cost, and I'd probably get a better price.
In neutral Spanish voice-overs however, it's all about
using the precise word that will:
reach the most people,

avoid cultural confusion, and,

in some cases, avoid offensiveness.
DOES COPY OFFEND?
If the copy you are recording was translated by someone else, I believe it is imperative to notify the client of any wording that you feel might be offensive to the listener.
I once had a script arrive with hundreds of prompts translated using the familiar

tu

form.
However,

usted

is more common to hear on voice prompts for formal situations, and it is offensive in some cultures to be addressed in the informal

tu

.
The client has the right to decide, and in this case, we might like to leave it in the familiar form. But I feel it is my responsibility to notify them of potential problems.
I do a lot of work for New York City-based clients. The Latino population of New York City is comprised of people from the Caribbean, Mexico, Central and South America and Spain who have just about every regional dialect imaginable.
So how do you speak to everyone?
With 20+ countries that have Spanish as their primary language, it is impossible to please everyone.
However, if you are auditioning for a job and the direction asks for

Universal Spanish

,

Standard Spanish

,

Neutral Spanish

or

Global Spanish

,

they are most likely looking to hear a Spanish that has no regionalisms, and where each letter is pronounced.
For example, you can hear the difference between

les gusta

and

le gusta

. The "s" must be pronounced clearly in the former.
Nowadays in the U.S., there is a melting pot within the melting pot.
It consists of Spanish speakers; a dash of 1st generation, a pinch of 2nd generation and even 3rd generation Spanish speakers - all conversing, learning from each other and morphing accents.
And although anglicized words have crept into the vernacular as "Spanglish," they are not acceptable in corporate voice-over.
I have heard them on commercials and some radio imaging, though. English words are used for emphasis or to portray a certain edginess. But that's about it.
IVR, corporate narration, and other formal voice-overs that are created for the Spanish-speaking population here in the U.S. are done in what I call neutral Spanish.
Since Spanish-speaking actors come from so many different countries, it is customary to take special acting classes that teach a neutral form of speaking before they film telenovelas - which air in just about every Spanish-speaking country.
If I had to choose a country where I believe the Spanish is the most neutral, I'd say Mexico or Colombia.
But no matter where you're from, you'll have to make a conscious effort to lose your regionalisms to get that neutral sound.
SOMETIMES ACCENTS DESIRED
Sometimes I am approached by clients who ask if I can perform Mexican Spanish. I tell them that I cannot, but I gladly refer them to another talent who can.
There would be no point in me auditioning for those jobs since I would not be hired for them.
If the client asks you where you grew up, what your nationality is, and if Spanish is your native language, be upfront with them.
I don't believe people should audition for a role that they're not suited for.
T
here will be clients who refuse to hire you if you are not a native speaker from the specific country they're looking for.
That's okay. Whatever your nationality, say it loud and proud.
There is enough Spanish voice work out there to go around.

¡Les deseo mucha suerte!

(Best of luck!)
Amy Taylor is a bilingual voice talent specializing in Spanish and English voice-overs. She has recorded commercials for brands inlcuding SONY, Sunsilk, Verizon Wireless, White Castle, Ad Council, MacMall, and Liberty Travel, and is the current winner of the Voicey Award in the "Best Female Voice" category. She will speak at VOICE 2010 in Los Angeles, on June 4 on the topic of

International Voiceover

.

Your Daily Resource For Voice-Over Success