---
2016 AUDIE AWARDS
Four Finalists And Narrators Announced
For 2016 'Audiobook of the Year' Award

March 19, 2016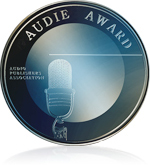 (VOXtra) - Four audiobooks and their narrators have been announced as finalists for

Audiobook of the Year

in the

2016 Audie Awards

® competition sponsored by the

Audio Publishers Association

(APA).

Last month the APA announced the competition's finalists in 25 categories of audiobooks (see them here).

Who will win? We'll learn that at the

Audie Awards

® Gala

on May 11 at the Adler Planetarium in Chicago. Award-winning comedian, author and commentator

Paula Poundstone

will emcee the Gala.

On the previous day, May 10, the APA will also conduct its annual

Audio Publishers Association Conference

(

APAC

), which is a popular gathering for narrators and publishers. (See the links below for details about attending these events.)

The APA has also announced finalists in competitions for Excellence in Design, Marketing, and Production. Those winners will be announced at APAC.



'AUDIOBOOK OF THE YEAR' FINALISTS



"The Audiobook of the Year Award recognizes the audiobook that, through quality, innovation, marketing and sales, has had the most significant impact on the industry," explains the APA. "Each nominated title is distinguished by excellence in production as well as their ability to create new interest in the audiobook format through creative marketing."

APA Executive Director

Michele Cobb

notes:

"We are excited to recognize the wide range of skills and talents it takes to create a successful audiobook. This high level of achievement is seen clearly in our Audiobook of the Year finalists, which are recognized not only for their outstanding audio production values, but also for their creative marketing and strong sales."

Following are the four finalists competing for this award, plus comments from judges:



The Girl on the Train

, by Paula Hawkins; narrated by Clare Corbett, Louise Brealey, and India Fisher (Penguin Audio / Books on Tape)

"A trio of skilled narrators pulls listeners into the psychological suspense of Paula Hawkins'

The Girl on the Train

. The 'trust no one' twists and possible unreliability of the three central women compel the listening experience and make this a great choice to recommend to audiobook fans or newcomers to the format. With storytelling this good, it's clear to see why the audiobook continues to gain fans across a broad market."

Go Set a Watchman

, by Harper Lee; narrated by Reese Witherspoon (HarperAudio)

"Reese Witherspoon ably applies her skills as an actress to this performance of

Go Set a Watchman

. Her Nashville upbringing and careful interpretation of the text allow her to bring out a believable Southern accent that supports the dialogue of Harper Lee's famous characters. Witherspoon's pacing and plain-spoken delivery are hallmarks of her professionalism and truly bring this book to life."

The Nightingale

, by Kristin Hannah; narrated by Polly Stone (Macmillan Audio)

"Polly Stone's heartfelt reading of

The Nightingale

, a World War II sibling drama, opens a window onto an oft-neglected story - how women survive during wartime. With remarkable detail, and polished story-telling skills, Kristin Hannah sets out a poignant portrait of France during the Nazi occupation. Stone's careful voicing of the two sisters, impulsive Isabelle and practical Vianne, establishes their differences while building a powerful emotional bond."

The Water Diviner

, by Andrew Anastasios and Meaghan Wilson-Anastasios; narrated by Jack Thompson (Bolinda Publishing Pty Ltd)

"The emotional power of

The Water Diviner

is enhanced by truly expert narration from veteran Australian film star Jack Thompson. He conveys the exotic settings with dust in his voice, and scenes of raw emotion with his heart in his throat. The appeal of this program reaches across borders, shedding light on the tragedy of Gallipoli and the human losses that are always suffered by both sides in any bloody conflict."

Click below for details about attending:
And for more about the APA, please visit www.audiopub.org.



Your Daily Resource For Voice-Over Success