---
VOICE ACTING
Transform Your Voice Over Listeners
- And Your Life - With Self-Expression
November 5, 2014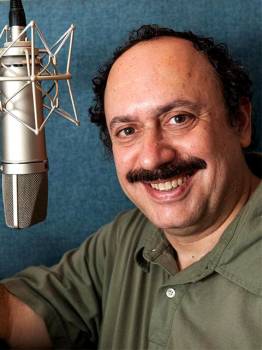 By David Zema


Voice Actor & Coach



Recently, I was helping a student with a piece of challenging commercial copy. We went through the script and I showed her where the transitions were.

As a voice over artist and coach, I am keenly aware of transitions. The listener must know how the speaker feels and when the emotions change.

The goal of the copy and our performance is to transform or convert the listener to agree with the message or message contained in the script. Also, our acting should sound natural and believable enough to captivate, motivate, and have the listener feeling the emotions we are sending out.

Ultimately, our goal is to get the listener to take action.

At the most basic level, a voice over performance is self expression. My experience has been that self expression is good for the heart and soul. So it's no wonder that people feel much better after expressing themselves.



GOT A RUSH REQUEST



Unexpectedly, just before my class with the student mentioned earlier, I got a request for a rush self-submit audition.

As a result of my ongoing state of creative flow, I was prepared to express myself and the message in the short time that I had. The job was going to record the next day, and after a day of casting, the producers wanted to hear more talent read for one of the spots.

The spot was comedic and required the performer to switch between a spoof of an announcer who would launch into outlandish characters.

I rushed into the booth and read the direction and did one take cold. I uploaded the take and went on with class. During a break in class, I checked my email and saw that I was on hold for the spot.



QUICKLY CONNECT IN CHARACTER



My experience has been that when we have accomplished skills and technique, we can quickly connect with a message or character. I believe we should always be in the creative state that allows us to change ourselves into readiness to perform at our best.

Being busy keeps us in the creative flow and keeps us on our toes.

I was already in an extremely busy period and now had to fit in one more job. This is a good problem to have. And moving from one mood to the next is what voice acting is all about.



URGENT MESSAGE FROM AGENT



Right on cue, I received an urgent message from my agent. He wanted to know if I would like to be involved with a new book project with motivational speaker

Brian Tracy

entitled,

Transform

.

I had previously contributed to four books, having written chapters on voice overs, and he suggested that I shouldn't miss out on this new volume to be penned by top experts.

Then he asked if I could write my chapter in the next 30 days. As I was thinking how to say that I was too busy for such a project, he mentioned that all royalties would be donated to a worthy cause.

The entire group of experts invited to write about their field were also asked to become a "Village Sponsor" for a new

Global Learning X-Prize

initiative to educate 250 million kids through educational software on tablets!



EMPOWERS CHILDRENS' LEARNING



This project was just launched through the X-Prize foundation started by

Peter Diamandis

, the

New York Times

Best-Seller author of

Abundance

.

The Global Learning XPRIZE is a $15 million global competition to empower children to take control of their own learning. It challenges teams from around the world to develop open source and scalable software that will enable children in developing countries to teach themselves basic reading, writing and arithmetic, empowering them to take control of their own learning and ultimately their future.

Their goal is an empowered generation that will positively impact their communities, countries and the world.

The donations from the authors collectively would raise $10,000 to the cause, sponsoring a village to help provide solar generators, equipment, transport, materials, and infrastructure to real kids in real villages.



HOW TO MEET DEADLINE?




My thoughts immediately shifted from being busy to discover ways I could get my writing done by the deadline because I wanted to be involved in such a worthwhile charitable project. And education and ongoing training is what I do as coach.

Having no idea where to begin, I sharpened my pencil and started turning a blank page into chapter about self expression.

Somehow I finished my chapter (#6 of 68) entitled,

Self-Expression – How to Transform Each Moment of Your Life

, on time and went on to win an award for one of the best written chapters in

Transform

.

I chose this topic because in voice overs our scripts often endeavor to transform or motivate the listener. And as a coach I seek to alter or assist in the conversion of my students as they travel from beginner to professional.

The 68 chapters in

Transform

are written by experts in their fields. Starting with

Brian

Tracy's Mastering Your Mind

to mid-way through with,

Transform Your Online Strategy—Social Media Myths And Must-Dos

by

Lindsay Dicks

, and winding up with

Transforming a Quintessential Life

by

Trish Mc Carty

, you are sure to find useful advice for your life, career or business.

Not only will you benefit from the great tips and ideas in

Transform

, you will be helping the efforts of the Xprize.

eBOOK WITH BONUS



Transform

is available on

Amazon

in hardcover and as a Kindle edition.

It is also available directly from

Voice of Success Programs

as an eBook PDF. Readers of

VoiceOverXtra

who order this special eBook edition will also receive a free bonus and thank you for supporting the cause entitled,

The Anniversary Edition of How to Market Yourself

by

Michael Dainard

, which I narrated.

The techniques in this marketing course will help to build your successful career or business.

You may purchase the

Transform

eBook and receive the bonus by clicking here.
--------------------


ABOUT DAVID


David Zema is a veteran broadcaster, voice actor, voice over coach and creator of the Voice of Success Programs for voice actors, based in New York City. He was recently chosen as one of America's PremiereExperts™ and has been quoted in publications including the

Pittsburgh Post Gazette

,

Wall Street Journal

,

Atlanta Constitution

, and

Backstage

. He has also authored articles in the theatrical trade papers

Soul of American Actor

and

Showbusiness

. Prior to working on

Transform

, he contributed as a voice over expert to four books on acting by Glenn Alterman,

Promoting Your Acting Career: A Step-By-Step Guide to Opening the Right Doors

,

An Actor's Guide–Making It in New York City

,

Secrets to Successful Cold Readings

, and

100 Acting Jobs for Actors

.

Email: DavidZema@aol.com
Web: www.VoiceOfSuccess.com



Your Daily Resource For Voice-Over Success