---
A Journey To Perform: Bedtime
Story To Audiobook Notoriety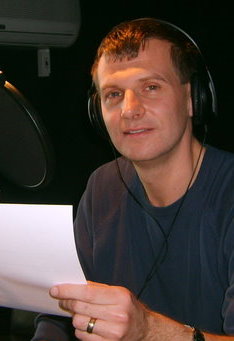 By Andy Boyns
On my podcast series, The Person Behind the Voice (see link below), one of my aims is to learn how folk got interested in voice over, and consequently how they got started.
It's fascinating to see just as every voice has a different colour, so too do the journeys taken.
For instance, what would have happened if ...
... Bob Bergen hadn't been fascinated by cartoons (or if Mel Blanc had refused Bob's phone call)?
... Penny Abshire hadn't recalled her childhood fun and opted to stay in her stable legal career?
... John Garry hadn't entered the radio contest at age 12?
JOURNEY TO PERFORM
Well, apart from the fact that I don't believe in the "What if…?" game, I'm sure the world would continue turning.
But perhaps these individuals, or the people touched by their work, would have had a different experience.
In fact, it's highly probable that the end result would be close.
Although the journey would be different, the performance would still emerge somewhere.
JOURNEY'S SIGNPOSTS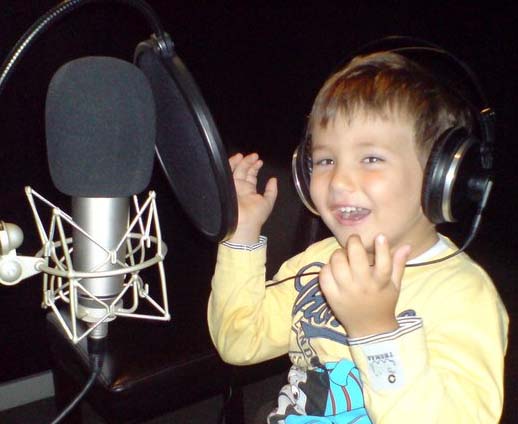 I haven't yet understood the journey I've been on, but am amazed by the signposts I can see from past experiences.
William Boyns, an up-and-coming voice over star, will have a well-documented and exciting story to tell.
At age 4 years, 10 months, he can already claim to have been reviewed by a glittering panel of award-winning audiobook narrators, and been nominated for his own category in the Audies (alas, it was an unofficial nomination).
Below is the story of how this came to be. But first, here's the video we created:
Where William takes it from here is entirely his choice, but I hope this is a journey we'll enjoy for years to come.
PROUD FATHER
In the interests of full disclosure, as his father, I may be slightly biased.
Although this is a retrospective article, it should also be noted that VoiceOverXtra was onto the story even before the original article was published!
John Florian kindly suggested I might like to contribute this follow-up piece.
BEGAN AT BEDTIME
The bedtime story is a particular genre normally imparted from parent to child, perhaps with an amount of appropriate repartee.
Imagine my surprise, when on one occasion when I was slightly delayed, I found that William had not only already started to tell his teddy bears the story, but was doing so with élan.
Now we read to each other, having negotiated a compilation of around three books, and he seems to be generating something of a photographic memory.
Coupling this with the fact that he loves recording – something magical about watching the voice turn into a wave-form on the computer, the pleasure of hearing it back, and the knowledge that others may listen – and we agreed to make an audiobook.
PRODUCING THE AUDIOBOOK
Here I'll confess I wish I were a better audio technician, and that I am looking forward to going into a studio and reverting to the producer/director role.
However, after a couple of takes and a little editing, the dry audio was ready.
At this stage I just knew I had to do something to make this a little different, and decided to create a fuller production.
So with a little help from YouTube and my scanner, we compiled the video which was to go on my blog.
LOOK, WILLIAM !!
The look on William's face when he first saw this is one I will never forget, and which I will do my best to see as often as possible.
Isn't it so that oftentimes the rewards for our efforts cannot be achieved in the fiscal sphere?
WILLIAM'S DELIGHT
Insisting that he watch the video on the television, I made a quick VCD, which had a similar effect.
The big surprise came when I returned home from work the next evening, as William was waiting for me to show it again.
His delight in the process of production and showing the results to others is priceless.
HOW TO SHARE?
Thus the final conundrum:
Should I just post on my blog, "Here is a video my son made which you might like. Enjoy".... or, how to present it with the care it deserves?
What was missing?
Reviews. Star reviews!
THE REVIEWS ...
I must thank my reviewers for joining in the spirit of fun and so generously contributing.
"

I just encountered a new talent on the audiobook horizon! His name is William Boyns, and his reading of Po's Magic Watering Can was terrific. In his reading, you can hear a great deal of natural storytelling flair, and William's instincts are such that he seems assured of a terrific future as an audiobook narrator. A terrific performance by a wonderful new talent." - Scott Brick
"I have recently listened to a delightful children's audiobook …Po's Magic Watering Can, read by William Boyns, age 4. This young man is a born entertainer. His rendition of this story will make you smile, giggle, and purr. He brings the story to life so well. I predict many Audie awards in his future" - Alan Sklar

"Puts the best narators to shame. Born to live behind the mike." -

George Guidall

"William captures the attention of his audience immediately … with a clear and animated voice, William recounts the story with passion and interest. Already at 4, he's quite the storyteller. Children will love his narrations." -

James Clamp

"I liked the birds and the baby in the story. I like William. When I am a growed up big boy, I want to talk good like William. And I like his BING!!! too." - Pat Fraley Age 61

"An audiobook narrator in the making! Keep reading out loud every day, William, and you'll have the potential to be one of the best." -

Marc Cashman
"William clearly has an understanding of the nuances of audiobook recording. His enthusiasm as each of the major plot points unfurls ('Ping!') can't help but joyously carry the listener along to the inevitable, and slightly sad, denouement. I can't wait to hear what he'll do with the likes of Dickens and Trollope." - Simon Vance
IT'S A HIT
The "audiobook" video is receiving thousands of viewings, giving
William a most auspicious start in voice over.
Comments left on the blog and Facebook demonstrate how much this was enjoyed by all.
And as Scott Brick added, this "will encourage William, and that's a great thing, ennit?".
It was generally proclaimed that William has a talent to be nurtured, with praise including an additional review from dialect, diction, and language coach, Robert Blumenfeld:
"This is totally adorable! William is just terrific, and very lively and fun to listen to."
Summed up by Rick Lance who asks,
"Wow, Andy, what incredible endorsements on William's reading! So what are you gonna do now - retire?"
INSPIRED BY WILLIAM
Far from considering retirement, I am inspired by William's enthusiasm.
I'm sure he will exceed my "fan" base, and he eve has his own Facebook page (link is below), which will enable you to keep track of his progress and be inspired, too.
You can already see him performing his next story there.
Meanwhile, wouldn't it be fun if a creative publisher would join with us and sponsor William to develop his talent?
If this is what he wants to do, he'll do it anyway. But one day someone will say,
"I was planning to represent William Boyns, but someone else asked him first."
ABOUT ANDY ...
Andy Boyns is a British voice talent residing in Istanbul, who provides clients in both Turkey and internationally with full voice over services. A member of the Society of Accredited Voice Over Artists (SaVoa), his many clients have included Credit Europe Bank, Fiat, Turkish Tourism, BP, British Airways, Turkish Airlines, and TRT.
Person Behind The Voice:
William Boyns' Facebook page:

Your Daily Resource For Voice-Over Success