---
Constructing A Studio That Keeps Out
Motorcycles
& Planes ... Hear Demo!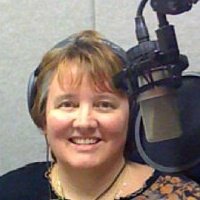 By Karen Commins
When I started my voice over career, I recorded in a tiny closet with accordion doors.
The room is upstairs on the front of the house and faces the street. The only entrance to our subdivision is about 150 yards away from my house.

Consequently, 99% of my 200+ neighbors must pass my house every time they enter or leave.
To make matters worse, we live at the top of a hill. The neighbors step on the gas to get up that hill. So I constantly had to stop my recordings every time a car passed.
Moving to a walk-in closet across the hall helped to alleviate some of the car traffic noises.
However, it didn't help with the air traffic, leaf blower, lawnmower, and other noises around here. The county airport is not far from our house, so planes with small propellers are constantly flying overhead.
W
e decided to take drastic measures to reduce the noise.
We started by replacing all of the windows on our house with triple-pane, casement windows.
Instead of the common double-hung windows, which have two pieces that open by sliding them up or down, casement windows are one piece, which opens outward.
The movement forms a better seal to the house, and the three panes of glass with kyrpton gas between them significantly buffer outside noises.
SOUNDPROOF STUDIO
We also built my stunning soundproof studio employing the following techniques:
2 layers of ceilings with R30 insulation between them

2 layers of 5/8" drywall (instead of the usual single layer of 1/2" drywall) in each of the ceiling layers,

all 4 walls 2x6 studs instead of 2x4, to provide additional space for insulation sound barrier insulation under the siding,

R30 insulation in the wall air pockets between the garage and the studio,

2 entrances, each with an air pocket between 2 doors,

no windows, and

built on a concrete slab
I also bought a 6'x8' WhisperRoom sound isolation booth.
The WhisperRoom adds more density and air pockets in my quest for silence.
And since the floor is on wheels, it can eliminate the low, rumbling noises that could be generated by passing trucks.

HEAR A DEMO ...

What a joy to record in this room! I can't remember a time when I've had to stop work due to a noise outside the studio.

Here is a short demonstration of the effectiveness of my updated studio.
Using my iPhone4, I made a little video of Drew starting his motorcycle, and me walking into my silent studio.
The video is not edited, so I apologize in advance for any jerky movement. Turn your speakers up to really hear the difference!




IF YOU BUILD ...
If you decide to build a studio like this, consider using a detailed book as a guide for you and a contractor.
ABOUT KAREN ...
Karen Commins is a voice actor based in Atlanta specializing in narrations, e-learning modules and audiobooks. With two decades of experience as an information technology professional, she enjoys "rattling off the endless series of initials found in educational scripts written for high-tech audiences." Her website offers demos and photos of her Whisper Room soundproof studio, and she writes A Voice Above The Crowd, an insightful and entertaining blog about working and marketing oneself in the voice-over profession.

Your Daily Resource For Voice-Over Success