---
What To Do When Noisy Cement
Trucks Roll Up To Your Studio ...
By Linda Ristig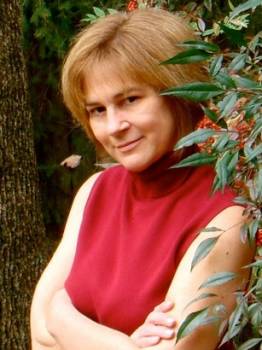 It started like an ordinary day. My son and I rose early so he could head out to his high school varsity football practice, and we decided to let my husband sleep.
It was gentle beginning to the morning. I sipped a cup of Irish Breakfast tea, thinking of today's voice over project.
But as my son departed for practice, at 7:30 sharp, I began to hear a rumble next door.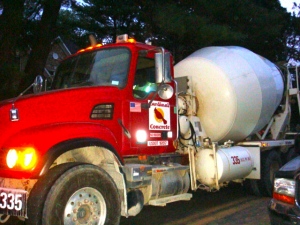 I stepped onto our front porch and saw the first cement truck of the day parked in front of our house, waiting for the signal from the general contractor to begin pouring the basement walls for the new home construction next door.
STUDIO FACES JOB SITE
My first thought was actually how relieved I was that the crew was starting early, because I had a live recording session scheduled in the early afternoon with a director from an ad agency.
My studio window faces the job site, and was only about 12 feet away from all the racket.
Surely they'd be done pouring in a few hours!
A FRIENDLY CHAT
Now, a less intrepid soul might panic. Not me.
I went out and made quick friends with the crew chief. His original prediction was that they'd be finished by 4 p.m., if the cement trucks arrived one after the other.
He was intrigued by my career and apologized for the noise. And I told him not to worry. I'd just push back the VO session.
BUT REALLY ...
Never mind that I had recorded this same spot two days earlier in a soft-sell, real person approach, as I followed the guidelines the production company wanted.
I already had the heads-up that today's director wanted a fast-paced, high-energy read, and would listen in on a phone patch.
Since this gig was sponsored by a well-known car maker and was an animated TV commercial, I was looking forward to giving voice to a completely different type of read.
BAD VIBRATIONS
The day wore on, and our home was vibrating from the cement mixer engines and pumps that were shooting the cement from the trucks into the metal forms.
There was no way they could stop pouring, because rain was predicted to come through in the late evening.
The temperature was pushing 100 degrees Fahrenheit, and everyone was busy!
As the afternoon wore on, it became apparent that the time frame for the construction was a bit incorrect.
When I strolled by the site, mid-afternoonish, the prediction for finishing was to be closer to 9 p.m.
UPFRONT WITH PRODUCER
So I contacted the ad agency and the production company for the second time, and asked whether they'd considered the additional sound effect of a cement mixer into their car commercial concept, since that was my predicament.
Being upfront and honest with them, with a little slice of humor thrown in, was the only way to go.
The production guys promised that if I could deliver my voice, they'd edit out the background noise.
NOISES OFF
A few minutes before the appointment with the director, I did what I always do. I turned off the air conditioner and the attic fan, out of habit for noise reduction when recording.
Using my Bluetooth earpiece with an astute director guiding me through the read, I stepped into the recording booth with the roar of the noisy machines next door.
I smiled to myself quietly when I realized that I probably didn't need to worry at all about the fan noises coming from our home.
Suddenly, I was so focused on the various takes that I blocked out the noise that had plagued me all day.
It was all going to work out just fine.
TOMORROW, THEY'LL PAUSE
In the early evening, I strolled next door to let the foreman know my session was over.
At that point, the owner was there as well, surveying the day's work. Both of them looked at me and grinned.
The owner spoke up and said,
"We agreed - if you need 20 to 30 minutes of quiet each day from here on, in order to record a directed-live session, just come by and let us know. We'll give the workers an immediate break, you'll get your work done, and we'll all be happy."
SCRIPT REVISIONS
As the creative process for the commercial wound through various committees, I was told that the animation work had been adjusted slightly, and that a revised script was coming.
There would be hammering and gravel pouring going on outside, but it wouldn't matter.
Working within the voice over community means sharing your life and cooperating with the real community to brainstorm real solutions to real problems!
WORKING TOGETHER
Being proactive is always better than feeling victimized. Had I not communicated with the construction crew, the outcome would have been very different.
T
hank goodness we all made the neighborhood choice to just get along and cooperate.
And now I'm wondering what other stories are out there about facing down adversity when trying to do a voice over? I'd love to hear them!
ABOUT LINDA ...
Linda Ristig is a freelance voice talent for The Fairfax (VA) Public Access television and radio station, LibriVox.com, and a contributor to The Metropolitan Washington Ear. She is also a full-time voice talent with a studio in the Washington, D.C. area, providing voice overs for corporate phone voice messaging, interactive voice response, PowerPoint, Internet media and website business presentations from the local Chamber of Commerce to international corporations.


Your Daily Resource For Voice-Over Success