---
VOICE ARTS AWARDS
New Categories Feature Your Career's Work;
James Earl Jones To Receive Awards Honor
July 12, 2014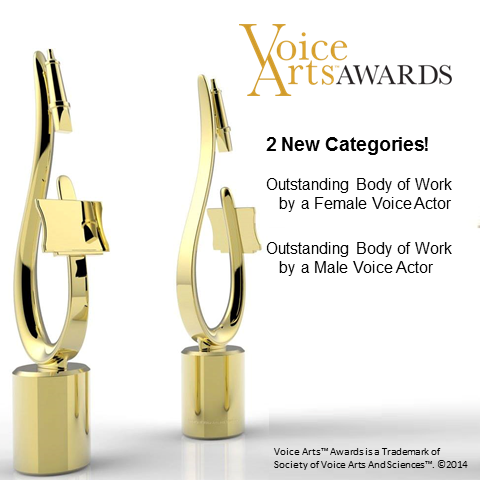 (VOXtra) - The

Voice Arts™ Awards

- a major competition encompassing dozens of categories for participants and types of work related to voice over - has added two categories to recognize the achievements of an entire career of a male and female voice actor.

See earlier articles announcing the awards program and an interview with program co-founder Rudy Gaskins.

Called

Outstanding Body of Work

by a male and by a female voice actor, the category entry can include up to five minutes of work covering at least three genres, such as commercial, animation, promo, narration, video games, etc. Multiple individual files may be entered; a single file of work is not required.

The categories have been added "to assure great work, done over one's career, will not be overlooked," explain the Award program sponsors.

But the final entry deadline for these and all categories is near: July 31. For details, please visit www.VoiceArts.org.

The Voice Arts Awards also announces that incomparable actor-voice talent

James Earl Jones

has been chosen to receive the

Voice Arts™ Icon Award

for his lifetime of achievement. Jones, of course, is the deep and authoritative "This is CNN" voice, as well as the menacing Darth Vader in the

Star Wars

movies, and the wise father, Mufasa, in Disney's

Lion King

movies.

Winners of this year's competition will be announced and honored at the

1st Annual Voice Arts Awards Gala

on November 9, as the kickoff event of the

5th Annual That's Voiceover

, at the

Museum of the Moving Image

in Astoria (New York City), New York.

For more about the Voice Arts Awards, please visit www.VoiceArts.org.



Your Daily Resource For Voice-Over Success