---
Bare-Footed, Beach-Bound VO
Gets Urgent Call, Records In Car!
By Charlie Glaize
Voice Actor - "VO On The Go"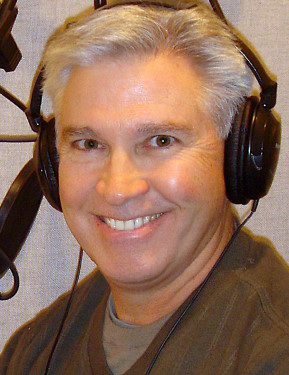 I think you'll love this "forced experiment" on a recent quick getaway to the Outer Banks of North Carolina.
Whenever I leave town I always pack my full-blown mobile studio in a handy, small suitcase on rollers. It has all my accessories - from Firewire cables to an electrical power strip, to a small mic stand. I just drop in the hub of the studio, the Mac Book Pro, and I'm out the door.
However, this was a last-minute getaway, and we were leaving Monday afternoon, returning late Tuesday afternoon.
WHO'S GONNA CALL?
I figured, what are the odds I'll really need to record much over 24 hours after a really busy Monday?
Besides, I am editing my niece's wedding videos using iMovie on the MacBook Pro, and I have that unit plugged into an external hard drive.
So I decided to take "Mobile Junior" - my Mac Book (not the Mac Book Pro) in a smaller travel bag, about the size of a briefcase.
That, a mic stand and a USB mic (a RODE, instead of the Sennheiser 416 that I usually hook to the MBox, which I didn't want to pack this time), should do the trick, right?
OH, SURE ...
Anyway, a couple of quick jobs did come up, naturally.
You may know how that is. You like being wanted and needed - but not as you are headed out the door to the beach.
Yes, I was beach-bound from our friend's condo, when I realized I had forgotten the Alltel high-speed modem that allows me to connect to the net wherever I can find a cell signal, just in case there is no Wifi connection available.
And at that "bare feet wanting to jump in the ocean" moment, my trusty Blackberry was keeping me up-to-date on client emails, and here comes one now, asking for just four quick promos - and could I deliver them by Monday evening?
Yikes! I could normally record and send from a hotel or condo if I could read from the computer screen while recording using Amadeus software and the USB mic.
But now without the Internet, I couldn't do that.
WHAT TO DO?
Solution #1 - something
I'd done on previous vacations, before buying the Alltel modem:
I would go to a Wifi spot, download a script from the client's email, then record in my mobile "soundproof booth" - you guessed it - my car.
Then I'd
head back to the Wifi hotel or wherever, and send the file.
But now on this getaway, w
e were staying with friends who did not have Internet access. Arghhh!
NEXT IDEA ...
Solution #2: I used the Blackberry for reading the scripts while I recorded in my car! Yes, the Blackberry, in my car.
Sure, it was 90 degrees, but it was quiet there in my Honda Odyssey for the five minutes I needed to record, and I could read off the small Blackberry screen just fine, while holding the mic and using the audio software on my Mac Book.
It worked great -
even though, afterward, I still had to drive to a nearby hotel to send the sound file.
All this to say, for the folks who are recording on flash recorders, maybe a Blackberry - or an iPhone - might work for reading those scripts.
And my main lesson: always pack the full-blown studio, Charlie. Leave "junior" behind!
Charlie Glaize is a veteran voice actor based in Virginia Beach, VA, who asks: "What's so bad about a working vacation?" For more about his 'VO On The Go' service, click the tab on the left side of his home page. Yet - specializing in commercials, narrations, promos and cartoon voices - he does prefer working in his ISDN-equipped professional studio.