---
SaVoa Reaches Benchmark Of 100 Members,
Spotlighting Professional, Experienced Talent

By Ed Gambill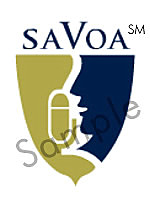 The Society of Accredited Voice Over Artists (SaVoa), has reached a benchmark - we are now 100 strong.
Our goal is clearly stated: "SaVoa's mission is to establish and maintain an accreditation program for voice over artists, and to support continuing education for the advancement of the voice over industry."
This is very important for the professionals in today's voice-over industry.
CHALLENGE OF CHANGE
The marketplace for voice over talent has been changing rapidly. More and more production houses and advertisers have been turning to the Internet to find the perfect voice for their projects.
This new marketplace has become a free-for-all with cattle call after cattle call for voice talent.
Professional and experienced voice talents have to work hard to separate themselves from the deluge of new folks entering the market.
THE PROBLEM
Many pay-to-play (online casting) sites have offered up a huge database of "talent" with little or no experience seeking voice over assignments.
And many of these newbies have:
little training,

improperly constructed recording spaces, and

less-than-broadcast-quality equipment.
This influx of unskilled, under-equipped and non-professional people is impacting the reasonable and customary fees that had been the norm for the advertising and voice over communites.
PROMOTES PROFESSIONALS
Just as some online companies seek to promote only qualified voice talent for, say, $100K jobs, SaVoa.org seeks to distinguish professional voice talent who are qualified for the higher-quality assignments, and to develop a comfort factor "brand" for producers and advertisers.
As we grow in numbers we should see the marketplace readily accept SaVoa accreditation as the standard benchmark for hiring qualified professional voice over actors.
SaVoa talent will become a branded way of ensuring a quality read that meets all performance and technical requirements.
SAW THE NEED
SaVoa didn't change the marketplace, others did.
When access to Internet job casting became available, voice talent who chose not to live in large cities - where most voice over work had been done - became able to audition and record voice-overs from most anywhere.
Yet as this opened the industry door to everyone, we saw
the need for an association that could establish a professional level and brand identity for capable voice talent in a worldwide, open community.
So please join us in celebrating our one hundredth member. SaVoa.org is working to make the voice-over community stronger. Now, onward to the 200 mark!
For more information or to become a member of SaVoa, please visit www.savoa.org
Ed Gambill is founding member and president of SaVoa's executive board of directors, and
a media producer with a background in radio and television advertising as well as acting. He currently produces Jazz Out of The Mainstream, a jazz program featuring unsigned artists and airing on WFDD, a public radio station in Winston-Salem, NC.