---
Can The Cans? Pros and Cons
In The Great Headphones Debate
Note: The author teaches voice over individually by phone and Skype, and through workshops in major Canadian cities. For details,
please click here
, or visit:
www.micnme.com
.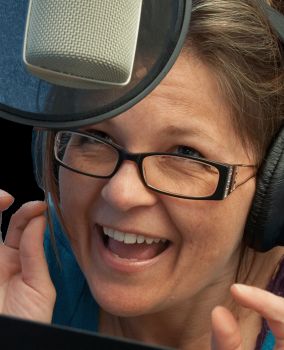 Who would think that headphones (otherwise known as "cans") could be a topic for controversy, but alas ... it seems to be so, and I'd like to share with you my opinion on this great debate in hopes that it might help you choose what is right for you.
First, if you're a home-based voice talent, headphones are completely your choice.
If you like using them, then use them. And if you prefer not to, then don't.
However, if you're a MAJOR MARKET talent or a talent who voices primarily in studios such as in Los Angeles, New York City, Vancouver or Toronto, you may have seen a significant change in the use of headphones in the local studios.
Many top studios are doing away with headphones for talent.
Most quality studios are equipped with talkback, so there is no need for the talent to wear the headphones when the client/director can speak with the talent directly through a speaker without affecting the recording.
If you're an experienced talent, you'll have grown accustomed to a certain way of recording.
Many talent are used to recording from the old broadcast days, when hearing themselves through the headphones was either a necessity for technique or a way for them to hear that great voice of theirs.
Let's face it, we're voice talent, we like to be heard.
Of course there is exception to this stereotype.
There are many forms of voice talent, including some who are very introverted and shy ... and perhaps are intimidated or put off by the sound of their own voice.
In fact, many people DON"T like the sound of their voice and find it off-putting to hear their voice playing while they are speaking, or even played back, for that matter.
You have to get over that one, because that is EXACTLY how you sound to the rest of the world.
A technique that MANY use is to put one side of the headphones over one ear only, and the opposite side placed behind your ear, resting on your head.
That doesn't mean, however, that you have to wear the headphones and hear your voice back.
There can be significant benefits to using headphones, just as there can be major drawbacks.
As with most things in this industry, it really does come down to personal choice, unless it's required to wear headphones in order to hear playback or direction.
I've created a list of pros and cons to wearing headphones in hopes that you can apply this to your needs. Let us know (comment below) if you have additions to these lists.
Hearing yourself back can be distracting. You are apt to direct yourself, instead of letting go with the voice acting.

Headphones can get heavy and uncomfortable on longer projects.

The headphone cord/cable can get in the way of the script. Always wear the headphones so that the cord doesn't cross over the script stand, blocking your view. Place the cord over your shoulder so it doesn't interfere with your script stand (if you use one).

Headphones can affect your hearing over time.
I'm sure there are more, but this is a good start.
ALL IN FAVOR ...
Now for the advantages to wearing headphones:
You can hear clicks and pops, allowing you to instantly revoice (talent can't always repeat the same take twice, so you can ruin good takes and not be able to give a consistent pick up when having to re-record).

Home-based talent can hear the lawn mower, the fridge, microwave or flushing toilets that the human ear may not pick up ... Ahhhh home recording – gotta love it!

Receive feedback or direction without it bleeding through the mic.

Hear your voice or character choices (you have to be able to not allow it to distract you. Some talent are very capable of doing this – but not everyone).

Hear editing or speech mistakes (slurred words, bad edit cuts etc.).

Make instant corrections or redo's keeping the flow of the delivery

Can hear your voice as it sounds to others through a high quality system, allowing you to get used to the sound of your voice.
As you can see, there is cause for argument on both sides so it becomes personal choice and studio choice.
I have worked with headphones since the beginning of my career in 1989, so I'm more than comfortable working with them. In fact, I prefer to work with headphones.
I can work without them, but I do most of my projects from home and I tend to live a very busy workday so I don't have time for unnecessary redos and I find headphones save me a ton of time.

I once sent an audiobook project to a client that both my myself and my engineer edited separately to meet a strict deadline.
We both sent in our edited files to the client and the client came back saying he could hear our edit cuts.
For those of you new to the industry, you have to be careful when making edits, as you can clip off the end of words, cut out dead space that is obviously a cut, or perhaps make an edit cut that is over a breath or room tone.
We were taken back by his notes because we both have a great ear and use high quality monitor speakers. Plus, my studio is acoustically correct and fairly sound proof.
I decided to listen to the file with headphones (which is how people will be listening to an audiobook and many of the files you voice), and we were able to hear exactly what he was talking about.
This is a great way to hear how clean your finished product is, so I try to always listen to the final file with headphones on, to assure top quality sound.
When I'm in a studio that doesn't allow headphones, it's not a problem to perform without them, because the engineers will hear any unwanted noises and necessary redos.
I encourage you to practice both methods so that you are able to accommodate any needs the studios/clients/directors may have.
You must be adaptable - and that's one thing that isn't debatable!
Deb Munro is a leading voice talent, coach, and owner of Chanti Productions, in the Vancouver, B.C., Canada area. She offers private voice over coaching by phone and Skype, and MIC 'N ME workshops on voice acting, business and demo prep in many Canadian cities.
Web:
www.micnme.com

Your Daily Resource For Voice-Over Success