---
MARKETING
How To Sell Your Voice Over Skills
When Prospects Want To Go Cheap

November 1, 2016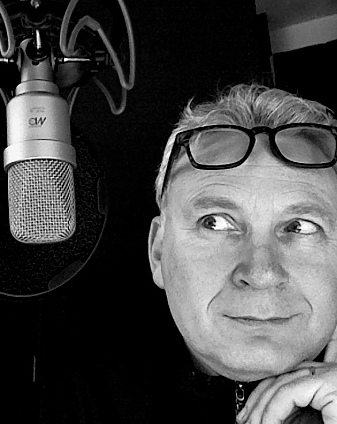 By Paul Strikwerda


Voice Actor & Author



No matter how much you love your job as a voice-over, there are always aspects of your work you donít care for, or would rather have someone else do.

I, for instance, am not a numbers man, and Iím glad my office manager is keeping the books for my business. Very few colleagues I talk to, enjoy doing the unglamorous paperwork that is part and parcel of running a professional service. Yet, it needs to be done.

But if thereís one thing many voice-overs are very uncomfortable with, it is this:

selling themselves.



Theyíd rather spend hours in a dark booth recording an obscure historic novel, than having to talk a client into hiring them.

If youíre experienced enough to have a couple of agents, they will do the talking for you. Quite often though, a potential client will approach you directly because theyíve been on your website. In that case you have to do the negotiations yourself.



WHY HIRE YOU?



Inevitably, you have to answer the following client questions:

Why should I hire a professional voice?

Why should I pay that much money, if all youíre going to do is talk?
In the end there are three ways to answer these questions.

You can highlight the benefits of what you have to offer,

You can tell some horror stories of clients who went with a cheap, unprofessional voice, or

You can use a combination of positives and negatives.
Now, for some clients thatís not enough. Maybe theyíre new at hiring a VO, and they simply canít imagine what effect a bad voice-over could have on a good script. Those people need to see, in order to believe.



THE ARTIFICIAL VOICE ...



For example, one guy started talking to me about text-to-speech software, and how advanced things were getting in that area. His boss had suggested he buy some software, and use it for the next video, instead of a real voice.

The TTS-software would pay for itself in no time, he told me.

"Well,Ē I said, "Iím not sure your company could afford the kind of artificial voices that are developed and used by Google or Apple. But let me send you a link to a video that was uploaded as recently as last year. This is an affordable product you could buy right now. Take a look, and let me know if this is what you had in mind?Ē

Here it is:



Some things just speak for themselves, donít they?

FOR SIX-PACK AND PIZZA ...

A few weeks later I spoke to a Head of Internal Training who wanted to "explore his options.Ē

He was producing a tutorial, and he said: "Iíll be honest with you. Keith from IT has a decent voice, and he said heís willing to put this thing together for a six-pack and a pizza. That would save me a lot of money. Give me one reason why I should hire you.Ē

"Iíd be happy to,Ē I said, and I sent him this educational

YouTube

masterpiece:



BIZARRE TUTORIAL ...

Let me share one of my other favorite tutorials. Itís not a corporate presentation, but if youíre interested in baking banana bread, this is a must-see (but you might want to turn the volume up a bitÖ).



Are you hungry yet? I admit it: I put that video in here just for fun, and because itís rather bizarre.

Donít be fooled, though. People put strange stuff on

YouTube

because they can monetize it. Thatís why youíre forced to watch all those annoying ads.

'REAL PEOPLE' ... LIKE THESE?

The most popular tutorials on

YouTube

have to be the ones of girls teaching you how to put on make-up.

Why do I bring this up? A year or so ago I was approached by a cosmetics brand. Their creative team was coming up with a new campaign, and they had two directions they wanted to explore.

One was a more sophisticated approach for which they had my voice and accent in mind.

"The other idea,Ē said the account manager, "is to let real people tell their story. After all, thatís what our clients can relate to. We want someone who sounds like the friend they never knew they always wanted. Someone who can demonstrate our product, rather than sell it in a commercial.Ē

"Do you mean someone like this?Ē I asked? (and you might want to turn your volume down againÖ)



THE RATES DEBATE ...

Most potential clients I talk to arenít the creative types. Theyíve already decided they want to hire me based on my demos, but they want me to give them my "best price.Ē

Thatís client speak for: "I think your rates are ridiculous, so letís see how desperate you are.Ē

Recently I had a very interesting experience. A woman I was talking to about a voice-over project did something crazy. She used the F-word!

We were talking about what I would charge, and all of a sudden she said: "But what about all these guys on

Fiverr

?Ē

"What about them?Ē I asked.

"Well,Ē she continued, "if I were to go with one of them Iíd pay a lot less. In the end itís all about the bottom line, you know.Ē

"Listen,Ē I said. "This video youíre putting together is going to be on the world wide web forever, and I hope thousands and thousands of people are going to watch it. For many, this is how they will learn about what your family business has to offer. In most cases, youíll get one chance to make your pitch. One chance. People have become extremely critical and impatient. If they donít like what they see and what they hear, theyíll have millions of other things to watch. So, itís up to you how you want to present the company your grandfather built. If your video looks unprofessional or sounds unprofessional, your company looks unprofessional. Do you honestly want to put the reputation of your business in the mouth of this Fiverr guy?Ē

I think she got the point. Now, let me be clear. This aticle is not about bashing people who are trying to make a few bucks with a dynamic microphone, or who want to share their knowledge, passion, and whispery voice with the online community.

NOT AS EASY AS IT SEEMS

I used the above examples to provide some perspective, and because these videos are in the public domain. One thing Iím sure youíve picked up on, is that voice-over narration is very different from giving a running commentary of whatever youíre doing, using the cheapest device in the house.

Itís not as easy as it seems, and itís not true that anyone can do it.

The difference between a pro and an amateur is this: a pro makes it seem easy and effortless. Amateurs are often hard to understand, and clumsy. Their presentation distracts from the message. A professional voice allows the viewer or listener to focus on the message.

SELLING YOURSELF

This article started as a story about selling, so letís get back to that.

Some clients are sold on benefits. They need to know what good things will happen when they hire you. Other clients are motivated by fear. They want to avoid disaster.

Sometimes it really helps to give those people a flavor of whatís in store for them, should they go cheap.

My message to them is this: Cheap is always more expensive. Some things in life are just too important to leave to hobbyists or stupid software.

To the creators of the Text to Speech video, the software tutorial, the banana bread lady, the make-up girl, and Mr. Fiverr, I want to say this: Iím not going to take away your right to post anything on

YouTube

you believe is worthwhile watching. But honestly:

What Were You Thinking?


---------------
ABOUT PAUL
Paul Strikwerda is a 25-year veteran of the voice over industry whose

Nethervoice

service features German and Dutch voice overs, translation and evaluation services. Born in Holland, he has worked for Dutch national and international radio, the BBC and American Public Radio. Although 90% of his work is in English, Strikwerda also records in Dutch, German and French. Clients include Novartis, Johnson & Johnson, and the Discovery Channel. And he is author of the new book,

Making MONEY In Your PJs: Freelancing for voice-overs and other solopreneurs

, and writes an informative and entertaining blog.





Web: www.nethervoice.com
Blog: www.nethervoice.com/nethervoice


Making MONEY In Your PJs

: http://makingmoneyinyourpjs.com



Your Daily Resource For Voice-Over Success