---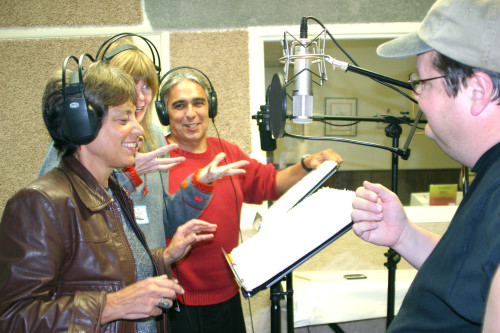 MJ Lallo, left, instructs students at a voice-over workshop in her Mj Productions studio in Burbank, CA.
MJ Lallo - How To Become Your
Animation Characters At the Mic
By John Florian
©2008

VoiceOverXtra

LLC
Some time ago I sat toward the front of a very well-attended how-to session on voice-overs in animation. I like to quietly sit and take notes.
There were maybe 300 of us in the room, and the session was a part of the

Voice 2007

conference in Las Vegas.
Two mics were on stands in the center aisle.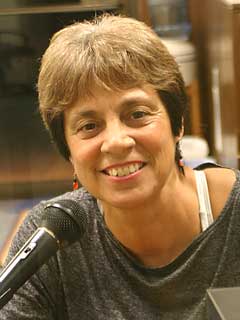 From the stage, the perky instructor,

MJ Lallo

(pictured), suddenly pointed to me. "You," she said, and waved her hand toward the aisle. "To the mic."
Oh oh. She would want me to create a character. On the spot. In front of 300 voice actors.
I approached the mic, and faking confidence, revealed my name into it.
MJ told me to hunch my shoulders. Puff out my cheeks. Push a finger against a nostril. Furrow my brow. Be nervous (no problem there). And then to ask the female voice actor at the mic next to mine for a date.
Okaaaaaay … hunch, puff, push, furrow, quiver, talk …
Wow. In less than a minute, "Nerd Boy" was not only born – but he had a date!
And it was a proud moment for him … I mean, me.
Recently, remembering her talent for so quickly bringing out that character, I asked MJ if she'd share tips with

VoiceOverXtra

on how to build animation characters and win auditions.
"OK, Nerd Boy," she chirped.

MJ Lallo is the multi-talented and award-winning voice actor, director, producer, teacher, casting director and composer/singer with a scrolling list of credits in all those fields.
Her
Mj Productions
studio in Burbank, CA is a state-of-the-art recording facility for producing voice-overs and audio for all media, as well as comedy writing for animation voices. It's also the site of her voice-over school, which offers classes for voice actors at all levels of experience.
Our interview taps MJ's 24 years of experience in post production music and sound effects, plus her work in advertising and corporate markets. Founded in San Francisco in 1983, Mj Productions expanded to animation voice-overs in 1990 and moved to the Los Angeles area in 1998.
MJ, many people say they want to get into voice-overs because they've got lots of characters in their heads. Is this a typical beginning?
Yes, it's normal. Here's how I got into it.
I was singing with three other people for a feature film, and as we walked out of the studio, one of the women said in a real funny voice, "Boy oh boy. That sure was fun!"
I looked at her and said, "What a funny voice!" and she told me she had taken lessons. This was 1990, and at the time, I was a composer and singer doing music for film and video.
I said, "You can learn voices, and this is an art?"
She said, "Oh yeah!" and gave me her teacher's name. Now, I'd been doing voices and vocal sound effects since I was a kid. So I called that teacher and she told me, " Wow, you've got a potential for this. We just need to polish you up a bit."
And that's how it stared for me.
How long was it before you went on an audition?
Let me see. I took classes for a year, then made an animation demo, got an agent, and started booking things.
About that time, up in San Francisco,
The Learning Company
was making CD –ROMS for teaching kids how to read, count. spell - general education.
One of my first gigs with them was just playing a little mouse in a restaurant. I would order cheese and go, "I will have one piece of cheese, please … I will have two pieces of cheese, please …" and stuff like that.
I got into a
Whoopi Goldberg
voice to do a character called Vowel Owl, who was a character that taught kids vowels and pronunciations and reading. It was great!
The Bay area was doing a lot of that work.
Ned Lot
was running The Learning Center and doing all the casting, so I was working with him. Lo and behold, he later moved to Los Angeles to work at
Disney Voice Casting
for features - and he's guest directed at my school!
Are there certain rules to know to follow at an animation audition?
Here is the main thing. If they send you (a sketch of) what the character looks like, really take some time to look at it.
A lot of people will go, "OK, he's a little boy," but they won't really look.
Does that little boy have buck teeth? Are his eyes a bit baggy? Take on the attributes of that character. You can even stand like him – for instance, if the sketch has the boy in a pose where he's pretty active, or seems excitable.
Get yourself in that pose and become that character.
And maybe he's holding a skateboard. So you want to get the feeling of, "Hey guys, let's go to the skateboard park."
Right. Become the character.
The second thing is to really look at the copy. Some people might breeze through the copy, just focusing on the words.
But think about how an animator might draw it.
Is the boy just standing there, talking to his friends? Or maybe he's in motion when he says, "Hey guys, let's go to the skateboard park!"
Yes, the feeling would be different.
Right. You give it the sense of motion. Animators want to hear you do things.
For instance, if a character is getting ready to make a wild jump over a rock or a river, the copy might be, "Wow, that's scary." But if you can think like an animator, you might make the boy shake and his eyes roll around when you speak that line.
Do you always receive a picture of the character at an audition?
Sometimes you will. Sometimes you won't.
Even if you don't, you'll get a sense of the character from the description.
If the character is described as a snotty 10-year old girl with a bit of a mean streak, then get in that position. "Yeah, I'm snotty." And walk around in that character like she might walk, or how she might hold her books at school.
Even in the sound booth, we can act things out a bit. We can move our arms and move in and out of postures.
The mic doesn't pick up any of that unless you have jewelry on – so take it off.
And make sure you don't slap your own body or have change in your pocket when doing physical work as a character.
Do the animators ever see a picture of YOU? Maybe they take a cue from what you're doing, or what you're looking like?
They might film your session. Sometimes they film auditions, too – just to see what you're doing.
I am very animated when I work. I rarely stand there with my hands in my pockets – which lots of people do. You can't expect your body to do something unless you completely get into the character.
Example. If you're a grandiose king, you'll stand up tall and open your arms, feeling like you're speaking to a kingdom. Imagine the scene that the character is in. The clues are in the script.
In a typical animation audition, do you do several takes – or just do one, and they say "thanks and you leave"?
Take control of the audition. Don't just say, "Well, this is what I came up with." Or just do something and leave.
Instead, tell the casting director or your agent, "I have this character in two ways. Would you like to hear her sort of high and regal with a British feel, or would you like to hear her lower and maniacal and kind of gravelly?"
They might say, "Oh, we haven't had anybody here today doing that gravelly thing." So they might say, "Yeah, try it both ways."
Figure a couple different ways the character could go. Then present it, which will make you appear like the consummate actor.
How much notice do you get for an audition? A day, or …

Typically you hear about an audition a day in advance.
But every now and then somebody calls and says, "Oh my God, we just realized we have three characters in this script and we don't have voices for them. Can you come over right now?"
I did that once with
Universal Interactive
. They said, "Here is a squirrel. Here is a duck. Here is – whatever."
I said, "OK, let's make the squirrel kind of wacky …" and so on.
It's important to have lots of voices to apply for this kind of thing.
So – how many characters should we have in our head?

I think it's good to have 10 solid characters. And then you can develop offshoots of those characters.
For instance, let's say you have this nice Southern woman character. But then you give her a Cockney accent. Throw in other accents, and soon you have 20 characters from that original first one.
So you don't have to say, "Oh my God, I need to get another voice for this character. You might just slap an Italian accent, for example, on an existing character.
What about character auditions done online, for instance at the online casting sites. Are the rules any different?
A character is a character, whether you're doing it for the web or for Disney – it's the same thing.
At this point in your career, do you continue to develop and practice character voices?
Oh sure. One of the best exercises is to turn on the TV and watch a cartoon. You can be making dinner, it doesn't matter.
Look at the characters and listen to how they sound. And then talk like them. You'll get ideas.
I also do lots of improv in my classes. It's amazing what starts flying out of people!
I know! I remember what you did to me at the Voice 2007 session. And it was fun.
Yes, my classes are a lot of fun. Even just teaching classes keeps me in shape, constantly doing voices with the students.

Well, the main points are to look at the character, physicalize it, put yourself in scene, imagine the scene, think like an animator, and take control of the audition.
Come into the audition with your sense of what the character is all about. Be able to do the character several ways or voice placements or accents.
Be prepared to switch immediately. If a casting director or agent asks you, 'What else have you got for that character?" you can't say, "Oh nothing else, that was all I practiced."
Nope. You've got to be able to change it up.