---
See And Congratulate 31 Winners Of
The

'One Voice Awards USA 2022' Competition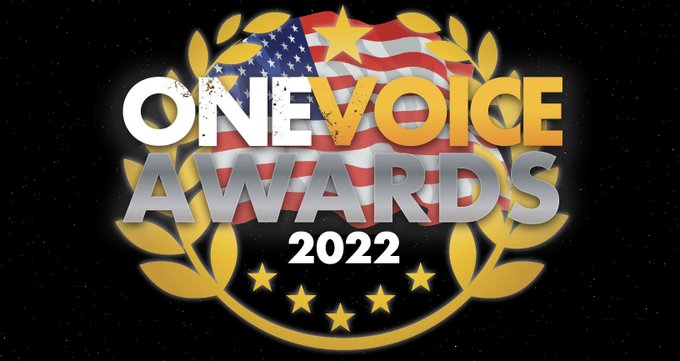 (VOXtra) - Dallas got even hotter Saturday night as winners of the
One Voice Awards USA 2022
competition were announced and celebrated at the
One Voice Awards Evening
- a black tie event during the
One Voice Conference USA 2022
at the Hyatt Regency DFW International Airport.
Erikka J.
was proclaimed
Voiceover Artist of the Year-Female
, and
Paul Cartwright
,
Voiceover Artist of the Year - Male
.
Winner of the
Best International Performance award
was
Jack Oddie
.
Danny Hughes
was recognized as
Voiceover Newcomer of the Year
.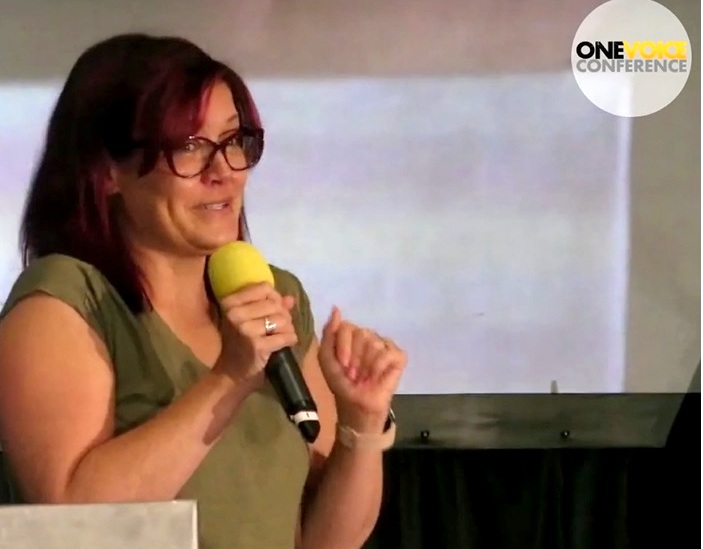 And congratulations to voice actor/coach
Brigid Reale
(pictured)
, who was honored with the
One Voice 2022 Inspiration Award
during the conference's closing ceremony Sunday.
"You are my tribe," she told the audience. " I'm grateful every day for every single one of you."

Congratulations to Brigid and all 31 One Voice Awards USA 2022 winners!
See all nominees
.
Note: This second annual conference in Dallas was a sister to the

One Voice Conference UK

2022

held in London in May - both sponsored by

Gravy for the Brain.
Animation - Best Character Performance - Female (USA/Canada Voices Only*)
Alicyn Packard

- for Rugrats - Produced by Charlie Adler for Nickelodeon
Animation - Best Character Performance - Male (USA/Canada Voices Only*)
Derek Daisey

- for The Joker - State of Survival
Audiobooks - Best Performance - Factual (USA/Canada Voices Only*)
David Kelley

- for The New Heart Matters by Lorraine Bullock - Produced by Lorraine / David Bullock / Kelley
Audiobooks - Best Performance - Fiction (USA/Canada Voices Only*)
Paul Cartwright

- for StoryLORE presents Jack - Produced by David Warner/Ross Boothe
Automotive Commercial - Best Performance Male (USA/Canada Voices Only*)
Mike Ciporkin

- for "Dare to Feel" - The Next Generation of Performance - Produced by Rok Bukovec
Automotive Commercial - Best Performance Female (USA/Canada Voices Only*)
Jenna Birmingham

- for GEBHARDT BMW - Electric Future - Produced by Patrick Gibson
Best Children's Voiceover Performance (Under 18) (USA/Canada Voices Only*)
(Child of)

Aria Surrec

(Aged TBC) - for Facebook Portal - Produced by Mariana Perin
Best International Voiceover Performance - (International Voices Only*)
Jack Oddie

- for Santander UK and Alzheimer's Society - Produced by Danny Baldwin
Voiceover Newcomer Of The Year (USA/Canada Voices Only*)
Danny Hughes

- for Lenovo Earth Day
Best Outtake Of The Year (USA/Canada Voices Only*)
Connie Wallace

- for Compressor Depression - Produced by Kevin Bulger
Corporate/Explainer - Best Performance Male (USA/Canada Voices Only*)
Brian Arens

- for Acomba: Brand Explainer - Produced by Jean-Christophe Boulay
Corporate/Explainer - Best Performance Female (USA/Canada Voices Only*)
Keaton Talmadge

- for Harley Davidson - Go Ride - Produced by Media Monks
Demo Reels - Best Performance - Female (USA/Canada Voices Only*)
Bonnie Burton

- Commercial Demo - Produced by J Michael Collins at JMC Demos
Demo Reels - Best Performance - Male (USA/Canada Voices Only*)
Bob Johnson

- for Commercial Demo - Produced by J Michael Collins at JMC Demos
E-Learning - Best Overall Performance (USA/Canada Voices Only*)
Robynne Orr

- for Dear Daughter Mary Lynne - Produced by Andy Olsen
Gaming - Best Performance - Female (USA/Canada Voices Only*)
Andrea Petrille

- for Cloudpunk: City of Ghosts - Produced by Marko Dieckmann
Gaming - Best Performance - Male (USA/Canada Voices Only*)
Mike Bodie

- for Ghost on the Shore - Produced by Dagmar Blommaert for Like Charlie
Movie or Game Trailer - Best Overall Performance (USA/Canada Voices Only*)
Jenn Henry

- for The Exorcist: Legion VR Mixed Reality Trailer - Produced by Douglas Nabors
Outstanding Live Event Announcer (Voice of God) (USA/Canada Voices Only*)
Erikka J

- for Broadway Unlocked/Waldorf Astoria NYC Concert Series - Produced by Jermaine Blackwell
Political Commercial - Best Overall Performance - (USA/Canada Voices Only*)
Lou Johnson

- for Those Without Billions - Produced by End Citizens United
Radio - Commercials Best Performance - Female (USA/Canada Voices Only*)
Emma O'Neill

- for Problems - Produced by Dave Calvert
Radio - Commercials Best Performance - Male (USA/Canada Voices Only*)
Angus Macleod

- for Coke Flavors - Produced by Stewart Poindexter for Coca Cola
Radio Imaging/TV Affiliate - Best Overall Performance - (USA/Canada Voices Only*)
Laura Schreiber

- for Ozarks Work Mix Radio - Produced by Brandon Ruley
Best Voiceover Services Provider Of The Year (Public Vote)
Television - Documentary/In-Show Narration - Best Performance Male - (USA/Canada Voices Only*)
Brian Arens

- for Kingdom of the Polar Bears - Produced by Merit Jensen Carr for National Geographic
Television - Documentary/In-Show Narration - Best Performance Female - (USA/Canada Voices Only*)
Erikka J

- for Hometown Tragedy: Crime Briefs
Television/Web - Promo - Best Overall Performance - (USA/Canada Voices Only*)
Alicyn Packard

- for Disney+ Foodtastic Promo - Produced by Level Up AV
Television/Web - Commercials Best Performance - Female (USA/Canada Voices Only*)
Stacey Kimble

- for Grover.com - Produced by Michael Krüger

Television/Web - Commercials Best Performance - Male (USA/Canada Voices Only*)
John Malone

- for Mercedes-Benz Vans "Projections" - Produced by Alexander Kobak
Voiceover Artist Of The Year - Female (USA/Canada Voices Only*)
Voiceover Artist Of The Year - Male (USA/Canada Voices Only*)

Your Daily Resource For Voice-Over Success