---
Voice-Over For Games: Part 2 -
A Playbook For

Winning
Jobs!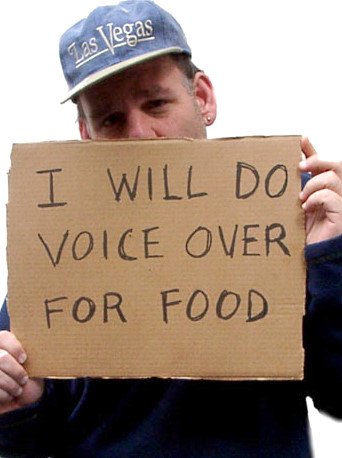 By J.S. Gilbert
Voice Actor

I am frequently approached by talent looking to do voice-over for games.
Sometimes itís talents who have been mostly involved in commercial VO or corporate narration. And other times, itís by relative newcomers with little VO experience.
The gaming industry is huge! It continues to grow and does represent a group of individuals who are creative - and who, in my experience are very open to new ideas, concepts and people.
If you follow the rule of "be brief, be brilliant, be gone,Ē this is a group of people who can be marketed to.

Here are nine tips and some thoughts for getting work doing VO for games - including typical pay scales for your services.
1. Market Your Main Voice.
You donít need to be able to do tons of different character voices.
Often, one good voice for the main villain or hero or narrator will work quite well if you can support it with strong acting and emotional skills. If you can do several voices WELL, so much the better.
2. Understand Games.
Get familiar with games if you arenít already.
Often you can find samples of games online that will give you some functionality. You can also pick up used games pretty inexpensively online.
There are hundreds of fan sites, game sites and company sites - many with extensive amounts of information and videos of games.
3. Learn Terminology.
What is an MMORPG, a first person shooter, a casual game or a mini game?
4. Read Game Reviews.
There are tons of online reviews for the voices in games. Some games are considered great, while others are considered stinkeroos.
At one point, I looked at a site with the best and worst 25 games of all time and realized I had done VO for four games on the
good
side and four games on the
bad
side.
Of course, there are many things a game gets rated on, and not just voice.
5. Get Training.
Take improvisational training, and study traditional acting.
When you do the job, you almost always will be directed. The ability to take direction is paramount.
When auditioning however, you will need to make strong and bold choices, often where one might not be indicated. For instance, even if an emotional stance isnít directly indicated, such as with the line, "What are you doing here?Ē you must read the line with some form of intent.
To showcase your acting abilities, you could read the line as if you were speaking to a long lost love, or if you wanted to show a "darker side,Ē read the line as though your next action would be to cut off the personís head.
Regardless of whether you make the "correctĒ choice, the producer will hear that you can act.
6. Join Groups.
Visit and join
www.gamasutra.com
and consider joining the
IGDA
(Game Developers Association). Members get
Game Developer
magazine and discounts to the
GDC
(Game Developers Conference).
7. Know Pay Scale.
Make sure that your marketing efforts donít eclipse profit potential.
Rates for many videogame projects seem to be somewhat similar, regardless of union or non-union status.
Often, a talent will be asked to do a main character, which would represent from one to three hours of work and perhaps two minor characters, another one hour or so.
A typical job and range of pay for this type of thing, if performed from a home studio via a land patch for direction, would be a 90-minute session paying between $250 and $1,000. (A more average range for someone with some game experience would be around $400 to $750.)
You may have heard stories about a regular Joe actor making $100,000 doing a game. This is very, very, very rare.
Some sports franchises may employ actors for weeks or even months, because they may need every NFL player name spoken in 10 different sentences Ė but again, this is very, very rare, and doesnít usually add up to more than several thousand dollars.
Even narrators will rarely get more than eight hours of work for a single game.
8. Seek Auditions.
Depending upon where you live or who you may have access to, you may have significant opportunities locally for auditioning for and working in games.
Often the game developer will allow talent to audition as individuals and submit directly, as opposed to going through agents.
Discovering how to do this could be as simple as contacting a game company and asking who handles hiring voice talent. The game developer might use an audio producer to handle casting, direction and production.
Judicious use of Google searches and visiting
www.gamasutra.com
can often identify who these companies are. Local ones are easy to pitch.
Some of the audio production companies are also getting hip to using talent with home studios, but this is slowly developing.
Again, the actors with track records in games or strong personal connections will do better here.
9. Listen In.
Contact local recording studios and audio developers and see if it is possible for you to sit in on a recording session.
Perhaps you can offer to do some volunteer work for the privilege.
I am hoping in the near future to put together a video podcast of part of an actual studio session and a session conducted from my home studio so that talent can have a sense of what goes on.

You might want to check the resources used for this article:
J.S. Gilbert lives and works in San Francisco and is represented there by STARS the Agency. With over 20 years experience, he works as a voice talent, audio and video producer, ad agency creative, director, and copywriter. He works under contract to both ad agencies, game developers, web developers, telephony companies and corporations. He is currently the licensed voice for Papa Smurf and Herme, the Elf from Rudolph the Red Nosed Reindeer, and often enjoys performing sound alike work. J.S. can currently be heard in national commercials for McDonaldís, Blue Shield, AFLAC, as well as numerous corporate, internet, and local and regional TV and radio spots. J.S. also does voice mail for the AMA and other corporate clients.
Phone: 415-336-6238