---
HOME STUDIO

Which Type(s) Of Vocal Booth Do You Need?
From Permanent To Road-Warrior Portable ...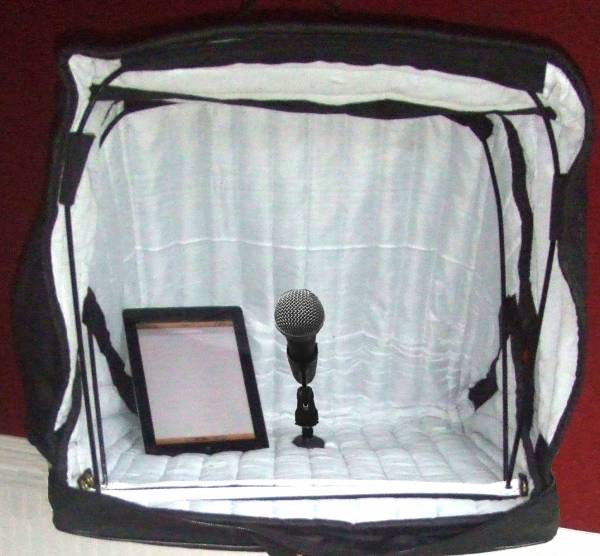 By Adil Aliev


VocalBoothToGo.com



In today's world, you no longer have to worry about getting into a car, driving through traffic or even fighting for a parking space to get into a studio to do a voice over recording.

In fact, whether at home or on the road, all you really need is a quiet place to do it.

However, that place also has to be an acoustic environment that would benefit your recording.

This means you need a vocal booth. A vocal booth, such as the pictured portable

Carry-On Vocal Booth

, helps in creating a more controlled recording.



WHAT DO YOU NEED?



In general, vocal booths can greatly reduce - and possibly eliminate - background and/or outside noise. This allows you to sculpt vocals, instruments and test materials without unwanted ambient noise.

But how do you choose one? For instance:

What size should you get?

How much soundproofing do you need?

Would you need to travel with the vocal booth, or will it become a permanent fixture in your house or apartment?
THREE BASIC TYPES



There is no official classification of vocal booths, but in general, all sound isolation enclosures - also called sound booths or vocal booths - can be organized into three basic groups.

1. Permanent Vocal Booth

These booths are professionally-built recording studios and Do It Yourself (DIY) projects, such as converting bedrooms into a vocal booth or a basement into a recording studio.

Such booths become a permanent fixture and cannot be removed from the premises. These booths may require major construction and become pricey.

2. Modular Vocal Booths

Manufacturers do not use the term "modular" to describe their booths. Instead, they use words like "mobile vocal booth" or "portable vocal booth" or "portable sound booth" to emphasize the difference from permanent sound isolation enclosures, which cannot be moved.

In essence, these are prefabricated booths from a factory. And, just like modular homes, these vocal booths are ready to assemble upon delivery. It might take several hours and several people to assemble a modular vocal booth.

Manufacturers might also call them "vocal booth portable," but portability is limited. Portable implies that something can be easily transported without major disassembly efforts. Most of such booths have casters, and it is possible to move them from one side of the room to another.

And it's a major advantage that they can also be disassembled, transported and reassembled at a new location.

Modular vocal booths come in different shapes, sizes and degrees of soundproofing (level of ambient noise reduction).



3. Portable Vocal Booths



These are the true "portable" or "mobile" sound booths that you can take with you when you travel, whether in a car, train or airplane. They are light enough and small enough to be carried by just one person.

Portable vocal booths usually are built as small enclosures or just screens that create a beneficial acoustic environment around a microphone by reducing the reverberation and cancelling echo.

They are great for a road warrior - allowing voice actors to be able to make great recordings just about anywhere.

The obvious limitation is that they cannot provide a complete enclosure. Yet because they are easy to take from one place to another, portable booths are great for both the seasoned voice actor and the newcomer who may want a vocal booth that is high in quality but not in cost.

As a rule of thumb, the more soundproofing you require, the more expensive it will get.



FOR HOME OR TRAVEL



Setting up a vocal booth in your home or when you travel should never hinder your work or your personal life.

The right vocal booth for your needs should make your life as a voice actor easier and less stressful, by helping you gain better control of when and where you conduct voice over recordings.
--------------------------------------


ABOUT ADIL
Adil Aliev is the founder and owner o

f VocalBoothToGo.com

, which offers an innovative range of portable vocal booths, sound blankets, soundproofing and acoustic room treatments for the voice acting and audio recording industries. This includes the newly-introduced full-size walk-in vocal booth, which can be assembled in 20 to 30 minutes by one person and transported in a regular-size car, and fold small enough to be tucked under a bed.


Web: www.VocalBoothToGo.com
Email: support@VocalBoothToGo.com

Your Daily Resource For Voice-Over Success