---
'But Iím the Poor Sap Who Has to Say
All These Obscure Words Out Loud!
Narrators of audiobook fiction have a challenge keeping characters, accents and other peculiarities in mind as they voice through the book. Audie Award winner and current nominee

Scott Brick

cetainly excels at this. But he wonders in a recent blog - can't authors sometimes give you a break? Hmm ...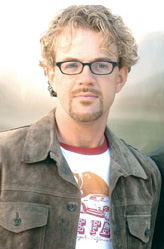 So I got an email a year or so ago from

Harlan Coben

asking me to record his latest book,

The Woods

. No problem, I told him, Iíd be thrilled! (See video narration excerpt.)
Well, when I got the news a few months ago that Iíd been tapped to read his latest,

Hold Tight

, I shot him another note to tell him how much I was looking forward to it.
He sent me a really nice reply, telling me he thought Iíd like this one, as it was probably more demanding than his previous titles.
"Itís a little different, a little broader,Ē he told me, "five different families whose lives intersect in shocking and tragic ways. Lots and lots of viewpoints. Should be a fun challenge for you.Ē
Yeah, okay, thatís all well and good, Harlan. But let me go on the record here: Challenges from authors SUCK.
Whatever happened to easy reads? To simple, straightforward plots with uncomplicated character breakdowns? Would I really be asking for too much to have a story all take place in ONE personís headÖ?
Okay, yes, Iím BSing here, my tongue is firmly planted in my cheek. But bear with me, Iíve got a valid point.
See, for years authors have, in the interest of good storytelling, thrown in tons of bizarre facts and obscure cultural references, liberally sprinkling tongue-twisting nationalities throughout their tales.
All well and good; these stories certainly wind up being far more complex than any typical single-locale, single-nationality plotline.
But Iím the poor sap who has to say all these obscure words out loud!
Do you have any idea how hard it is to sound believable when youíve got a conversation between two characters, one of which is from Botswana and the other from Lapland?
How about:
When one of them is a man while the other is a woman?

Or when the person from Botswana grew up in Malaysia but served an apprenticeship in Missoula, Montana?

Or the guy from Lapland is such a Francophile that he affects a ridiculous French accent, but canít quite pull off the rolling Rs?
Iíve had those situations come up. It ainít fun, folks.
Iíve barely heard of Botswana, probably couldnít even find it on a map.
You think Iím really going to sound spot-on? That kind of blending of accents is almost as tough as the time I had to read a 20-page scene portraying a dinner party in Argentina during World War II.
The dozen or so guests around the table that night were from America, England, Germany, Brazil and Switzerland. There was also a woman from Brazil whoíd been educated in Great Britain, and a man from Argentina who had been raised in Texas.
And to round things out, there were even two minor characters from Ireland and Scotland. (Ever notice how similar those two accents sound? Youíre starting to feel my pain.)
All this to say, Harlanís e-mail made my heart skip a beat.
It actually reminded me of a conversation I had with

Brad Meltzer

several years back, right before we sat down to record

The Zero Game

.
Brad and I usually chat on the phone to go over character names, pronunciations, that kind of thing. Heíll also occasionally throw in an obscure verbal reference, and will want to make sure I clarify that for the listening audience.
Well, having just finished my initial read-through of

Zero Game

, I was struck by the fact that, halfway through the novel, Brad changes the narrator: It starts off being narrated by one Washington insider, then winds up being narrated by his best friend.
Knowing how fickle the reading public can be, knowing how much they hate change, I was blown away that Brad would do something so daring.
When I asked him why, he told me: "Well, to be honest, one of the reasons was because I wanted to hear how different you made the two characters sound.Ē
Hmmmm Ö I shook my head and told him, "Brad, I hate to tell you this, but theyíre both gonna wind up sounding like me.Ē
(A note: In case you havenít noticed, I donít do over-the-top character voices. Accents yes, where called for; subtle nuances, absolutely; but nothing youíd call cartoon voices or anything.
Narrator characters are almost always me; every other character is just various degrees separated from my own voice.)
I had to laugh at Bradís comment.
To be honest, I found it gratifying, as much as I like bitching about it. I laugh because Brad had already been doing stuff in books that made his stories oh so much more challenging than other authors.
In

The Millionaires

, he went on and on about the tonal qualities of the bad guyís Chicago accent - and I, of course, had never even been to Chicago at the time.
In

Zero Game

, he went into incredible detail about the differences between northern and southern Floridian accents. And yes, again, at the time I narrated it, Iíd never been to the Sunshine State, so how was I supposed to know a northerner from a southerner?
He even delved into the intricacies of the flat vowels inherent in the North Dakota accent, and the closest Iíd been to that part of the country was seeing

Fargo

!
Man, I started wondering if Brad hated me or something! His latest should be landing in my e-mail box in a few weeks, due out in a coupleía months, and I shudder to think of the Eastern Kuala Lumpur accents in store for me this time.
Okay, Iím going to stop bitching now, because I canít quite pull off the aggrieved-audiobook-narrator thing. Cry me a river, right?
And besides, it being April Foolís Day, and Brad Meltzerís birthday, I have to remind anyone who bought into the idea that Iím seriously complaining about authors being involved in their own audiobooks to check the date on this posting.
Iíve got the coolest job in the world, and authors who put challenges into their books for me to tackle are a godsend, literally.
I actually feel quite blessed. I just like bitching and moaning sometimes.
Iíll finish up by explaining that Harlan Cobenís e-mail to me was dead-on: There were indeed a plethora of various character points of view in

Hold Tight

, which youíll be able to experience firsthand soon; April 15th the book hits shelves near you.
If youíve never read his work, youíre in for a treat. Harlan specializes in the surprise. He makes the double-cross an art form.
Heís got a natural gift for something the legendary silent film star

Buster Keaton

used to do. Buster would stage a scene where he was driving a car towing a house across train tracks, and thereís a train approaching in the distance. The car, of course, would stall, and Keaton would strain mightily to push or drag the house out of danger.
Finally heíd run off, avert his gaze and pray, and miraculously the train would pass them by. It turns out it had been on a parallel track - the impending doom was just an illusion, there was no peril at all.
Then, just as Keaton would sigh in gratitude and seeming safety, a train would come from the other direction and plow through the house, reducing it to splinters.
The initial danger was an illusion, but that moment of safety was a bigger one. Keaton used to call that "The Big No.Ē
Harlan Cobenís books are like that. Donít blink, donít relax, and for Godís sake, donít get complacent.
Anybody who loved

The Woods

as I did will also get a kick out of a particular story element in

Hold Tight

. No spoilers here, but trust me, youíll dig it.
Okay, time to head back to the studio. Gotta polish my Australian accent for

The Atlantis Prophecy

, cuz wouldnít you know, the protagonistís girlfriend just HAS to be from Sydney! Thank you, author

Thomas Greanias

!
Scott Brick is an actor and writer who ventured into narrating audiobooks in 2000, and as he describes, quickly found himself embraced by the audio world. To date heís won more than 40 Earphones Awards for his narrating skills, as well as the 2003 Audie Award for

Dune: The Butlerian Jihad

. After recording some 250 titles in five years,

AudioFile Magazine

named Brick "one of the fastest-rising stars in the audiobook galaxy,Ē and proclaimed him a Golden Voice.
Having now recorded over 400 titles, Brick is currently writing his first novel, a modern-day supernatural thriller based on an 18th-century murder in New England. He says there is "No word on which celebrities will be asked to record the audiobook."