---
For Audiobook Narration Newcomers: How To
Find And Approach Auditions To Book The Gigs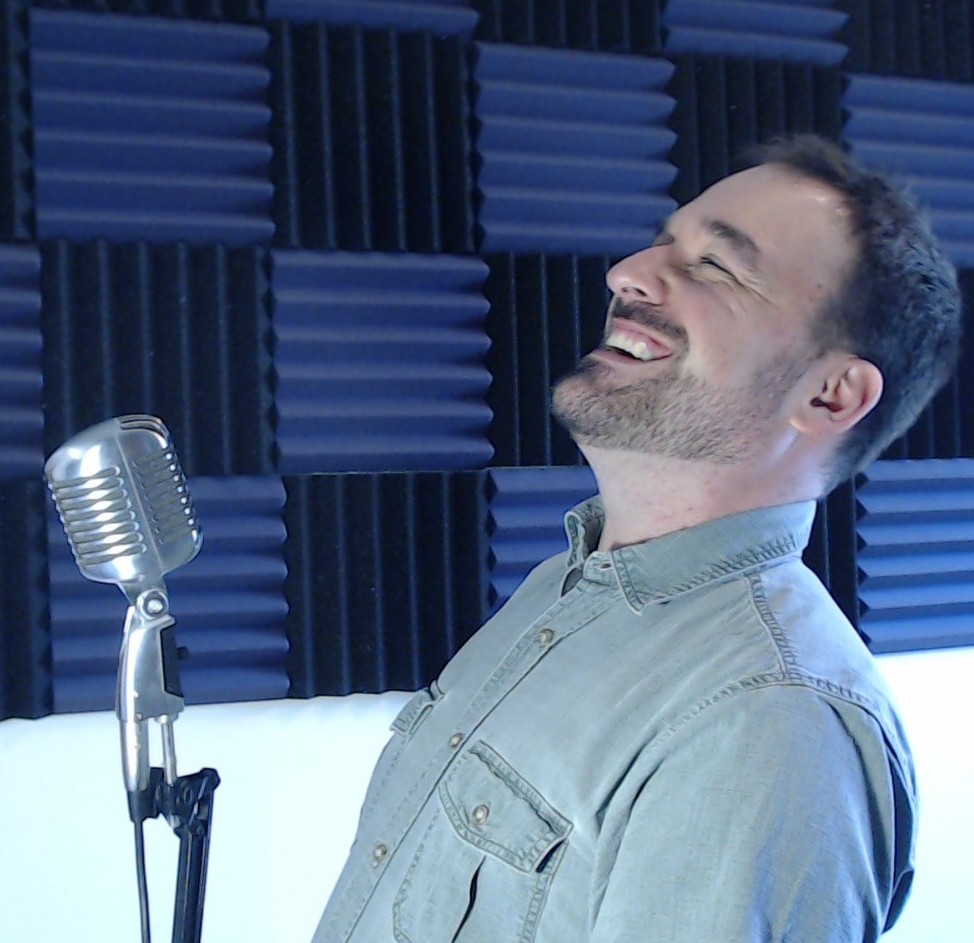 Note: This article is a section reprinted with permission from the author's book,

Booking Your First Audiobook Gig

- "The skills, gear and psychology you need to nail any audiobook audition," available in Kindle format on Amazon here
.
Voice Actor, Audiobook Narrator & Coach
This is it, the moment you've been waiting for: it's time to begin auditioning for audiobook narration work!
Auditioning can be an intimidating but also exciting process - a chance to show off your voice and skills, not to mention the chance to land an awesome audio gig.

There are several websites where you can find auditions for paying voice over work, many with specific niches.

Broadly, they can be broken down into two categories:

Free sites

including

acx.com

,

voicebunny.com

,

fivver.com

and many more.

Pay-to-Play

sites

such as

voice123.com

and

voices.com

, which offer many benefits for seasoned voice actors - but absolutely

should not

be your first stop.
If you already have an established body of work including a demo reel, client testimonials, and a good number of credits, then it can make sense to pay an annual fee for access to exclusive auditions on pay-to-play sites.

But when you're starting out, that membership fee can be a costly and wasteful investment. The competition on the pay-to-play sites will be smaller, but much, much harder. Whereas on the free sites, there will be lots more competition, but many of those folks won't have the skills to put together a solid audition.

In Broadway-level stage auditions, sometimes there will be hundreds, or even thousands of people coming in to be seen for the same handful of roles.

There's a process called "typing" that many casting directors use, in which they'll just take a physical look at all those many people and send home anyone who doesn't match the physical requirements for the role.

This can feel cruel, and it certainly limits the opportunities for a casting director to be pleasantly surprised, but it's a time-saving method that you can use to your advantage when looking at auditions!

If you were to send in bespoke auditions for every single audiobook you see, you would be doing yourself a disservice. There are far too many audiobooks available to give every single one of them the time they deserve, and to put your best self out there.

So just like Broadway casting directors would do, take the time to type yourself, and don't waste time on auditions that won't be right for you.

Now with audiobooks you won't be physically seen by the audience, but your voice still has a type.

For example,
ACX
(the
Audiobook Creation Exchange
) has vocal style categories including "announcer," "comedic," "melodramatic" and "cowboy" among dozens of others.
This isn't to say that you can't have several different styles that you audition for. But if, for example, your voice is higher pitched, nasal and youthful, you probably wouldn't be well served auditioning for military thrillers, even if that's a genre you love to read.

One more thing to keep in mind is that you'll have a lot more fun (and turn in much better auditions) if you're mostly working on material that you find interesting.

Sure, there's value in having a broad range of experience, even in genres that aren't your favorite.

But when you're first starting out, it makes a lot more sense to focus on books that interest you. This way, not only will you be bringing your natural passion for that genre to every audition, but you'll be bringing additional expertise, as well.

If, for instance, you already have a deep catalog on romance novels, then you'll already know the tropes, stylistic expectations, and other subtle aspects of the genre. You'll be starting out that much further ahead of other auditioners who have never read a romance novel before

Audiobooks come in many different genres, and you'll want to tailor your audition to fit the genre.

To do this effectively, you'll need to know the expectations and tropes of each genre. This will make the author (and eventually, your listeners) feel comfortable and taken care of so they can concentrate on the story, rather than wondering why their exciting thriller is being narrated like a dry history text.

Here's a graphical breakdown of some common audiobook genres, including elements you'll find in the text, what you're trying to get across to the listener, and how to approach the narration: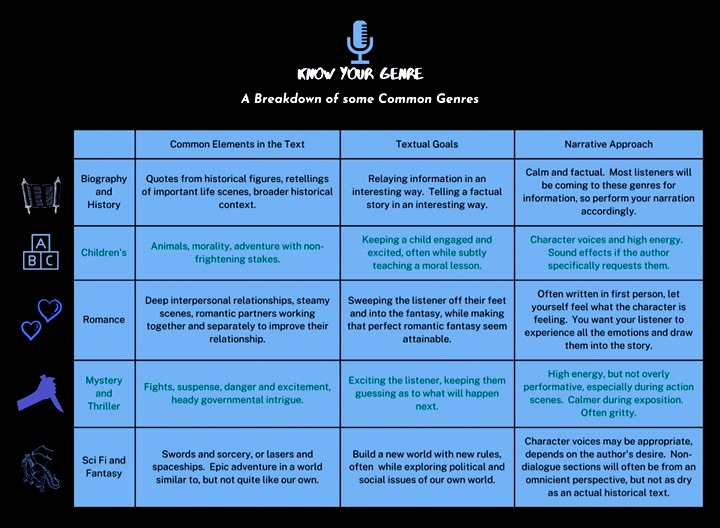 While by no means exhaustive, this table gives you a great place to start.

For example, if you're auditioning for a children's book, you'll want to use character voices and an excited tone to keep the young listeners engaged, as well as emphasizing important story points while still giving an honest read.

If, on the other hand, you're auditioning for a romance novel, there should be less focus on character voices (although those are still sometimes appropriate), and more focus on the emotion of the storytelling.

For a romance, the goal is to sweep the listener off their metaphorical feet, bringing them into the life of the story and feeling like they're a part of the fantasy. Let your listener feel like you're not just telling a story, but telling their story, and that they can be part of the love and romance that you're narrating.

Originally from Poughkeepsie, NY, Noah DeBiase got his start as a performer at age 3, thrilling library patrons as the Giant in "Jack and the Beanstalk." A decade or two later, he earned his BFA in Drama from New York University (with a focus on Musical Theater), kicking off a 10-year stage career. His affection for audio and storytelling led to concurrent careers in voice over and sound production, with a special interest in character-driven pieces, including audio dramas. His voice has appeared in everything from toothbrush commercials to romance novels, and his technical work has been recognized by multiple awards bodies, including the Society of Voice Arts and Sciences. He is also an voice over coach/teacher and author of the Kindle format book,

Booking Your First Audiobook Gig

. Noah currently lives in Easton, PA with his wife Maddy, and several hats (yes, hats).

Your Daily Resource For Voice-Over Success