---
SNEAK PEEK EXCERPT #3
Joe Cipriano's

'Living On Air' ...


Don LaFontaine - 'Second To No One'

October 17, 2013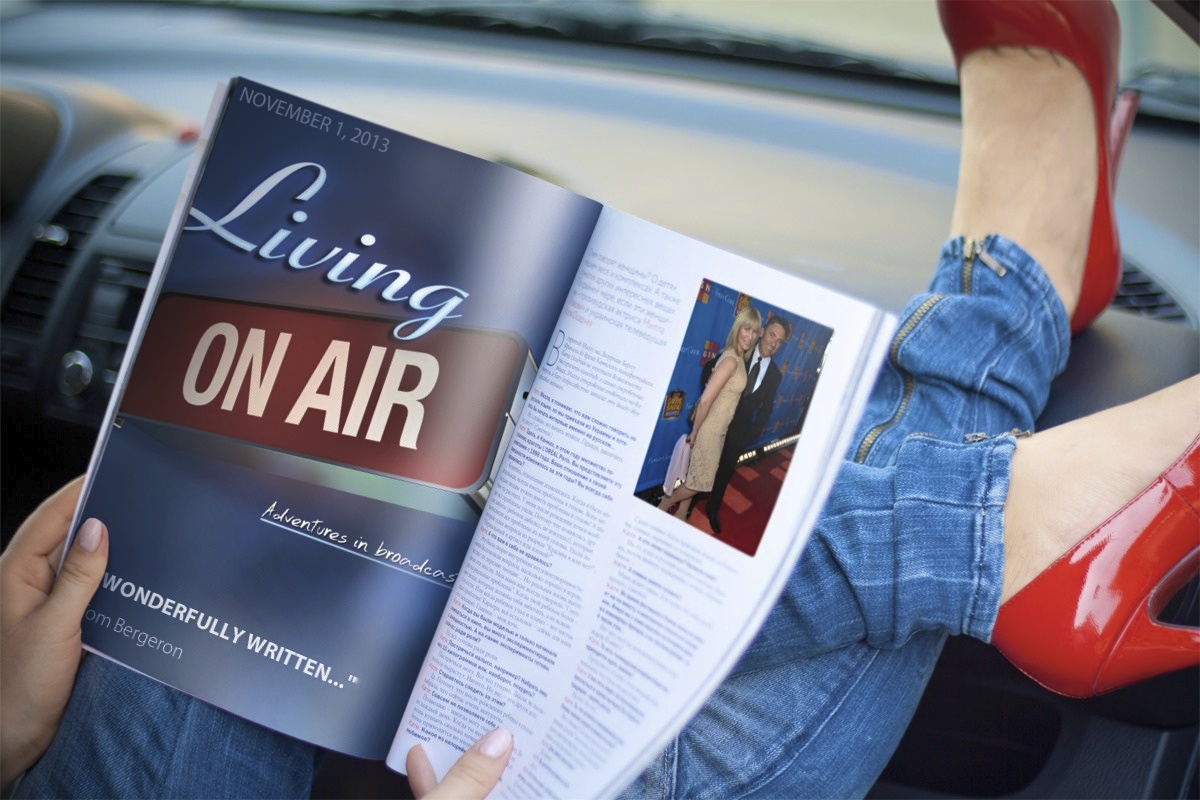 See Part 1

:
'Incredible Career'
Starts At Age 14
See Part 2:

'Brand New Adventure - Voice-Overs!'
(VOXtra) - Star voice talent

Joe Cipriano

's fascinating new book,

Living On Air

, will be published November 1, 2013. And

VoiceOverXtra

is honored to have brought you 'sneak peek' excerpts, selected by Joe, concluding today. Enjoy these insights into the attitude and actions that have propelled Joe to the top of the voice-over world ... and the stories of his up-down-and-UP-again career in broadcasting and voice-over, from Connecticut to Los Angeles. To pre-order

Living On Air

, please click here.

Start with today's backstory ...
"What I'd hoped to do with the first two excerpts in this series was to share with my voice-over friends the story of my radio career and how I first started to think about this new world called voice-over.

"Today, in this third excerpt from

Living On Air

, I've moved to my dream city, Los Angeles, and have had a few little successes in voice-over. I was starting to build on that while still keeping my day job, my radio show.

"And a couple years after moving to L.A. I was fortunate enough to meet one of the most talented and in-demand voice-over artists of all time. This is the story of meeting the one-and-only

Don LaFontaine

."

JOEY AND 'THE DON'
'Of Course, We Got The Caviar'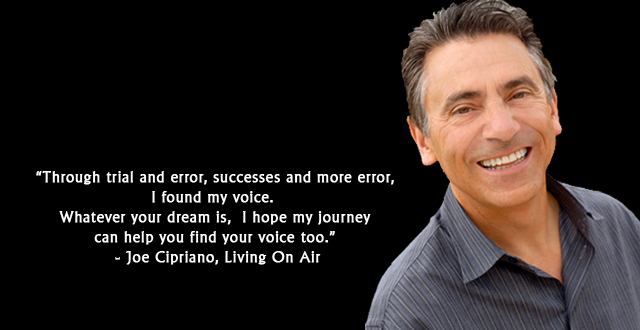 By Joe Cipriano

with

Anne Cipriano


Years ago I was out to dinner with a bunch of voice-over people,

Joan Baker

,

George DelHoyo

,

Sylvia Villagran

, plus a few other friends.

The man sitting next to me looked at the menu, then leaned over and in the voice that launched a million blockbusters, he said, "We should get the caviar tonight, for an appetizer."

I nearly gagged when I saw the price. It was $320 for some ridiculously small amount.

I said, "No way, it's too expensive."

He looked at me with a grin, then said, "Joey, it's a spot and a tag!"

That man was the late, great

Don LaFontaine

. Of course, we got the caviar. I've already told you a little bit about Don when we worked together at FOX. He is probably the most successful voice-over artist of all time.



SECOND TO NO ONE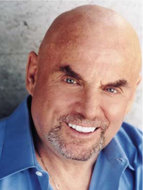 Don passed away in 2008, yet he still holds the record for the most contracts ever filed by the Screen Actors Guild. He recorded hundreds of thousands of spots to promote movies, television shows, radio stations, commercial products, anything and everything.

Then there was the television commercial he did for the Geico Insurance Company. That's the one where you actually got to see what he looked like, on camera.

Don was second to no one. He even inspired a movie, a comedy about the people who work in voice-over, called

In A World

, written, directed by, and starring the extremely talented

Lake Bell

. I have a small part in the movie, playing myself in a couple of scenes.

Once you see what Don meant to our industry, you'll understand why producers loved and feared him. Agents courted him. Up-and-comers tried to sound like him. All of us respected him.



'ARE YOU JOE?'



Don was already a legend when I met him for the first time. It was at a studio in Los Angeles on Third Street, just east of Fairfax, in 1982, way before the FOX network was created.

I was at the studio to voice a trailer for

Fast Times at Ridgemont High

. When I walked into the room, the producer told me they weren't quite ready yet, so he asked me to take a seat.

The lights were low but I could see there was a man sitting in a dark corner, looking down at a book on his lap. The producer called out for someone to get a cup of coffee for Cipriano, and that's when this guy looked up and said, "Cipriano? Are you Joe?"

I was blown away by that voice. It sounded like it was coming out of a speaker. Crisp, clean, clear, and deep.



THE VOICE OF GOD ...



Even though we had never met before, I knew exactly who it was.

"Yeah, I'm Joe."

I smiled back, happy to finally meet the "Voice of God."

"I've heard you on some stuff. You're pretty good, kid."

"Thanks! I'm a big fan of yours."

"Yeah, everyone is," he cracked back. That was Don. Funny, self-deprecating, brilliant.



MY FIRST LOOK



I reached out to shake hands and when he stood up I got my first look at the famous Don.

About my height, he had on a black satin shirt, open to the middle of his chest, with a thick gold chain hanging from his neck. I noticed a big watch on his wrist and an even bigger buckle on the belt stretched around his ample waist.

I had already heard Don wore a toupee, and there it was, a dark, curly hairpiece sitting on top of his head.

When he turned to sit back down I saw a huge falcon or some other monster bird embroidered on the back of his shirt. Now I knew who owned the muscle car sitting out by the front door in the parking lot.

I used to think Don dressed to match his various cars. With a giant bird on his back, I figured the Pontiac Firebird outside obviously belonged to him.



DRY SENSE OF HUMOR



Even though he was only 14 years older than I was, in many ways Don reminded me of my dad. They were both on the short side, with huge personalities. Big appetites, easy smiles, and bright eyes. Dad's were a warm brown, Don's were crystal blue.

Much like my dad, if Don thought you were taking yourself too seriously, he would knock you down a notch.

Don's sense of humor always played against type. I saw people who thought they had a sense of who he was, with his commanding voice and his serious work ethic, then he would say something completely unexpected.

'UNCLE DON AND DADDY ...'

He loved goofing on people to watch their reaction, especially his friends. Like the time Ann and I were hosting the AFTRA holiday party at our home in Beverly Hills.

Towards the end of the night, Don came up to Ann and me in the kitchen, our kids were standing there, too. Dayna was probably about 16 and Alex was 13.

Don looked at the kids and said in an epic movie trailer voice, "Mommy's going to go away for a while and it's just going to be Uncle Don and your daddy living with you."

Then he reached over and gave me a big kiss right on the lips. Ann and I about fell on the floor laughing along with our kids, but Don wasn't quite finished.

With his hand planted on his hip, he said, "But we're not gonna live in this hellhole! We're all moving to MY house!"



... AND

LORD VOFF



Then there was the time Don overheard someone refer to me as the "Voice of FOX" broadcasting network. That was when I was voicing all of the network's comedies and Don was voicing the dramas.

He said, "Voice of FOX? That's who you are? Well, I bow to you Lord VOFF."

"Lord VOFF?"

"Yes indeed," he said. "You are Lord, Voice Of FOX, VOFF."

He would needle me for the next few years, calling me Lord VOFF, but it never bothered me. In fact, I appreciated his friendly reminder to keep my feet planted firmly on the ground.



IN HIS WORLD



Like my dad, Don didn't take any attitude from anybody, especially at work. My guess is, if Don was tough on a producer, it was probably well deserved because Don knew just about everything there was to know about the business.

He started out as a recording engineer, became a writer, producer, director, and eventually ended up doing voice-overs for the very commercials he used to create.

Don had a huge vocabulary, he devoured books. He was one of the smartest guys I ever met. Don was the one who came up with that famous movie trailer line, the one that became the title of the movie,

In A World

.

Every studio still used that line, long after he was gone.



SPARKS WOULD FLY ...



Don was famous for getting his reads right the first time around, so when a new producer tried to "direct" him, we all just sat back and waited for the sparks to fly. Not that he couldn't take direction, but let's face it, if someone's going to tell you what to do, they better know what they're talking about.

It might go something like this:

"Very good, Mister LaFontaine. Now would you give me a second take on that?"

"Why?"

It's only a three-letter word, but Don emphasized every letter, making it a complete sentence.

"Uh, so I have a backup take?"

"Why do you need another take of me doing what I just did?"

"Uh, you're right. Never mind, Mister LaFontaine."

Another time I heard a young producer say, "Let's do a 'tonight' version now."

Don replied, leaning into the microphone and in his very deepest register, "Normally I decide when that happens."

The producer just froze, not knowing if Don was serious or not.



FAMOUS LIMO RIDES



When he wasn't keeping me, and everyone else in check, Don enjoyed helping out newcomers who were trying hard to break into the voice-over business.

I think it started when he was tooling around town in his limousine. Don and his driver would meet the lucky person at Don's agent's office, then take them on the ride of their life, going from session to session, watching and listening to everything he did.

Don was so absolutely at the top of his game, it was a chance for the up-and-coming actor to learn at the foot of the master. I don't know how many people he invited to spend the day with him, but I'm sure it was in the hundreds. It was incredibly generous.



DLF VOICE-OVER LAB



After Don passed away, his generosity was the inspiration behind building the

Don LaFontaine Voice-Over Lab

at the Screen Actors Guild Foundation in Los Angeles.

Don's best friend,

Paul Pape

, and I came up with the idea to build a state-of-the-art recording studio that would be open, free of charge, to anyone who was interested in learning about the voice-over world. It's a place to experiment, make mistakes, and learn the craft without pressure or criticism.

Paul and I call it a "virtual" ride-along with Don.



MY

WORLD WAS FALLING APART ...

I never went on one of those ride-alongs. I was already working in voice-overs when he started his one-on-one sessions, but he did offer me advice at a time in my life when I thought my whole world was falling apart.

We were still living in Beverly Hills, when I found out I had been dropped by a very big client. With one phone call, I learned I had lost half of my income.

I was sitting in my studio, paralyzed, feeling like I had just been punched in the stomach. It was devastating, the worst dive I had ever experienced on that terrible roller coaster.

For the first time in my life I started to doubt myself. I thought my career was over.
-------------------


ABOUT JOE


Joe Cipriano has worked on the air for the Fox, NBC, ABC and CBS TV and Radio networks, achieving success on and off camera. He is the original and best known "Voice" of FOX, has been the signature voice of numerous TV series and hosted many live awards shows including the Grammys and Emmys. His new book,

Living On Air

, is a humorous and uplifting account of his roller coaster broadcasting and voice-over career - inspiring for voice actors at all career levels.

Web: www.JoeCipriano.com
Email: cip@joecipriano.com
Pre-Order

Living On Air

:

www.livingonairbook.com





Your Daily Resource For Voice-Over Success