---
AT DON LaFONTAINE VOICE-OVER LAB:
Voice Talent Rebecca Davis Is First Recipient
Of The New Annual

Don LaFontaine Spirit Award
July 7, 2014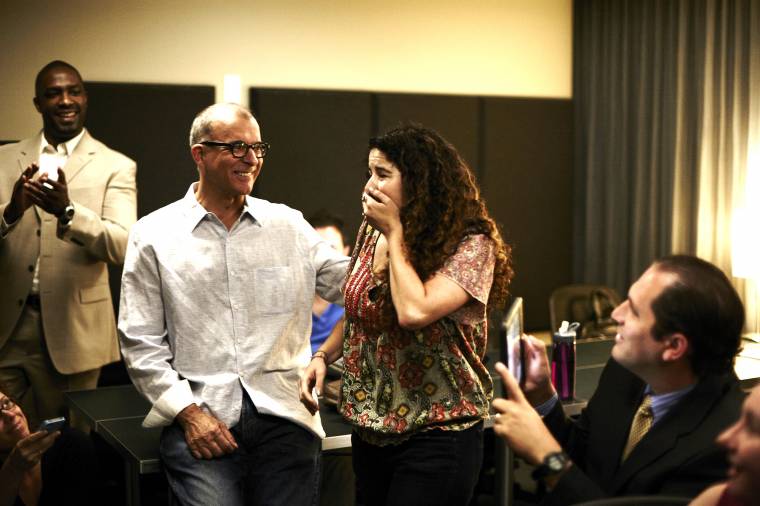 By John Florian


VoiceOverXtra



Voice talent

Rebecca Davis

says "I can't stop smiling!" (Which might be a hindrance in portraying a villainous character.)

But the voice over industry is smiling too - for both Davis and the memory of voice over legend

Don LaFontaine

.

On June 26, Davis was invited to a meeting at the

Don LaFontaine Voice-Over Lab

, located in the

SAG (Screen Actors Guild) Foundation Actors Center

in Los Angeles. It's a fully-equipped recording facility and classroom space - created to honor LaFontaine and help voice actors learn and practice their craft - that Davis visits often.

Davis had not been told that the purpose of the gathering that day was to present her with the first annual

Don LaFontaine Spirit Award

, sponsored by the SAG Foundation and

Source Elements

(creator of the Source-Connect NOW remote recording technology).

"Rebecca was completely surprised and stunned (photo above) when we called her name," says voice talent

Joe Cipriano

, a Lab co-founder.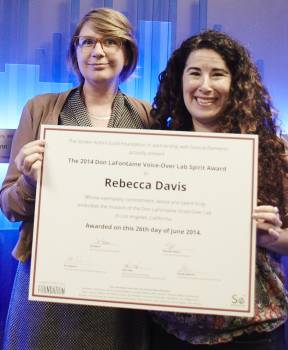 "And

Rebekah Wilson

from Source Elements (pictured with Davis) presented Rebecca with Don LaFontaine's actual Source-Connect license (see the story about Don's license below).

About the award, Cipriano explains:

"We wanted to honor someone who utilizes all of the features the DFL Lab has to offer, and who also demonstrates commitment, desire and talent. Someone who embodies the mission of the Lab."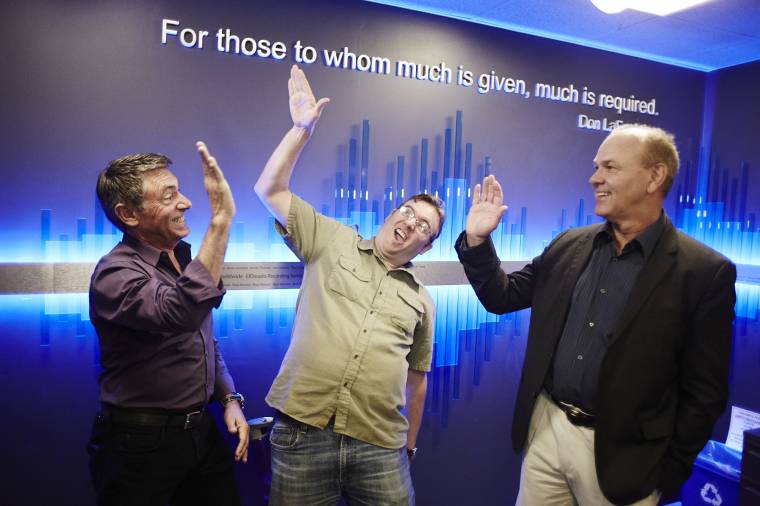 Presenters at the ceremony included SAG Foundation Executive Director

Jill Seltzer

, Source Elements' Wilson, and Lab co-founders (pictured, l-r) Joe Cipriano,

George Whittam

and

Paul Pape

.

"It's a very significant gift," says Pape. "To have Source Elements embracing our mission allows both organizations to move forward."

Adds Wilson:

"We're honored to present the award, which is now an annual event. Working with the DLF Lab helps us better support the industry's needs by forging a strong relationship with voice talent and technicians alike. It's a really important part of the local community, and to see careers benefit is very satisfying."



'MEANS SO MUCH'



"From the bottom of my heart, this truly means so much to me," says Davis, who redirected an acting career into voice overs and has earned clients for promos, trailers, video games, commercials, narrations, animation and more.

"The Lab has truly given me so much. I mean truly propelled my career in ways that I'm so grateful and so thankful for. I had a goal many years ago and I actually achieved that goal because I had access to this Lab and everything it has to offer.

"To have my name associated with all of you (at the Lab) and with Don, is an amazing honor," she says. "I never would have thought I'd see his (Don's) name and mine on the same document. And to have Don's Source-Connect license - amazing!"

Read more: 'Why Weren't Things Happening For Me?' Learn Key to Voice Over Success, by Rebecca Davis

DISCOVERS DON'S LICENSE



Historians can trace the origins of this award to a castle in Scotland.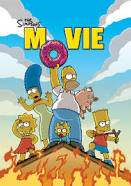 That's where LaFontaine was on "vacation" and using Source-Connect remote recording technology to voice sessions for

The Simpsons Movie

(released in 2007).

Recently when "cleaning out old records," Wilson spotted the Source-Connect software license that LaFontaine had used for those sessions.

"The decision was made to offer that license - LaFontaine's very own - to a deserving voice over artist," Wilson says, "and to subsequently create an annual award for a new license to be handed out each year."

TO LEARN MORE ...

For more about the Don LaFontaine Voice-Over Lab, please visit:
http://sagfoundation.org/actorscenter/lafontaine

And for more about Source Elements and Source-Connect NOW, visit:
https://now.source-elements.com/#!/



Your Daily Resource For Voice-Over Success