---
Audiobooks: Storyteller Is The Medium
& The Messenger (May 1-2 in Chicago)
Audiobook Producer & Director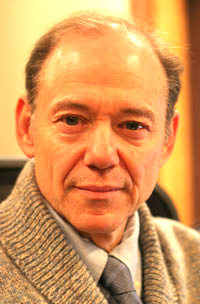 On May 1 and 2, Iíll be conducting an Audiobook Narratorsí Workshop in Chicago, sponsored by Sherri Bergerís

Voice Over U

.
Since 1990, Iíve produced and directed at least 500 audiobooks, received numerous awards and citations, including two Grammy Awards (most recently for

Always Looking Up

by Michael J. Fox), been a member of the APA (Audio Publishers Association) Board, and had the privilege of casting numerous talent whoíve gone on to become highly sought-after narrators.
I also teach an audiobook workshop in Manhattan for professional talent.
STORYTELLER'S PERSPECTIVE
As I board the plane to Chicago Iíll be hoping to inculcate one simple, reductive proposition in the mindís eye of each participant: becoming a valued audiobook narrator means becoming one of the industryís valued "storytellers.Ē
For two days Iím going to employ every narration technique Iíve discovered over the years (there arenít many, but from my perspective, they do work) to assist participants in finding their "storytellerís voice.Ē
If Chicagoís aspiring audiobook narrators want to emulate the talented actors Iíve had the opportunity to work with - Barbara Rosenblat, Jeff Woodman, Barbara Caruso, Maggie-Meg Reed, Holter Graham, Kathleen McInerney, Fred Berman, Beth McDonald, Chuck Stransky, Richard Ferrone, Eliza Foss, Simon Jones, Cassandra Morris, Simon Prebble, to name a few Ė itís important, I think, to embrace this "performance mediumĒ from a storytellerís perspective.
Following are my thoughts on the essence of storytelling.
When defined as a performance medium, audiobooks are about how one hears a story.
They aren't about abridged versus unabridged. They aren't about the book's content because the written word is now interpreted by the storyteller to create an experience that transcends the page.
Audiobooks are about the simulation of the mind's eye via the auditory canal.
An audiobook's only salient issue is the actor's ability to tell a story.
If or when consumers view audiobooks as essentially storytelling, the industry may come up with a name that reflects the medium's aesthetics, rather than its marketing purpose.
If storytelling is the essence of audiobooks, what then is the essence of storytelling?
There are probably a dozen words and phrases that serve to distinguish a master storyteller from someone who simply reads words. We'll list some shortly.
One quality, however, exceeds all the others combined:

a storytelling persona.
The actor's establishment of this storytelling persona instantaneously warps us out of our world and into the storyteller's.
The easiest way to define

persona

is simply to point to those who have it.
Nevertheless, a plausible definition of storytelling persona might be:
the establishment of a personality that compels listeners to immediately and consistently "suspend their disbelief" for the length of the story.
THE ESSENTIALS ...
The following are essential to the storyteller's persona:
ENERGY:

the actor's "performance fuel," which enables him or her to transcend the mundane (telling a story) and become something just a little bit bigger than life (a storyteller).

RHYTHM:

the storyteller's unique cadence, which imbues the ebb and flow of the author's words with as much value as the words themselves.

PASSION:

the actor's celebration of every word, every breath, every inflection, every nuance the story has to offer.
STORYTELLER'S RESPONSIBILITY
The storyteller's singular responsibility is to compel listeners to suspend their disbelief by appealing to their emotions.
And while it's important for actors to understand the author's words, it isn't necessary for them to prodigiously examine the story's content.
The comic actor Bert Lahr, for example, is considered by many to have given the essential performance as Estragon in Samuel Beckett's

Waiting for Godot

.
According to Alan Schneider, the play's director, Lahr was completely bewildered by the play. Nevertheless, Lahr was able to innately capture Estragon's emotional essence.
That profound connection allowed him to "become" Estragon without being able to fully understand, much less talk about, the character.
What kinds of work have storytelling potential?
A comprehensive text is certainly preferable to having to guess what things mean.
However, a brilliantly written book doesn't necessarily translate into great storytelling material.
Texts with

emotional consequence

- in which something's emotionally at stake, whether written in the vernacular or with erudition - make for good storytelling.
Paul Ruben, president of Tribeca Audio Inc., produces and directs audiobooks for major American publishers. He teaches audiobook narration, as well.
Details about May 1-2 Audiobook Weekend in Chicago:

Your Daily Resource For Voice-Over Success