---
HOME STUDIO
How To Go Paperless In Studio
With An iPad & Foxit Mobile PDF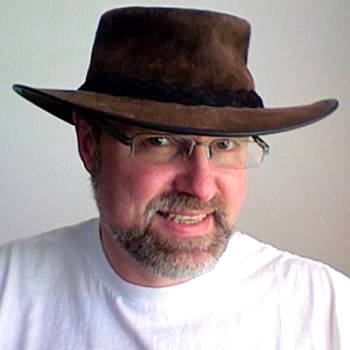 By J. Christopher Dunn


Voice Actor



When I was preparing to open the door of my voice over business, I made a list of all the office goodies I needed.

One of the items was a printer, and I had my mind set on a multifunction unit. I thought having print/fax/scan capabilities in one easy-to-use box would be the most efficient way to go. I made the purchase and printed off into the sunset.

Well, not really. You see, I bought an inkjet version and quickly found that I was going through cartridges faster than a Hummer guzzles a tank of gas. I found myself making my way though reams of paper as well.

I had a huge box of printed scripts to recycle every month. It took little time for me to figure out that I needed something more efficient, more green.



THE iPAD APPEAL



Iíd read that a number of my voice over peers had made the migration to

iPad

for scripts. This appealed to me on several levels.

With an iPad, my paper and ink cartridge consumption would be significantly reduced.

My office would be more green.

Plus, the iPad would be a super-cool buy, satisfying my inner gadget geekness.
SCRIPT-READING TOOL ...



I made the purchase, an

iPad II

/16-Gig.

Next was to load it with software that would make the purchase pay for itself. I needed something to read scripts.

I used

iOS Pages

at first, but found that it was missing the ability to handle PDF formatted files.

I tried several PDF readers (too many to list!) before finally arriving on what I believe to be the ultimate PDF tool,

Foxit Mobile PDF

by

Foxit Corporation

.

It allows me to view and easily navigate PDFs, plus it has a number of ways to annotate or markup the text. I can bookmark, highlight text in multiple colors, type notes for phonetics, write direction notes, strike text and more.



HOW IT WORKS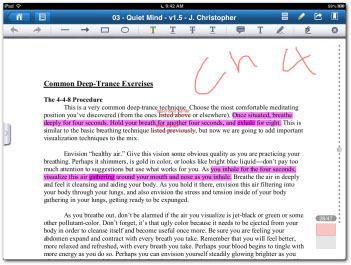 Foxit Mobile PDF is perfect for the audiobooks I produce.

This screenshot shows my markups for a recently produced audiobook. I wrote in chapter numbers, typed in audiobook-specific replacement text, and highlighted sections for pickups.

The screenshot also shows the appís toolbar, document navigation slider on the right, and page view and page number in the lower right.



SLIDE PANEL ACCESS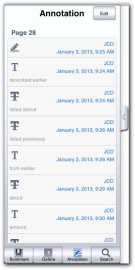 The slide panel in this screenshot reveals four useful tools that allow me to navigate to a specific bookmark, review the chapters or outline of a document, see my annotations and search for text.

The one drawback to using an iPad for scripts is that markups during a directed session are a bit cumbersome, but itís still doable.

Itís not as easy for me to write in a quick note or strike words on the tabletís surface as it is to do it with pencil and paper. Iíve caught myself a few times going for my pencil.

Perhaps the natural thing to do would be to migrate to a stylus.



WHERE TO GET IT



Foxit Mobile PDF is available for a limited time at no charge from the

App Store

.

Iím sure there are other PDF readers/annotators that you have used and Iíd like to hear about them.

And since Iím interested in trying out a stylus, Iím open to suggestions.

Also, what are the things youíve done to make YOUR studio more green? Let us know in the COMMENTS below.
----------------------------------


ABOUT J. CHRISTOPER




J. Christopher Dunn is a professional voice actor who lives in the Pacific Northwest close to Seattle. He voices commercials, web demos, podcasts, product demonstrations, telephony projects and documentaries. His voice is described as friendly, warm and trustworthy - the guy next door or the voice of high profile corporate presentations. He also spends time with the Penn Cove Players, a Whidbey Island, WA troupe that performs original audio dramas, as we all as recreates old time radio shows in front of a live studio audience.







Your Daily Resource For Voice-Over Success