---
VOICE OVER PAY
New Voice Over Poll Results: Lowest
Pay You'd Accept For A Voice Over Job
May 22, 2017

(VOXtra) - All right, we admit it. The poll question sent to

VoiceOverXtra

readers and social media groups on May 9 lacked the opportunity to explain reasons and situations for any particular job:



Question:


Under normal circumstances (not charity, etc.), what is the approximately LOWEST $$ you will accept for a single voice over job?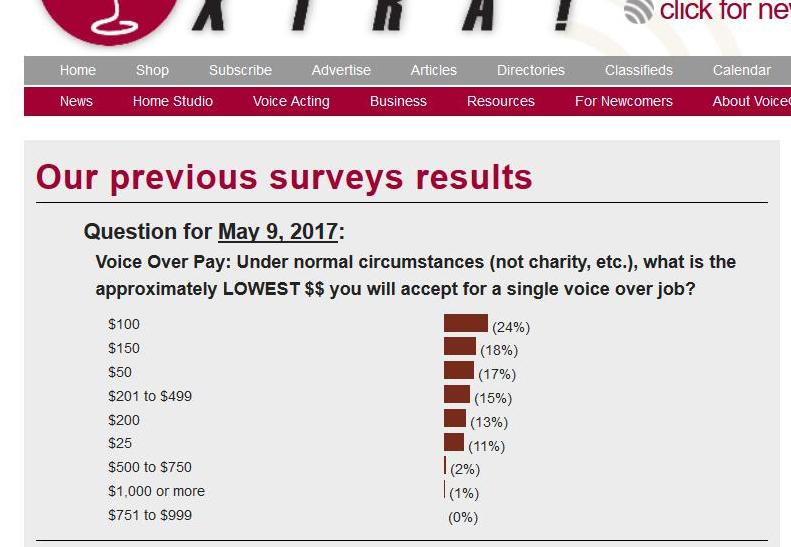 Still, what we learned was interesting.

The most common answer: $100, which was chosen by 24% of the respondents

Interestingly, $100 was the most common answer to the same question when asked in September 2012 (29% of respondents).

This year, the second most common "lowest" amount was $150 (18%). In 2012, the second most common answer was "union scale" (chosen by 18%), and we regret that this option was not included in the answers to the current question.

Also this year, nearly half (42%) won't touch the record button for less than $200 or more.

Some respondents this year questioned the validity of the question, with comments like:

"Interesting question, but without the size of the project?" And "You should clarify on this. What type of job?"

Well, we agree, and will clarify it in future polls of the voice over community.

Do you have a question you'd like answered? Please send it to info@VoiceOverXtra.com.

Meanwhile, you can check results of all previous polls at the VoiceOverXtra.com home page (scroll down the right column to the red Poll box).

Thanks for participating!

See more helpful articles about

VOICE OVER INCOME AND FEES

here.



Your Daily Resource For Voice-Over Success