---
ONLINE CASTING
World-Voices Organization Launches
Pro Member Directory For Voice Seekers
May 27, 2015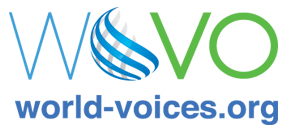 (VOXtra) -

World-Voices Organization

(WoVO), the rapidly growing industry association of freelance voice talent, this month launched its exclusive professional member voice talent directory:

voiceover.biz

.

"WoVO built this site for voice seekers, to help them save time when looking for the right voice, by providing an easy-to-use search engine of our exclusive membership's profiles and demos," the organization explains.

WoVO members like it too, of course. Especially the minimum talent fee.

"In the interest of maintaining the highest professional standard for our members, projects proposed here must meet a minimum budget requirement of USD $250 for corporate/industrial recordings," says WoVO, "and be fair market rate for TV or radio depending on broadcast coverage and cycle length."

WoVO members are both union an non-union, and those listed on the site have undergone a rigorous peer review process.

"They have proven they have the talent, skill, extensive experience and technical facilities to be called professionals," says WoVO. "They can provide anyone seeking voice talent exactly what that talent seeker requires, in the many different genres of material requiring a professional voice."



DIRECTORY HIGHLIGHTS ...



Some highlights for voice over talent seekers are:

Talent seekers can browse members' demos in different categories to find talent for their project.
Talent seekers can invite as many as five voice talent to audition, and pick the one that best suits their needs.
Communication and final negotiation between the talent seeker and the talent are private. There's no "middle man."
Also, there is no cost to register as a talent seeker on Voiceover.biz. Once one is registered as a talent seeker, they will have access to WoVO's exclusive roster and find the talent they require for direct invitation, or by posting an exclusive call for auditions.

For more information about the voiceover.biz directory, please visit www.voicever.biz.

And for more about World-Voices Organization, please visit: www.world-voices.org.



Your Daily Resource For Voice-Over Success