---
PEOPLE
Paul Strikwerda Suffers Stroke Inside VO Booth - Recovering Now, Relates Horrible Experience
April 12, 2018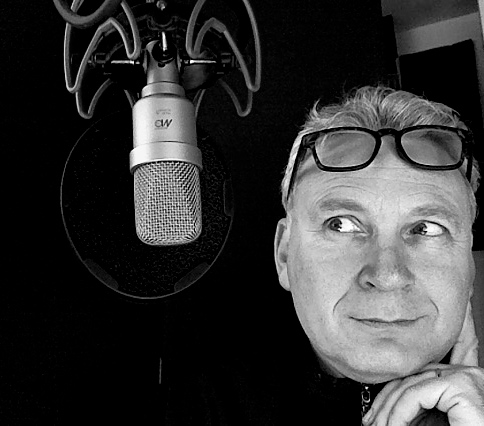 (VOXtra) -

Paul Strikwerda

, a top voice talent whose blogs about the voice-over world frequently appear on

VoiceOverXtra

shook us on March 27 with a

Facebook

post that began characteristically for Paul with no hint as to what would follow:

"Yesterday I had my first helicopter ride ..."



And then he knocked the breath out of us by continuing:

"... as I was airlifted from my home studio to the hospital. After a stroke."



Today he's recovering at home, and in his first blog since that awful day, Paul recounts the horror of experiencing a stroke while confined in his sound-proof VO booth, alone at home, unable to move and gasping for air ...

In the late afternoon while at work in my studio, I suddenly and inexplicably began to feel light-headed. My legs became weak like rubber, unable to support the body they held up.





Then I blacked out for who knows how long. It felt like minutes, but it could have been for hours. When I regained consciousness, I found myself on the floor, painfully twisted like a pretzel, gasping for air. I tried to get up on both knees but couldn't. It was as if my brain's messages didn't reach my muscles. I'd never experienced anything like it in my life.





... While I was lying on the floor, I noticed that my breathing had become very shallow. I had no idea for how long I had been down. The lightheadedness got worse by the minute, and suddenly it dawned upon me that I was using up all the oxygen in my seven by seven, hermetically sealed, and unventilated voice-over studio. I clearly needed help, but who could possibly rescue me?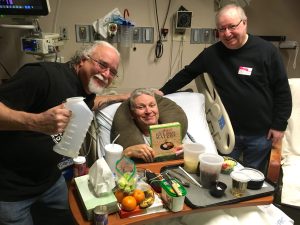 Yet thank goodness, today Paul is not only recovering, but again sharing observations about life, including the values of positive thinking and having supporting, caring people in his life.

Besides hundreds of well-wishes during his hospital stay, Paul received visits from many friends, including

Uncle Roy Yokelson

and

Mike Harrison

(pictured).

Click here to read Paul's entire blog about the stroke experience.

Paul:

Whew! Welcome home ... and take it easy!





For more about Paul Strikwerda and to contact him:


Web: www.nethervoice.com


Double Dutch

Blog: www.nethervoice.com/nethervoice


Making MONEY In Your PJs

: http://makingmoneyinyourpjs.com

SEE ARTICLES BY PAUL STRIKWERDA



Your Daily Resource For Voice-Over Success