---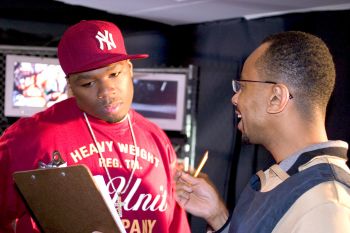 Producer/director Rudy Gaskins directs 50 Cent in a promo series for Spike TV. Below, he's in a helicopter to shoot New York City aerials for an American Express industrial voiced by Joan Baker.
Ask Rudy #3:
Casting: What's Your Process
For Selecting Voice Talent?
Top creative director/producer Rudy Gaskins works with clients to find the best voice for a product. Who gets the nod and why? Rudy explains in Part 3 of this exclusive VoiceOverXtra series.
By Rudy Gaskins
CEO & Executive Creative Director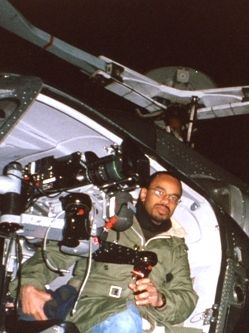 Q:
What is your process for casting voice-over talent?
The nature of different jobs can sometimes greatly shape the way you go about casting talent.
As such, there's no one way that I do it, but the most dominant process goes like this:
1. An elaborate branding process ensues by which the client and I determine the nature of the voice that will best represent the product.
2. I do my best to draft a description that goes with the script that goes to agents and/or casting directors, who will pull together a collection of voices in the form of an audition reel.
3. I typically pick up these auditions on an online casting site. Voicebank.net is my preferred service for this.
4. I usually know within five seconds of an audition whether it's remotely close to the sound I have in mind for the product.
When a voice stands out as being right, I listen more and eventually include it in my top three or five for a final review.
I pick a first and second choice and sometimes a third. The reason for the three choices is availability.
Q:
How do you determine which voices to reject?
No client in his right mind spends one second "rejecting" voices.
Casting a voice is a "selection" process, not a "rejection" process.
The client is armed with all the criteria and ephemeral data needed to know when he hears the perfect voice for his product.
The process is one of listening for the voice that hits the bull's eye.
I know many actors suffer under this myth that they are experiencing "rejection" as part of the job, but it's simply not the reality unless you come to the studio naked with a born-to-lose tattoo on your chest.
Imagine that you are in an Armani clothing store looking for an outfit for a special event. You'll know it when you see it, and you engage in a process of finding it.
You don't engage in a process of rejecting everything else. In fact, there may be outfits you would have preferred to have if you had more money.
Q:

When is scale talent more appropriate than celebrity talent?
Almost always. Scale talent is the predominant muscle in the industry.
The reason is that these voices come untainted by preconceived consumer notions about the celebrity personality – notions that often outweigh the focus the advertiser wants on his product.
Another factor is that scale talent is a hundred times less expensive than celebrities.
Finally, scale talent is far more pliable and available to deliver the specific, perhaps offbeat characterization that may go against a particular celebrity's personal brand.
CELEBS BEST WHEN ...
Celebrity talent is used when it is believed that:
the product will be elevated by the stature of the celebrity,

they possess a sound quality that will be familiar to consumers without the consumer really knowing why.
And, celebrity talent is used
because
producers want the pleasure and excitement of working with them. Yeah, it's true.
The client pays through the nose just for the chance to be in the recording session with a celebrity, not to mention the photo ops and publicity.
Q:

What's the difference between working with celebrity talent and scale talent?
When you work with celebrities you generally have very little directing to do.
You chose the celebrity because of who they are - a personality. So just let them do their thing and be the personality you hired.
The celebrity has almost always worked with many more directors than you have worked with celebrities, so it's to my advantage to simply let their immense talent shine and allow me to shine.
If you have formal training as a director - rare in the voice-over industry - you will understand when the actor, celebrity or otherwise, needs support and how to give it to them.
You will establish a rapport that creates space for creative collaboration.
GUIDE NON-CELEBS
On the other hand, when working with scale talent, you're free of a predefined "personality."
You're starting with a clean slate.
In this way, you are expected to offer guidance to help the actor understand the vision for the spot and to create what will be the personality of the product.
But whether working with scale or celebrity talent, the director must be equally prepared to answer any and all questions about the script and the intended vision for the work at hand.
Q:

Have you ever heard a regular, off-the-street person with a great voice and used them to do professional voice-over?
I have never done this, but have heard stories of how this approach has failed others who attempted it.
A great voice by itself is of little use if it isn't trained.
You would agree that a concert pianist has remarkable dexterity with her hands, but you would hardly ask her to perform surgery as a result. Whatever the quality of the voice, there is trained and untrained.
Also See:
ABOUT RUDY ...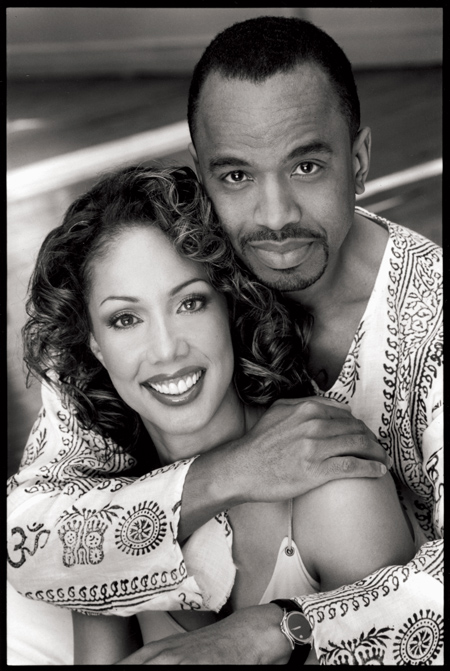 Emmy-winning producer Rudy Gaskins is CEO and Executive Creative Director of Push Creative Inc., a branding services company providing strategic marketing, graphic design and video/film production for TV broadcast networks and corporations. Clients include Lexus, FOX News Channel, BET, American Express, Spike TV, ABC Television, History Channel, MSNBC, and NBC Sports. Drawing on his former experience as a filmmaker and writer/producer/director for PBS, Gaskins has recently expanded Push Creative's production scope to include program development, and is actively developing projects in several genres. He also coaches professional and aspiring voice-over actors in the development of performance technique. He is co-writer of Secrets of Voice-Over Success by Joan Baker (pictured with Rudy), with whom he also partners in offering voice-over training.
Facebook: www.facebook.com/#/profile.php?id=571637086&ref=ts

Your Daily Resource For Voice-Over Success