---
VOICE ACTING
Overcome 4 Challenges Of Working
With Overseas Voice Over Clients
May 12, 2014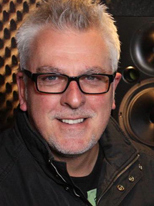 By Andrew Peters


Founder, Realtime Casting



In the past decade working remotely has become common practice, and the home studio is becoming almost mandatory for any voice actor.

Ten years ago all my voice work was recorded in city studios, and now my client base is over 50% interstate or overseas, and 80% recorded from my home studio.

While working remotely has its benefits, there are also things that have to be considered:

Availability

Ability to get a clear description of what is needed

Communication skills, and

Technical knowledge
LET'S REVIEW...



1. Availability

The good thing about voice over work is the hours you set for yourself, but you cannot disappear for a day, then wonder why your clients are unhappy. Unlike most businesses, you cannot have someone cover for you because it's your voice.

If you do have to be away for a period of time, or cannot be available for some reason, you have to make sure everybody knows, create some form of portable rig, or even make friends with a local studio in your city.

If you have a client that needs daily reads you must make sure you set up a block of time that you will be available, but also make it known you are flexible to avoid sitting by the computer waiting for them to call, and losing out on other auditions.

Also remember to account for differences in time zones. You do not want to make the mistake of committing to a time that will be almost impossible to maintain, or have you working at odd hours of the night.

This sounds easy enough, until you consider time zones may mean your client works a full day ahead or behind you. Their Monday morning may be your Sunday afternoon.



2. Clear Description



When you get a new client:

ask for a script and description of what they need,

record a few versions, and

ask for feedback.
This is a good way to see how accurate their skills are at describing what they need. In most cases the script dictates the style of read, but it is always best you understand what they are thinking because emailing could be your only method of communication.



3. Communication



In some cases, you will never meet or even talk to the client. The only way to communicate may be through email.

This brings on new possible problems because written word can be misinterpreted.

For example, what we think is funny in an email can be perceived as offensive to others. You must always be aware of cultural differences in business and keep the creative humor out of emails.

It is safer when communicating globally to be respectful of your client's business culture.

Also, if English is not their first language this can cause a myriad of problems. If you are working online or ISDN, you can pick up instructions, not just by what is said, but also the tone.

If possible, try to get the producer on Skype and hope they put their camera on. This way you can pick up visual cues.



4. Technical Knowledge



This is something that can lead to a disruptive, unpleasant session. We have all done it and will probably do it again.

I had a horrible session some months back and there was nothing I could do except improvise like crazy! Read below:


It all started when I could not get across town to record at the usual studio I work at for L'Oreal TVC's.

We tested the ISDN an hour prior to the client arriving; normally the ad agency and the marketing people from L'Oreal. The test was perfect and we were ready to go, but an hour later when we dialed in. the ISDN was sounding really bad and nothing we did would fix it!

We quickly jumped onto Source Connect, but that had a latency issue of around 10 seconds and trying to work with pictures, or even following direction was nearly impossible.

Luckily, I have been their voice for 10 years, so I knew what they wanted. Once we had the pace down we winged it.

"Winging it" is not recommended. Planning ahead for possible issues is your best option.

The cause of all the horror?

It turned out that the problem with the ISDN was a faulty line in the street.Source Connect problems came in the form of a firewall issue, which has since been fixed.

However, this is the kind of thing that could help you LOSE a client and it is one of the pitfalls of working from home.



My tip:

Avoid horror stories like mine and get an audio engineer to set up your home studio. Do not touch anything once done, and hope you never have the same problem I did!
----------------------------


ABOUT ANDREW


Andrew Peters is founder and Managing Director of Realtime Casting, an online global voice over industry directory service for SAG-AFTRA voice actors, agents and producers/casting agents. Also a popular voice actor based in Melbourne, Australia, he has more than 30 years experience as a voice talent and radio/television personality.

Email: andrew@realtimecasting.com
Web: www.RealtimeCasting.com



Your Daily Resource For Voice-Over Success