---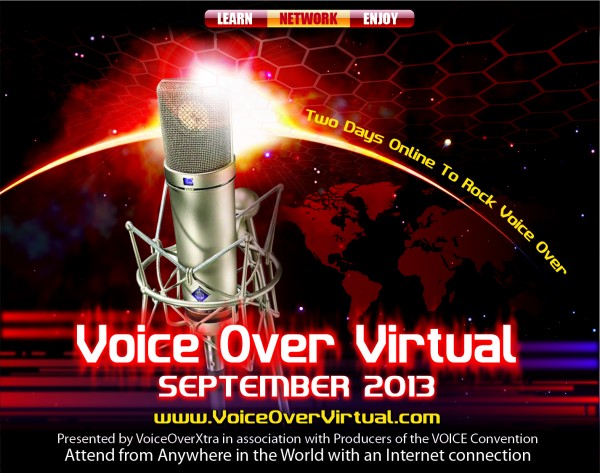 SEPTEMBER 18-20, 2013

Tidy up your home studio, or wherever you will be in September with Internet access.
Because we're inviting all your voice over friends and the industry's top trainers and gear manufacturers to visit you there for a giant online party and learning experience -
Voice Over VIRTUAL -

Imagine That!
Here's what's coming ...
Produced and presented by VoiceOverXtra,
Voice Over VIRTUAL -

Imagine That!
is a bustling three-day online city of opportunities for:
unique and entertaining audio/visual voice over

career education sessions

and

special events

,
an

interactive exhibit hall

, where you shop and learn about gear, training, jobs, products and services,

virtual meeting rooms

for personal meetings with trainers and

auditions

with casting directors, agents and talent managers - play your best demo!

real-time social networking

and fun with colleagues

chat lounges

for chance encounters, spontaneous meet-ups and fun

entertainment

,

games

and more
And it's all accessed simply by clicking a URL link to enter the
interactive
VOV world.
You're in your home studio ... or relaxing in a comfy chair or WiFi hangout somewhere ... and your click transports you to
VOV Plaza
- a visually popping gathering place for voice actors.
Look around ...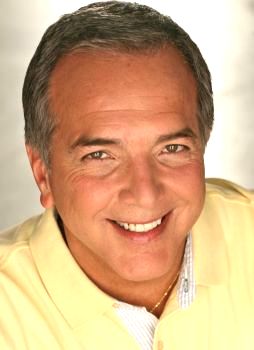 Why, that's Virtual Emcee
Dave Courvoisier
over there, smiling, beckoning us to click for a welcoming message and brief tour of this online world and how you navigate it.
Thanks, Dave. See you later.
Hey - and here is the
VoicePlex Theater
, where the main door (click it) opens to your seat for dozens of educational sessions led by the industry's top professionals.
Hmm ... nudge your online neighbors and get to know each other. You can exchange info, chat - even

swap demos

.
After the session, follow the trainer to an interactive Q&A text chat session for answers to your follow-up questions.
In the theater you'll see an agenda for all presentations, organized in four important tracks:
Voice Acting
Audiobooks
Home Studio
Business
You can customize your conference experience - come and go, and enjoy the presentations per your schedule, not ours.
And remarkably, you'll have until Nov. 30 to return as many times as you like to access the training recordings.
SHOP AND PLAY

Say, what's all the excitement about next door to the theater?
Click the
Virtual Exhibit Hall
for an array of booths you'll enter to chat personally with manufacturers and distributors of voice over equipment, top voice over trainers, services and products.
Some will appear live on webcam! Download information, audios and videos, and connect to their websites (but return to VOV!). And note the times of scheduled demonstrations you won't want to miss.
NETWORKING FUN - WHO'S THERE?
With so many colleagues wandering around VOV, you're bound to rub virtual shoulders with folks you know - or want to know (if you want to, that is. Privacy is up to you).
Take a break in
Tom's Tiki Lounge
or wander into the
Chance Encounter Cafe
and strike up a chat. Dare you enter
Demo Dare
?
Spontaneous chat groups can be formed to discuss voice over home studio, voice acting ... or whatever topic you want to explore with colleagues. (Just contact VOV HQ with your idea.)
Amid the excitement, don't forget to eat. We're even exploring the possibility of an online
Food Court
.
(I've yet to voice an infomercial, and have always wanted to say this: "But wait! That's not all!")
Voice Over VIRTUAL's main days are Wednesday, Thursday and Friday, September 18-20, 2013.
But wait, that's not all!
To acquaint you with comfortably navigating and enjoying the virtual experience, an

Open House

begins September 7, at which we'll welcome both registered attendees and future registrants to instructional videos, games and pre-shows.
To accommodate your busy schedule, all educational sessions and shows will be recorded and

available to view until November 30, 2013

. How's that for convenience?
WHO'S HERE NOW?
VoiceOverXtra
- the voice over industry's premier online news, education and resource center - is the sole producer and financial investor in
Voice Over VIRTUAL
.
Yet a project of this scope needs the vision and behind-the-scenes work and energy of a highly talented and creative crew. You may already know many of these folks ....
Event Consultants:

James Alburger

and

Penny Abshire

, co-producers of the

VOICE

conventions
Event Director:

Denise Chamberlain

, voice talent and professional event manager
Production Director:

Dan Lenard

, voice talent,

Home Studio Master

audio guru, and co-host of the

East-West Audio Body Shop

(EWABS) Ustream TV show
Virtual Emcee and Social Media Director:

Dave Courvoisier

, voice talent and award-winning Las Vegas TV news anchor
Exhibits & Sponsors Director:

Martha Kahn

, voice talent and VoiceOverXtra's Marketing & Sales Director
Business Director:

Elizabeth Holmes

, voice talent and business consultant
Marketing Consultant:

Tom Dheere

, voice talent and voice over marketing and business consultant
And the staff will surely grow as we develop the virtual environment for you.
And we'd love your comments, suggestions and inquiries any time!
---------------------------------------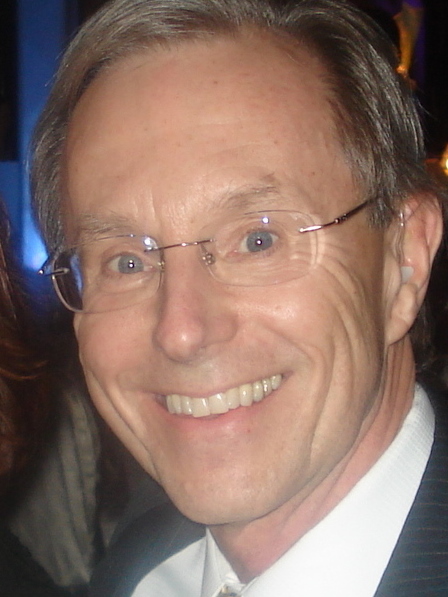 ABOUT JOHN
John Florian is the founder/publisher of

VoiceOverXtra

, the voice over industry's award-winning online news, education and resource center, offering thousands of resource links, how-to articles, calendar of industry events, industry directory, webinar training and more. A former magazine editorial director/publisher, John is also a voice talent who merged those two career passions to create

VoiceOverXtra

in 2007.

Your Daily Resource For Voice-Over Success