---
'Twas The Night Before Christmas'
... Voiced By 31 Pros For Charity
December 6, 2011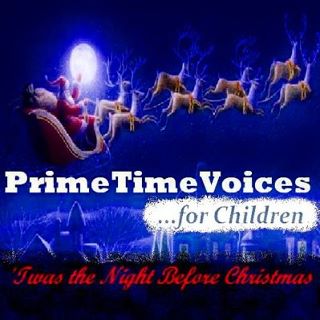 (VOXtra) - Here's something children can enjoy - twice.

You will, too.

Led by popular voice talent

Joe Cipriano

, 31 of the country's top voice over pros recently voiced a special version of

'Twas The Night Before Christmas

as a way to raise money for children at the Children's Hospital UCLA.

Under the name

Primetime Voices for Children

, "the group gathered in studios to donate their time and talent," Cipriano explains.

The recording will be released this week and all sales and donations to

Voices For Children

will benefit Mattel Children's Hospital UCLA.

Later this month, "The entire cast will assemble at the hospital for a live performance and donation," adds Prime Time voicer

Beau Weaver

.



DONATE AND HEAR



You'll love the enchanting recording.

Click here to hear

.

You may donate to the cause and also purchase the recording - with proceeds going to the Children's Hospital - at:
Facebook.com/PrimeTimeVoicesForChildren (click on DONATE at the left of the page)

Radio stations are also invited to download the recording, with hopes they will post it on their websites with a link to the donation site.

"We felt there was an opportunity to offer up new and unique holiday content for radio programmers and music directors to freshen up their playlists of holiday classics, and do some good for children," Cipriano explains.



THE PRIMETIME VOICES



The cast of this stirring recording is a Who's Who of the voice over world:

Joan Baker
Bob Bergen
Kay Bess
Corey Burton
Joe Cipriano
Howard Cogan
Townsend Coleman
Josh Daugherty
George DelHoyo
Kara Edwards
Dave Fennoy
Pat Fraley
Stew Hererra
Ben Patrick Johnson
Brian Lee
Bill Lloyd
Anthony Mendez
Paul Pape
Jim Pratt
Bill Ratner
Rino Romano
Scott Rummell
Ashton Smith
Jim Tasker
John Taylor
Randy Thomas
Keri Tombazian
Sylvia Villagran
Rick Wasserman
Beau Weaver, and
Zurek
PRODUCTION NOTES



Cipriano produced the project and brought in

John Masecar

for the sound design of the classic poem.



Steve Bravin

and his team at Killer Tracks, courtesy of Universal Music Group, donated the music free of licensing fees to the cause, Cipriano adds.

The track can also be purchased on CDBaby,com, Amazon and iTunes.



Your Daily Resource For Voice-Over Success