---
HOME STUDIO
STEREO or MONO: Which Setting Should
You Choose To Record Your Voice Overs?
October 8, 2015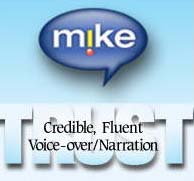 By Mike Harrison


Voice Actor



The most often-asked question regarding voice over is "How do I break into it?"

Running a close second is: "Do I record my voice overs in stereo or mono?" What follows will explain all you need to know on the topic. First, the basics.

What stereo is

not

: Stereo is not simply the use of two speakers or the use of what is called a stereo audio file.

What stereo

is

: Stereo is a term given to sound recordings that feature different yet, most often, similar audio on the left and right channels. We hear "in stereo" (actually "surround," but that's an entirely different discussion) because each ear picks up different sounds from different directions.

And it's because of our ability to hear this way that the concept of stereo in sound recordings (aka stereophonic sound) even exists.

Again, just because we hear sound coming from two speakers does not make what we're hearing stereo.



DIFFERENT SOUNDS FROM STEREO



Stereo sound is made up of different, yet usually similar sound, designed to entertain our ability to hear different things from each ear. (Films produced in 3-D are an attempt to simulate the depth perception provided by our two eyes, each which see the same scene yet from a slightly different perspective.)

BUT... simply because we might record our voice on two audio channels (sometimes called tracks), and while audio software may call it a stereo file, it is NOT a stereo recording.

The recording simply uses two channels to record exactly the same audio, and that's why using a stereo file to record a single voice is unnecessary.



FOR INSTANCE ...



If we were to make a recording using two people conversing, each using their own microphone, routing one person's microphone to the left channel and the other person's microphone the right channel, that would be a stereo recording.

If playback facilities were set up properly, we'd hear the person on the left channel coming from the left speaker, and the person on the right channel coming from the right speaker.





HOWEVER, if we were then to convert the file or switch the playback to mono, both voices would be heard from both speakers.



LISTEN TO THIS ...



Ready for an aural treat? Here's an excellent example of stereophonic sound, recorded many years ago, when the technology was still fairly new and being showcased. Make sure your sound system is in stereo mode and click here to listen.

As a comparison, click here for the same recording in mono.

The bottom line: For recording a single voice, it is pointless to record using two channels (a "stereo" file), because each channel will have exactly the same content, thus resulting in a file twice the size as a mono file, unnecessarily.



And: What to do if your audio software defaults to creating a stereo file? No sweat. Record in the stereo file, but then convert it to mono before delivering to the client.



*(Aristides) Zaccarias and his Orchestra, from the Living Stereo album "Dance The Bossa Nova," ©1962 RCA Records
---------------------


ABOUT MIKE


Since 1973, Mike Harrison has been engaged professionally in several fields (radio, corporate communications multimedia production, advertising) where work was performed in either acoustically-treated rooms with microphones and/or semi-darkened rooms filled with expensive equipment featuring pretty, often-blinking multi-colored lights and various knobs, switches and buttons, and whose innate skill with said equipment, particularly the fluency and speed with which he operates it, has been aptly described by the words, "wip, bom, bip, bom, boop." He also writes pretty darned good copy.








Your Daily Resource For Voice-Over Success