---
How To Edit Voice-Over Recordings

A Lot Faster - With A Gaming Mouse!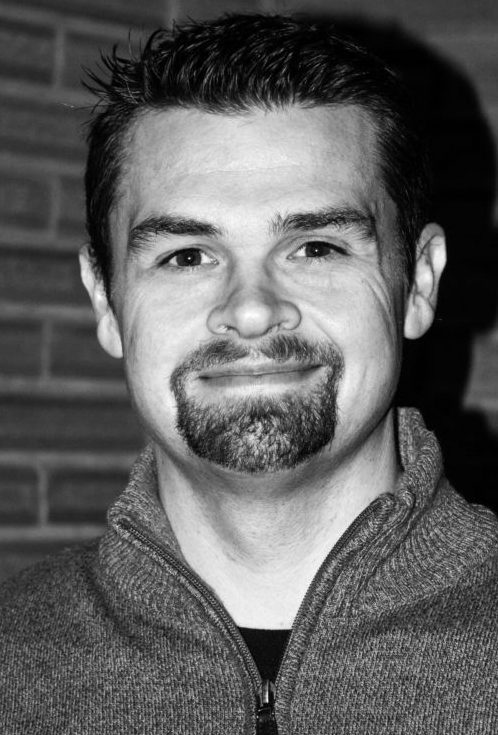 By Neil K. Hess
Voice Actor & Podcast Host
In my days before voice-over, I was a computer gaming nerd (ok ... so I still am).

I was always looking for a better gaming mouse: faster, more buttons, more customizeable. I wanted to be able to score more points, kills, whatever.

As time went on, they got more and more complex. And at the time of this writing, I have actually seen a mouse with at least 18 buttons!
When I started in voice-over, I began to realize: voice over editing stinks. Especially those longer files.

It takes a long time to get through all the material, and this wasn't what I wanted to do, which was speak into the mic and cash the check.

Then one day I had a stroke of genius: What if instead of using keyboard shortcuts for voice-over editing, I instead programmed my gaming mouse to help me with editing? Would it help?

Oh ... it helped. A lot!

I haven't done any thorough scientific measurement, but I think that since I have started editing with my gaming mouse, I have shaved at least half of my time off of voice-over editing.

Here is what I did with my
Logitech G602
gaming mouse and
Adobe Audition
to help make my voice-over editing significantly faster. However, you should be able to do this with almost any DAW and most gaming mice.
The first thing you will need to do is install the software and drivers that come with the mouse. For my mouse, I just googled "Logitech g602 download" and came up with all of the drivers and software I needed.

Now you will have to do some planning. If most of your gigs are just raw recordings that get sent off to the producer, you might only need to program your export and/or marker buttons.

But if you are like me and end up doing a lot of voice-over editing, exporting, converting and so on, you will want to plan out your buttons wisely.

My mouse has eight buttons on it, so here is what I do with the Logitech G602 and Adobe Audition.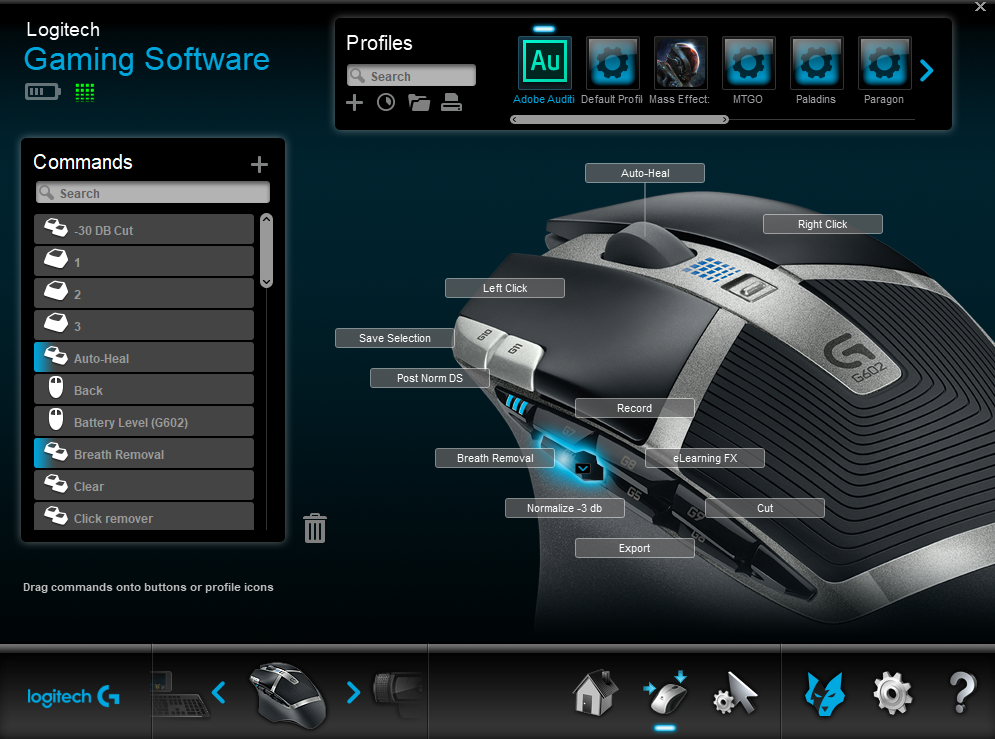 RECORD:

I use the G7 button to start the recording.
CLEANUP and COMPRESSION:

My G8 button is my money button. I have a series of

Izotope RX6

cleanup effects, compression, EQ and all of the usual stuff. As a result, pressing this button, especially on a longer take, ends up taking a while. But the amount of time I save having to clean up the smaller stuff in the track is worth its weight in gold.





CUT:

My G9 button is my cut button. Using this key on the mouse makes cutting out bad portions super fast and easy.





VOLUME CUT:

My G4 key is set up to apply a favorite effect (Ex. -30db cut) to remove or reduce an awkward breath, or to hide a place where two cuts were spliced together.





NORMALIZE:

My G5 key is set to normalize the track to -3db when all of the other editing is done.





EXPORT

: My G6 key is set to export the track.





G10 and G11

: These two buttons can be a variety of things depending on the project I am working on. Sometimes, one is set to just export a highlighted selection. Other times I use it for other things.
For 99% of my voice-over editing and post recording needs, these settings do the job just fine. But reprogramming them with the Logitech software is VERY easy. Just follow the steps below to reprogram the buttons with a function (or set of functions) you desire.

TO CREATE YOUR OWN SETTINGS ...
1. Open up your mouse customization interface and click on the little arrow, which will give you a list of options for that button. (If this is the first time you are changing the function, you will want to select "Assign command".)





2.

Since most Adobe Audition/DAW commands require multiple keystrokes, you will probably want to select "Multi Key".





3.

When you get to this step, you will want to click "Start Recording". Once you click that button, the mouse software records whatever buttons you push (in the case above, for my -30db cut, I click "Shift+3".) When you see the down or up arrow next to the name of the key, that just tells you that the key was pushed down, or released up. If you just hit the keys as you normally do, you should be just fine.





4.

If you want to program in just one keystroke, just hit the "Keystrokes" button.

You can get a good gaming mouse for less than $50 these days, and for the amount of time I save in voice-over editing, it has paid for itself 10 times over. I can't recommend enough that you give this a try. If you have any questions or suggestions let me know!

Neil K. Hess is a voice-over talent and the host of the

Voices On Voice Over Podcast

. He specializes in eLearning, with clients including TIME, Hilton, ESPN & Johnson and Johnson.

Your Daily Resource For Voice-Over Success