---
'UFOs - God's Celestial Air Force'
.... The Making Of An Audiobook
By Bob Noble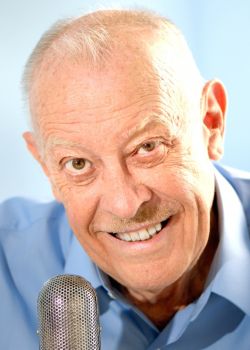 It was early in 2007 when I received a phone call from the Commandant of the Orlando, FL Marine Corps League, Russ Kaufman.
Russ said, "Bob, I wonder if you could help out a World War II Marine veteran of Iwo Jima?"
My reply was, "Sure Russ, if I possibly can. What's the need?"
Over the next 15 minutes I came to know the background of M.P. Marshall, an 80+ year-old wheelchair-bound Marine veteran of Iwo Jima.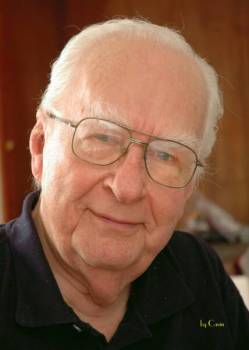 Following the war, Marshall (pictured) had entered another battle - the corporate world of advertising and public relations. And throughout his career and into retirement, he was a prolific writer of fiction novels.
Among those books was a Sci Fi novel about Unidentified Flying Objects, featuring an angel on probation and a TV reporter investigating strange sightings.
Marshall was looking for someone to narrate his novel and help turn it into an audiobook.
And thus began a three-year journey for the two of us to "make it happen."
SINGLE NARRATOR / FULL CAST?
Trying to decide the best format for the audiobook was a challenge.
There were pros and cons. However, because of the numerous characters and intense action, it was felt a full cast production with music and sound effects would be the best way to go.
After all, there were space ships traveling at warp speed, nuclear alarms going off aboad cargo vessels and an erupting volcano as the end of planet earth appeared imminent.
We turned to a group of professional actors I had known and worked with in Orlando and began assigning multiple roles to each.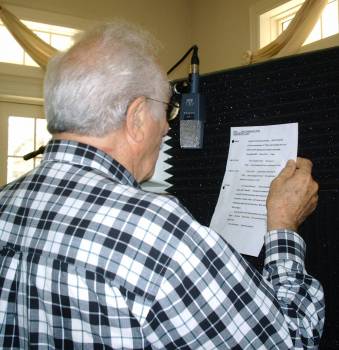 Being the "angel" I am, I took the roles of the angel Gabriel as well as that of the narrator.
Others in the cast were: Jeff Breslauer, Mark Priest, Phran Gauci and Key Howard, who is pictured here during the recording session.
For the music, sound design and recording, we enlisted Glenn Longacre, who not only is an excellent sound engineer but also an accomplished composer. He also happens to be the choir director at my church.
SATURDAY SHOW TIME
Within a few weeks it was "show time," and the recording began in Glenn's living room on a Saturday morning.
Sound boards were placed on easels around his grand piano with mic cables running to the recording console in his studio.
The entire dialogue was completed in five hours.
FINDING A PUBLISHER
Once the recordings were complete and final edits had been made, the last piece of the project was finding a publisher to market the audiobook.
Since I had recently completed a group narration for Cherry Hill Publishing's audiobook, The Philadelphia Report, I contacted the owner, Rick Roane, to see if he'd like to take a "listen" to the UFO final cut.
Within days - at near "warp speed" - the deal was set and the design of the audiobook jacket was under way.
AUTHOR & ACTOR DIE
Unfortunately, during the post-production, M.P. Marshall passed away and never saw the finished artwork.
At approximately the same time, actor and cast member Mark Priest also died unexpectedly while performing a street scene at a local theme park.
Although neither had the chance to see the finished audiobook, both enjoyed hearing the final audio edit.
RELEASED FOR DOWNLOAD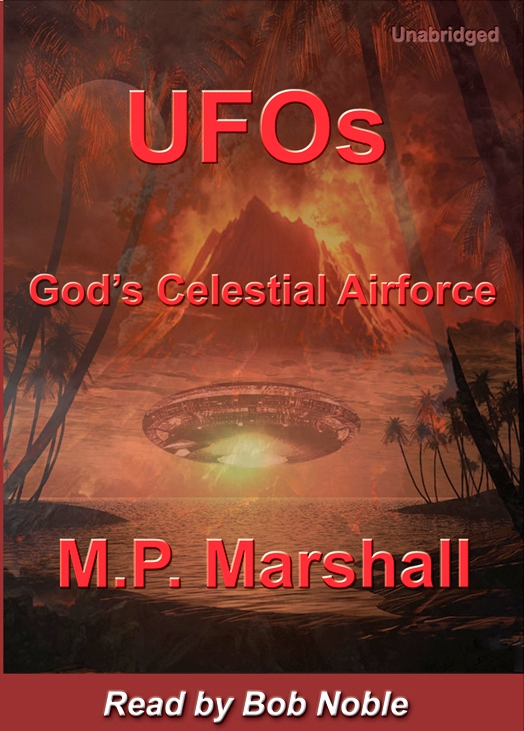 M.P. was a writer of the "old school." He never used a computer, choosing instead to create all of his marvelous stories using the "hunt and peck" system on his vintage Underwood manual typewriter.
Even from his wheelchair he put in a "full day's" work until the very end.
Hard copies will be in stores by late Summer or early Fall.
ABOUT BOB ...
Bob Noble has been a voice talent and actor in motion pictures, television and theatre for more than 40-years. He is a member of the Audio Publishers Association, the Society of Accredited Voice Over Artists, and the International Game Developers Association. He works from his home studio in Orlando, FL.

Your Daily Resource For Voice-Over Success