---
2021 Voice Arts® Awards Gala:

Diversity, Equity, Inclusion And

A Tribute To The Human Voice
One could hear an excited buzz as the live announcer
Dan Emmett
asked everyone to take their seats. The show would begin in 15 minutes … 10 … 5 … 2 ... and I, viewing remotely from my home studio in San Diego, became more and more excited.
At last, the
8th Annual Voice Arts® Awards Gala
began from the Peter B. Lewis Theater in the Solomon R. Guggenheim Museum in New York City.
Over the next 3-1/2 hours, audiences in the auditorium and online worldwide would be treated to entertainment and the presentations of honors and awards to individuals in more than 100 categories (
see complete winners list
).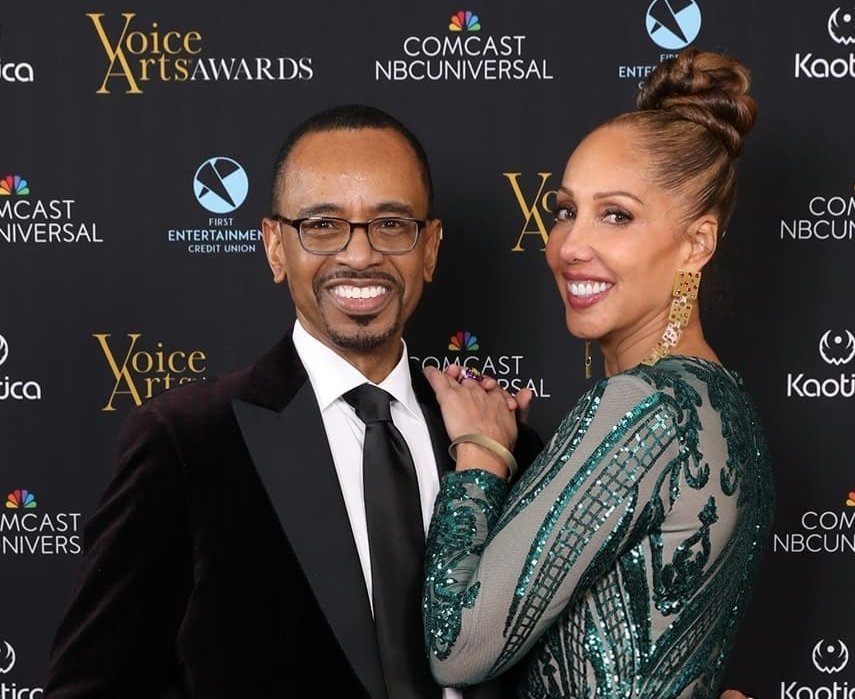 Enter
Rudy Gaskins
(pictured with Joan Baker)
, President and CEO of the
Society of Voice Arts and Sciences
(
SOVAS
), which conducts this global competition honoring excellence in media where the voice is a key creative element.
Gazing upon a massive well-masked audience, Gaskins said, "I realize each one of you has had to conquer something to be here tonight. The circle doesn't complete without you …. When I see your faces in front of me, it's all worth it."

Gaskins introduced his own "Queen B," the always elegant, always eloquent
Joan Baker
- vice president, board member and co-founder (with Gaskins) of SOVAS - who noted the strength of the voice over community as "we show up and acknowledge and boost each other."
And that sums up the recurring sentiments expressed all evening: how the community of voice talent supports one another in these times of challenge.

During the award presentations, one recipient after another remarked how they could not have succeeded alone - how the community as a whole is supported by other voice actors, and how they are supported by their families.

Baker introduced
The Broadway Boys
, a group of Broadway's finest male singers, who appropriately performed a medley tribute to New York.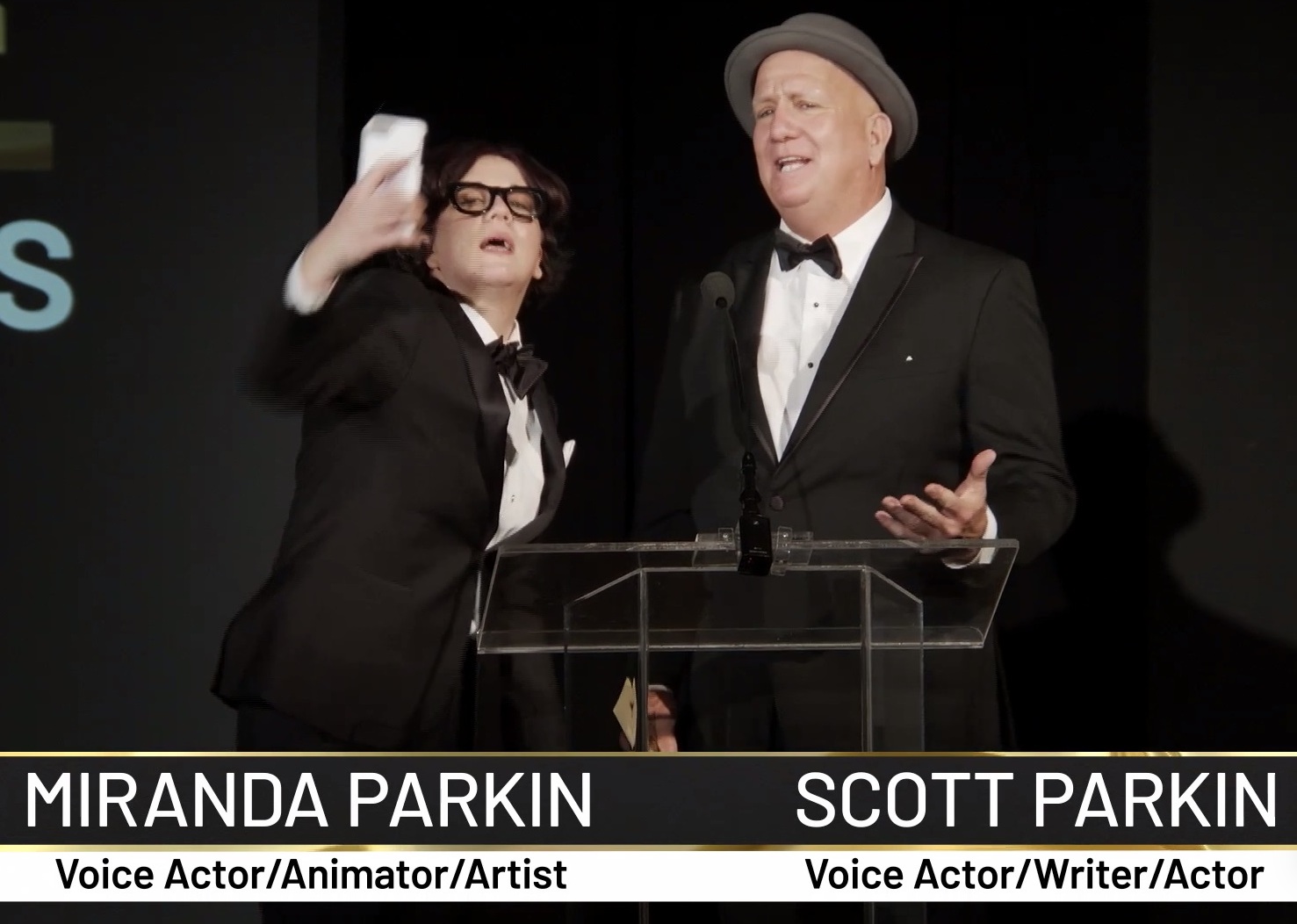 And then magic of the night began with father and daughter
Scott
and
Miranda Parkin
announcing winners of the
Outstanding Commercial Campaign – TV or Web – Best Voiceover
award:
Big Llou Johnso
n and …
Miranda Parkin
!
How fun it was to watch proud papa Scott see Miranda, who has been performing VO since she was a child, receive this honor onstage. Then, to hear Big Llou, an African American, proclaim that he wants to "make sure people who look like me and sound like me get heard!"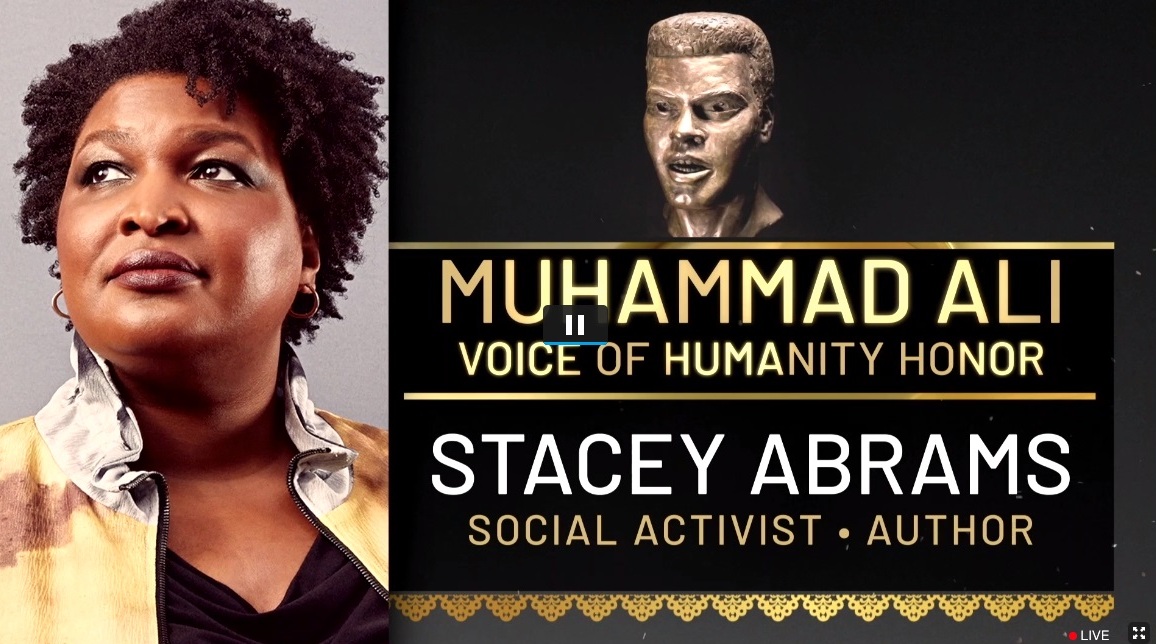 The annual Gala traditionally features the presentation of honors to individuals in addition to voice over-related awards.
Social activist and author
Stacey Abrams
received the
Muhammad Ali Voice of Humanity Honor
.
Presenter
Trevor Noah
, host of
The Daily Show
, said about Abrams: "Last year she pushed back against voter suppression, and her organization Fair Fight, which protects our freedom to vote, donated over $1million. Is there anything she can't do?"
In accepting the honor, Abrams acknowledged that
Muhammad Ali
transformed the world of sports and continues to inspire us every day to make sure no one is unseen and unheard. She added that storytelling gives us all a voice.
'MAGICIAN AND FIERCE WARRIOR'
Comedian/voice actor
Laraine Newman
received the
Voice Arts ICON Award
.
Emmy Award winning voice actor, actor and director
Charlie Adler
recalled having Newman in his Animation class umpteen years ago, when Newman was a young pregnant student. Adler says that he was awestruck then with her openness and skills.
He describes Newman as "magician, fierce warrior and incredibly talented actor."

In receiving the award, Newman said: "Nothing makes me feel more fortunate as an actor than voice over! One can evoke size, age, nationality or even species with just your voice."

"You are the most kind, generous people I've ever worked with," she added. "We get paid to do what used to get us in trouble in school!

"I have pursued this craft with passion, fascination and love. Thank you!"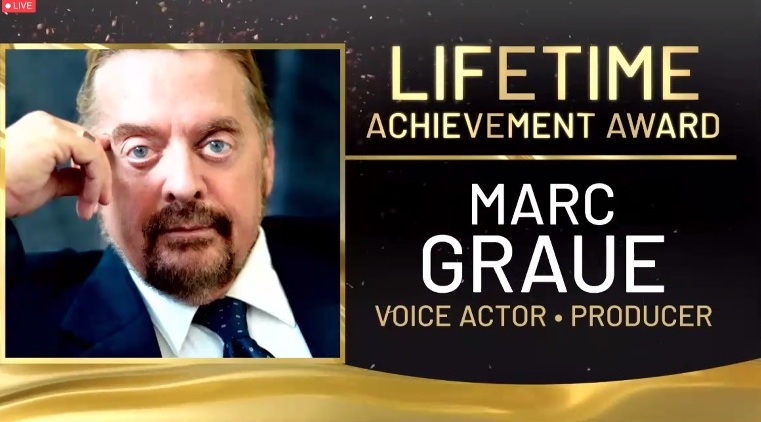 The SOVAS
Lifetime Achievement Award
was bestowed upon legendary voice talent, producer and coach
Marc Graue
.
Graue was introduced by actor/director
Joe Mantegna
, who shared that Graue has worked with just about every actor in town as a producer, actor and narrator for almost 50 years.
In a very emotional acceptance speech, Graue reminded us, once again, that we don't achieve success alone.

In a new category this year,
Inventor Honoree
,
Konrad Zukowski
was feted for creating the
Kaotica Eyeball
, an acoustical treatment for microphones that allows recording voice overs anywhere, any time.
Zukowski said acoustical treatment is most important in voice over, and told how when feeling a need to make acoustical recording more available to more people, he hired his engineering school teacher to help develop The Eyeball. Zukowski also noted the importance of the voice over community's cooperative spirit.

In Memoriam
is always a most touching part of this annual event. The Broadway Boys returned to sing a medley of
Without You
and
Seasons of Love
from
Rent
, as we remembered so many whom we've lost this past year. Most notable to so many of us was our beloved community member
Brad Venable
. I'm sure there was not a dry eye in the house.
DIVERSITY, EQUITY AND INCLUSION
The theme of diversity, equity and inclusion swept the Gala, and winners eloquently accepted their awards knowing full well that this honor could not be accepted alone, nor without appreciation for our wonderful community.

Here are quotes from the Gala that stood out to me as representing global appreciation and recognition, as well as prompting a few chuckles.

Eli Schiff
,
Outstanding Promo Campaign - TV/Web – Best Voiceover
: "As an Orthodox Jew, I'm so appreciative of a community for being so open and loving."
Leslie Olabisi
,
Outstanding Radio Promo – Best Voiceover:
"As a Nigerian, I wanted to represent my culture!"
Vero Lopez Trevino
,
Outstanding Commercial – TV or Web – Best Spanish Voiceover:
"This goes out to my beautiful Hispanic community. You know how talented we are and how we are opening doors for ALL of the minorities for all of us."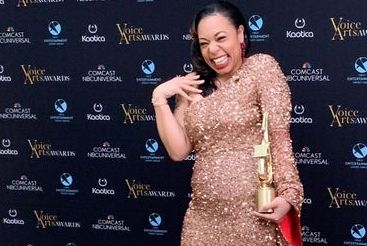 Erica J
(pictured)
,
Outstanding Political Announcement – Image – Best Voiceover
and
Outstanding Consumer Sales Video – Best Voiceover:
"For a black woman to voice a trucking company video recorded in a closet, this is an honor! We give voice to those who don't have a voice!"
Vicky Tessio
, who won awards for
Audiobook Narration – Fiction – Best Spanish Voiceover
and
Outstanding Spoken Word or Storytelling – Best Spanish Performance,
laughingly talked about "the things you can do with your mouth!" And added: "Isn't that a cheeky title? It's a tribute to the human voice!"
Christian Lanz
, who won
Outstanding PSA – TV or Web - Best Spanish Voiceover
as well as
Outstanding Trailer – Video Games or Movies – Best Spanish Voiceover
, thanked SOVAS for continuing to show respect for multi-cultural media. Lanz added that prior to voice over, he'd studied architecture and that it had been on his bucket list to stand in his favorite architectural structure, The Guggenheim!
Finally, the
Outstanding Body of Work
category drew a tie between multi-talented
Debi Derryberry
- most famously of Jimmy Neutron fame – and Lifetime Achievement winner
Marc Graue
.
"We shouldn't classify this as work," Derryberry said when accepting the award. "It is such a privilege to be amongst these great people!"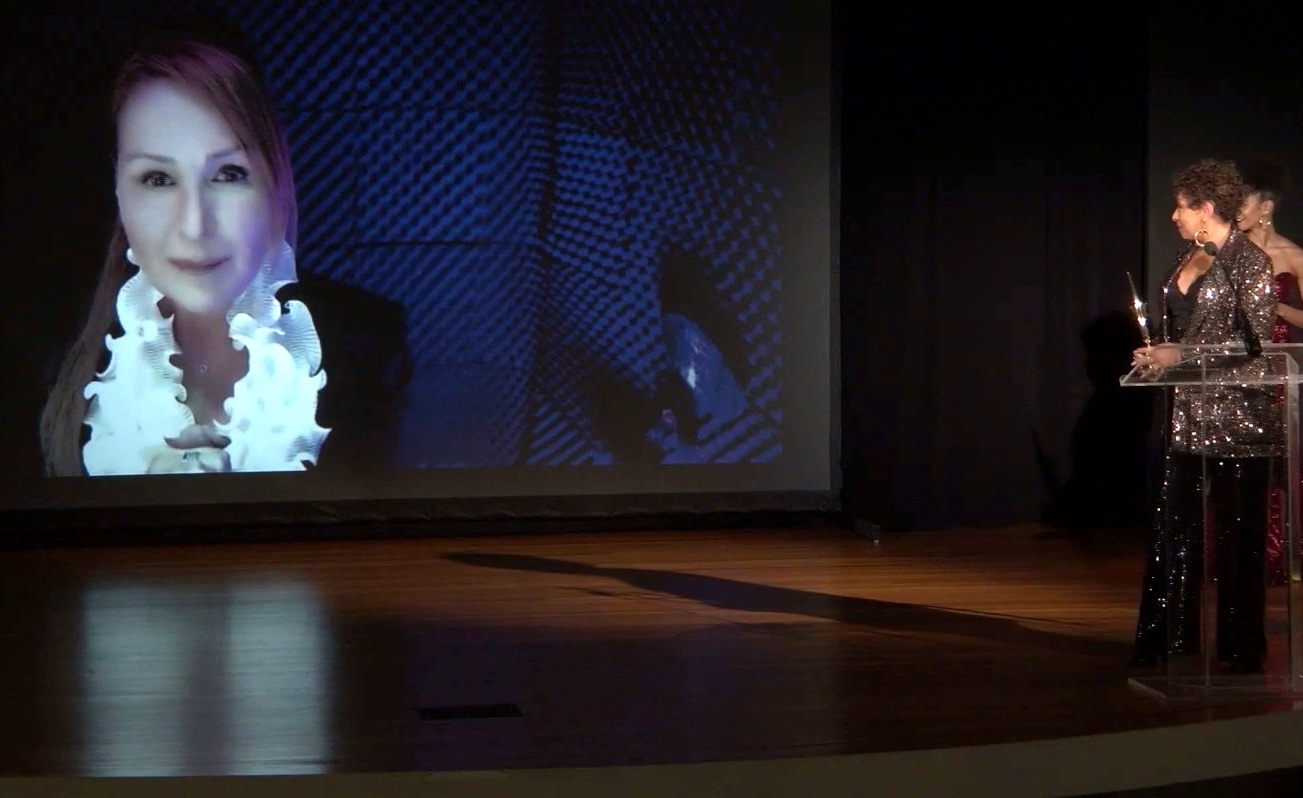 Voice actor
Fabiola Stevenson
(pictured)
won the
Outstanding Body of Work
award in the
International
category.
And on a personal note, congratulations to friend and colleague
J. Michael Collins
and his team for their accomplishments, winning multiple awards in many categories.
After the Gala, we asked Gaskins and Baker about their experience with this year's competition.
Q: How do you feel after eight years of presenting the Voice Arts Awards?
"I'm elated to reach this milestone," says Gaskins, "and the years of appreciation from the voice over community is the greatest reward. But at the same time, I feel like we're just getting started."
Baker adds: "It's an incredible adventure, full of joyful triumphs and tears of hardship. I couldn't do it fully if I wasn't standing next to my ultimate partner, Rudy Gaskins."
And Baker notes that the competition "is definitely growing. We had a record number of ties this year, so we're likely to add an additional tie-breaking round in cases that are too close to call. Not that I mind ties, personally. The more the merrier!"

Q: You're significantly expanding to non-English speaking voice overs. Will this continue?
"Yes! Diversity and inclusion are leading the way," Gaskins says. "It's not just languages, but cultures and communities. It's a challenging mission and we're focused on establishing a model of inclusiveness.
"This year we also added Audio Description (AD) categories. AD allows for a specialized audio track that describes imagery for blind and low-vision people. This is an important point of accessibility, which goes hand-in-hand with inclusion.

"The AD categories were introduced by
Joel Snyder,
PhD, who is widely known as a leading pioneer in this field."
SHINING GLAMOUR AND LOVE OF VO
So there you have it - another night of voice over history, complete with Red Carpet sparkling gowns and glamour.

But no amount of glamour outshines the love that voice actors have for one another. The respect for our craft and the admiration for one another is undeniable. We are grateful to be able to give voice to the spoken work and to constantly elevate our craft to a higher level.

I can honestly say I am proud to be a member of this club!

Note: For more about the

Society of Voice Arts And Sciences

(SOVAS), please visit www.SOVAS.org.
-------------------------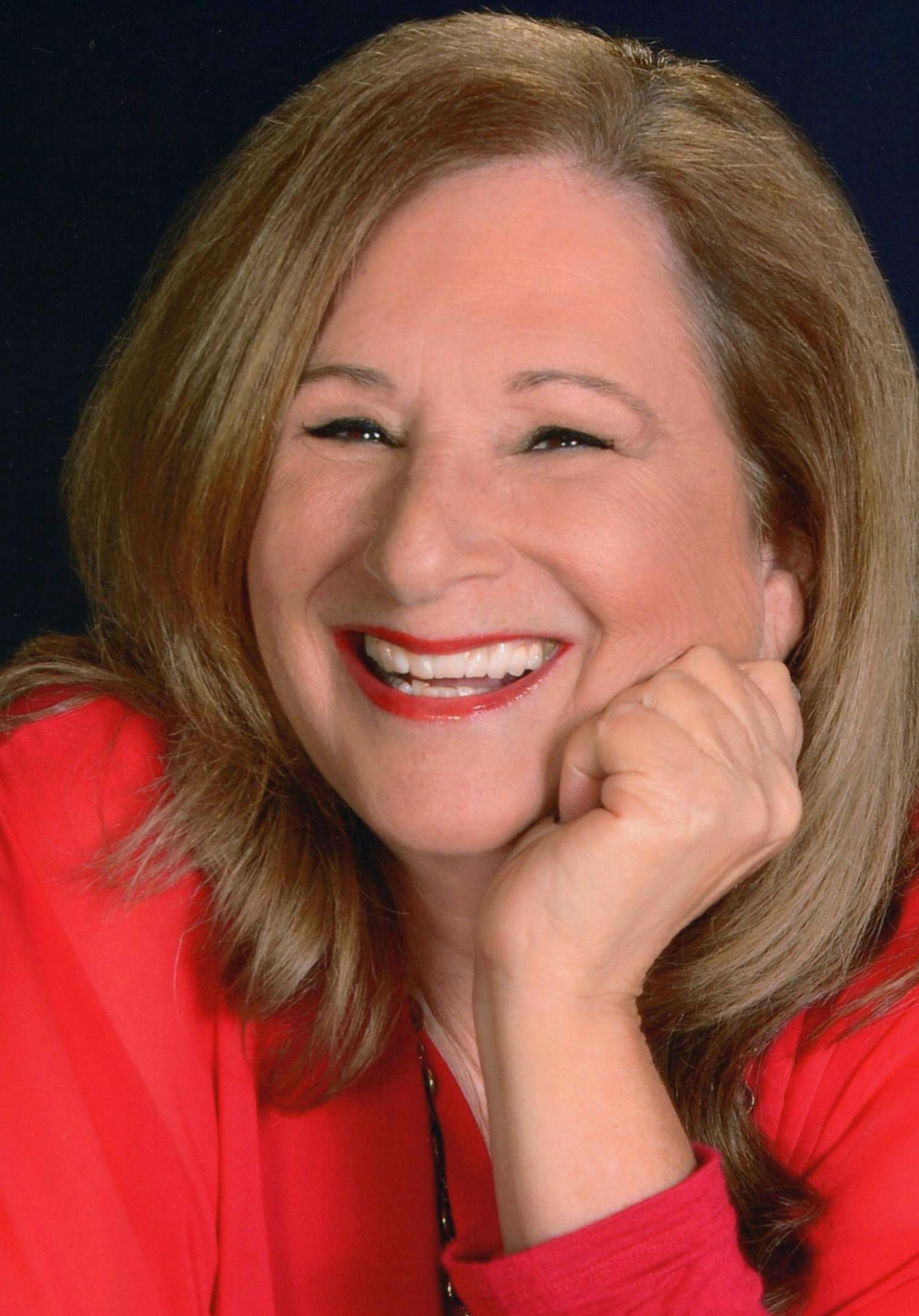 ABOUT MARTHA
Martha Kahn is the owner/director of

Yes I Kahn Kids Voiceover

, where she successfully coaches kids making their way into voice over from coast-to-coast. She is also a voice actor based in Southern California. And this is Martha's ninth year as Marketing and Sales Director for

VoiceOverXtra

.

Your Daily Resource For Voice-Over Success