---



INCLUDES VOICE OVER ...
New Film,

Voice Messages

, Is Documenting
The Power And Beauty Of The Human Voice
July 8, 2016


(VOXtra) - As voice actors we know the power, the beauty and the importance of the human voice - even as the general public may take voice for granted as simply another of our many senses.

Filmmaker and multi-Emmy-winning producer

Martin Zied

(pictured) is on a documentary mission to create a new public mindset.

From his personal and professional experiences, Zied is creating

Voice Messages

- a film that, as he explains, "explores the human voice in ways that have never been seen or heard together in the same place."



Voice Messages

combines singing, speaking, science, sociology and history to examine the far-reaching impact of the human voice. And Zied says, viewers will be "entertained, informed, amazed and taken to places they've probably never been before."

We get a glimpse of that in this enchanting brief video.
Watch and then read below what Zied tells

VoiceOverXtra

about his passion for human voice - plus a

contest for non-professional choirs and singing groups

(entry is free) in a search for the group that will be featured prominently in the film.
CREATING IN PHASES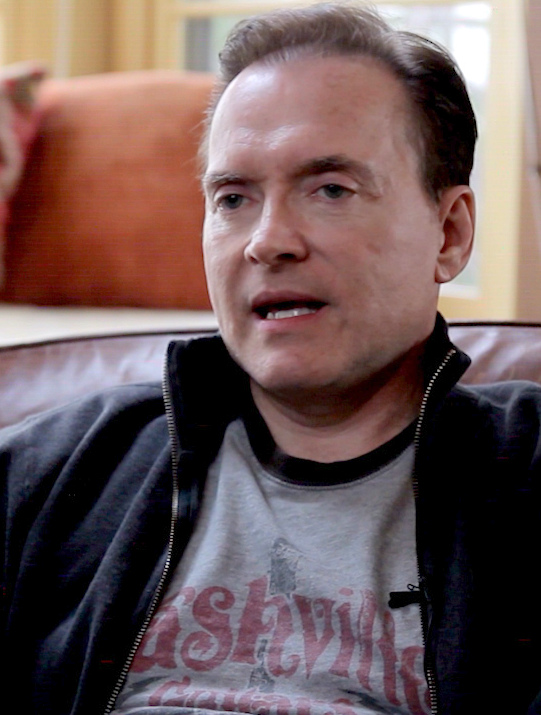 In the initial phase of this project Zied has interviewed a diverse set of experts and performers, including voice over artist

Billy West

(pictured, in a still from the film). Among West's many credits are

The Ren & Stimpy Show

and

Futurama

.

Also currently in the film are Grammy-winning recording artists

Linda Ronstadt

,

Take 6

,

Lalah Hathaway

(daughter of the R&B luminary

Donny Hathaway

), vocal special effects wizard

Michael Winslow

(

The Police Academy

franchise,

Spaceballs

), otolaryngologist and chairman of the The Voice Foundation

Dr. Robert Sataloff

, and

Anne Karpf

, author of

The Human Voice

.

(Editor's note: We'd look forward to seeing additional voice actors in the mix!)



To complete the filming, Zied is raising funds in

Indiegogo

, where contributors will choose from a variety of rewards including signed DVDs, limited-edition art prints, high-quality tote bags, special mention in closing credits and more.

ABOUT MARTIN ZIED ...

Zied is a six-time Emmy™ Award winner with extensive television and film experience. He has written and produced episodes and segments for TV shows including

20/20

(ABC) and

48 Hours Mystery

(CBS).

His

20/20

segment on "the history of terrorism" featured an interview with

Osama Bid Laden

and never-before-seen footage of the first World Trade Center terror attack in 1993.

Zied is also an Emmy-winning Senior Producer and teacher at Drexel University's Paul F. Harron Studios in Philadelphia.


A rabid sports fan, he's written for

Sports Illustrated

online, and Zied is a sought after public speaker and singer and aficionado of vocal harmony.

'MOVED TO TEARS'

Yet all this experience does not completely explain Zeid's interest in the human voice, as he explains in reply to

VoiceOverXtra

's question about the source of his passion for voice:

"I was moved to tears in the third grade as an upper classman sang in the school auditorium," he says. "I was with my mom and was totally embarrassed by crying and had no idea why I cried.

"Years later I realized that it was the tenderness and soulfulness of his voice that had shaken me.

"I was a voice nut from that day on!

"In my life I went on to sing in harmony groups - doo wop on the Philly street corners, college Glee Club and choir, barbershop quartets and most recently, an acapella gospel group. And as a TV network producer, I came into contact with incredibly commanding voices that I loved listening to.

"I decided to make

Voice Messages

as an ode to our voices, in all of their many manifestations."



VOICE COMFORT LEADS TO CONFIDENCE



Zied adds that in his courses at Drexel University, he teaches students how to use their voices in voice overs.

"What I've found is that the more comfortable they become with their voices, the more confident they become as individuals," he says. "That may seem unremarkable to some, but to me, it's a revelation!

"And we all know how a voice in a television commercial or in any performance, can be an uplifting, powerful tool, that can sometimes determine whether the commercial or performance is a success.

"The voice is an underrated instrument. It can make all the difference in our worlds!"



CHOIR CONTEST & FILM DETAILS



Zied also announces an open call for submissions to select the choir or singing group to be featured in

Voice Messages

.

"Entering is free and open to any and all non-professional choirs and singing groups around the world," he explains. The winning choir will be chosen by a panel of judges.

The choir contest entry deadline is July 20, 2016, and details are here:
https://www.indiegogo.com/projects/voice-messages-documentary#

Details about the funding campaign are also at the above link.

And for more about this film, please visit www.VoiceMessagesDocumentary.com.



Your Daily Resource For Voice-Over Success