Newcomers: Is A Voice-Over
Career Right For Your Talents?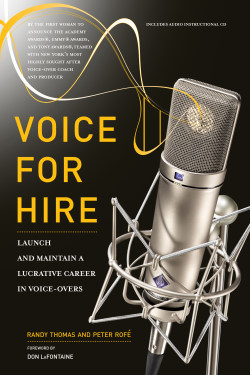 The voice-over career field is ever-expanding with categories and job needs. And many people are evaluating their potential for success in it.
This excerpt from Chapter 1 helps newcomers take the first step …
By Peter Rofé and Randy Thomas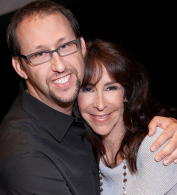 Voice-overs are much more a part of our daily lives than most of us probably notice . . . unless, of course, you are a voice-over artist.
When we call to get movie times and listings we are greeted by an all-too-familiar voice intoning, "Welcome to Movie Phone!"
In many of today's luxury cars, a recorded voice helps drivers navigate their chosen routes.
Museum acoustic guides educate patrons as they tour exhibits at their own pace.
Then there are movie and television promos and announcements, radio commercials, voice mail, online instruction, video games and DVDs, educational programming, cartoons, and books on tape.
It's not hard to see why the demand for trained professionals known as voice-over artists is increasing.
WHY THE BOOK?
Men, women, and kids of all ages earn money using their voices.
The non-union work available out there is even more plentiful (the caveat is that non-union work offers a lot less than professional actors get paid - some call it "dollar a holler").
The point is, there is work, and if you have the desire to try your hand at it, this book will be your guide.
Even if you don't think you can handle the competition but love the idea of being more confident the next time you need to speak in public or read a bedtime story to your kids, this book will help you understand what's involved in using your voice effectively.
LEARN THE BASICS
Back to those of you who are interested in exploring a career as a voice-over artist:
We've designed this book to give you a grounding in the various areas of potential employment:
commercials,

promos,

narration,

audiobooks,

new media,

animation voicing,

live announcing, and

trailers.
We also include solid, proven advice about how to approach them, including:
how to create a demo reel that producers will listen to,

how to conduct a marketing campaign that will get you jobs, and

how to land and work with an agent.
YOUR NATURAL EXPRESSIONS
In everyday life, the experience of interacting with others is guided in many ways by our vocal presentation, and we each have within us different voices for dealing with life's daily opportunities and challenges.
Your vocal pitch, modulation, tone, and intensity will differ considerably depending on whether, say, you are requesting a pay raise from your boss or attending a parent-teacher meeting.
When you unexpectedly meet a friend on the street your tone is likely to be relaxed and friendly, while you may sound shrill and enraged when someone backs into your car in the parking lot.
The voice-over is an extension of these various forms of natural expression.
Voice-over training gives you the skills to draw on your natural expression and to bring a piece of copy to life in a way that serves both the creative team who has written it and the intended audience.
RIGHT FOR YOU?
No one is born with voice-over skills, but here are some simple questions you can ask yourself to see if you are suited to voice-over work.
Do you enjoy being the center of attention?

Do you like to entertain others?

Are you compelled to educate and inform?

Do you need to be heard?
If the answer is yes to all of the above, ask yourself some more specific questions:
Do those around you describe your voice as warm, sexy, unique, or funny?

Do you have the natural ability to communicate effectively?

Do you have the innate ability to modulate voices, create a character, or mimic other voices?
APPLY TO SCRIPTS
These are terrific talents, gifts that can often be used as supplemental tools to enhance a reading.
But the true skill that a voice-over artist needs to master is the ability to take any text, break it down to understand its meaning, and interpret it while staying true to the copywriter's intention.
It's a skill that requires time, an open mind, and a good coach to help you learn.
Voice-over artist Keri Tombazian sums up the qualities of a true professional:
Styles and trends in marketing come and go. A "good" voice will get you a few bookings. A critical ear, technical expertise, and the ability to serve the director will give you a long-lasting career.
Don't make it about "how do I sound," make it about "what am I saying?"
Animate the words to their meaning. We all grew up learning the music of the English language. The trick is to use that music as naturally and authentically in acting as when speaking fi rst person in our own lives.
Like any performing art, voice-over requires an audience, specifically someone with an objective set of ears who can listen, interpret, and offer constructive criticism.
As Lisa Marber-Rich of the Atlas Talent Agency puts it, "Everybody needs coaching."
Finding a coach who works well with you is paramount. You should look for two important qualities in a coach.
1. The first is encouragement. Your coach should be encouraging and allow you the freedom to fail - the best way to learn anything in life is through trial and error.
Making mistakes is essential to growth, and shortcomings reveal weaknesses that can assist your coach in pinpointing habits that can be limitations.
Bad habits and misguided, preconceived notions can easily be replaced with solid voice-over technique, which, in turn, can become one's strength. That is the glaring difference between a professional voice-over artist and an amateur with a good voice.
2. The second quality is patience. A coach needs to be patient enough to allow each student to work at his or her own level.
It is exciting and rewarding for a teacher or coach to find the true essence of what makes each individual unique and special.
A coach who degrades or embarrasses you has no business being a coach.
We always find that we have the most success in getting the best performance from our students when we can pinpoint something positive to say to them before offering notes or a constructive criticism.
Our students never feel they don't belong in the booth. We have become convinced that the human psyche learns new tricks more quickly when the ego is not bruised.
This universal truth transcends coaching in all its forms, whether on a baseball diamond, on a stage, or in a voice-over booth.
ABOUT THE AUTHORS ...
The book's authors are well qualified as career guides.
Randy Thomas is the voice of radio and TV stations nationwide, and is the first woman to announce the Academy Awards, Miss America Pageant, Tony Awards, and Screen Actors Guild Awards. She has announced the Oscars seven times and is the first person ever to announce the Oscars, Tonys and Emmys all in the same year. Thomas is currently the voice of CBS TV's distrbution of Entertainment Tonight and The Insider.
Peter Rofé is also a national voice talent - and a sought-after voice acting coach and owner of PDR Voice Over Coaching, on Broadway in New York City's Greenwich Village. As a voice talent, Rofé's credits include countless commercials, promos, narrations and video games. And at his full-service recording studio, Rofé coaches new and veteran talent, and produces voice-over demos. He has also taught voice-over courses at The Barrow Group and New York University's Tisch School of the Arts.