VOICE OVER CONFERENCES
This November Is Hottest Month Ever For
VO Conferences: Here's Your Quick Guide
October 18, 2016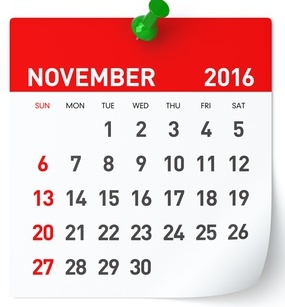 (VOXtra) - We've never seen a month offering so many opportunities to meet, mingle and learn from top voice over professionals and colleagues at major industry events as what's just around the calendar corner in November.

If your budget and time allowed, your career would surely benefit to attend all five. (Well, pick one - or two - at least.)

Ready? Here's a quick guide to your November conference tour of the ...
We start on the East Coast ...

MID-ATLANTIC VO CONFERENCE


November 5-6, Herndon, VA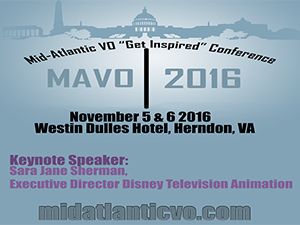 Saturday and Sunday, November 4 and 5, near Washington, DC, the 3rd Annual

Mid-Atlantic Voice Over Conference

returns to Herndon, VA.

Organizer

Val Kelly

describes this popular event as a "Micro Conference" with limited space, but the schedule and learning opportunities are far from micro.

The overall conference themes are "Get Inspired" and "Positivity" – and on Saturday morning, the keynote speaker is

Sara Sherman

, executive director of Disney Television Animation.

General sessions, panels and special breakout sessions are led by top pros including

Nicola Richards

,

Ralph Cooper

,

Sean Pratt

,

Kara Edwards

,

Herb Moore

,

Sunday Muse

,

Jason Linere White

,

Kathleen Gonzales

,

Dan Friedman

, and Edge Studio's

David Goldberg

– who returns this year with a live audition technique and feedback session.

Learn more at MidAtlanticVO.com.

Now hop to the West Coast for three big events on the following weekend ...



VO MASTERY




November 10-11, Studio City, CA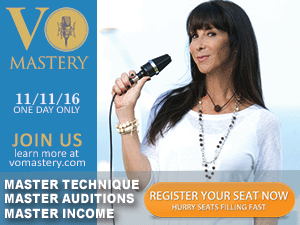 From Thursday evening to the all-day Friday "main event" - November 10 to 11 – in Studio City, CA, you can be at

VO Mastery

led by star voice talent

Randy Thomas

.

The conference leads you to mastery of technique, auditions and income – with a focus on character development, animation and video games. There are numerous sessions on VO genres – including commercials, promos and trailers, documentary narration, live announcing, branding and marketing, casting and more.

And your trainers are a Hollywood cast of name talent led by Randy, including

Scott Carty

,

David Rosenthal

,

Christina Milizia

,

Debi Derryberry

,

Melissa Disney

,

Tara Strong

,

David Kaye

,

James Arnold Taylor

,

EG Daily

,

Joe Cipriano

,

Jess Harnell

,

J. Michael Collins

,

Julie Fink Falls

,

Jim Cummings

, and

Sylvia Villigran

.

An audition contest from major production companies, including casting from a Hollywood app – Velvet Ropes – will lead to voice over jobs. And five scholarships are offered to military veterans.

Learn more at VO Mastery.com.

But keep moving to Saturday when you can join ...

THAT'S VOICEOVER!


November 12, Burbank, CA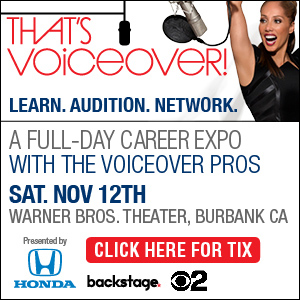 The annual

THAT's VOICEOVER

career conference and expo comes to the Warner Brothers Studios in Burbank, presented by the

Society of Voice Arts and Sciences

– or

SOVAS

– led by

Rudy Gaskins

and

Joan Baker

.

This large and multi-faceted event features

Pat Fraley

leading a session called "Get Animated with Disney's Zootopia and the All-New Moana." Also ...



Joan Baker

hosts a panel on "Million Dollar Voices: The Thriving Voice Actor," featuring

Dave Fennoy

,

Fred Melamed

,

Lori Alan

,

Jess Harnell

,

Sharon Martin

and

Sylvia Villagran

.



Joe Cirpriano

hosts "There's Money In Your Radio," a panel with

Dan Greenberger

,

Melissa Disney

,

Justin Case

and

Howard Cogan

.

The conference's popular

Audition Spotlight

returns – with the opportunity to audition to voice a TV campaign for CBS L.A. channel 2 – plus win an agency contract and more.

Also popular is "Speed Dating with your Demo Reel" hosted by

Stacey J. Aswad

, where you get the chance to meet 22 top producers, casting directors, directors and VO managers.

For more, visit ThatsVoiceover.com.

And stay with us on Sunday for the ...



VOICE ARTS

™

AWARDS




November 13, Burbank, CA





Sunday is all glory and glamor at the 3rd Annual

Voice Arts

™

Awards Gala, which is also presented by

SOVAS

, at the Warner Brothers Studios in Burbank.

These awards are called the "Oscars of Voice Acting" and the affair begins with Red Carpet arrivals, followed by presentations of honors and awards for VO excellence in some 50 categories of voice acting and related creative work.

Presentations will include the first annual

Muhammad Ali Voice of Humanity Honor

, plus the

Voice Arts® Icon Award

to legendary boxing announcer

Michael "Let's Get Ready to Rumble" Buffer

, and the

Backstage Vanguard Award

for Agenting and Business Leadership.

For details, check out SOVAS.org.

Catch your breath during the week, then head back East to the ...



WoVO MINI-CON




November 18 - 19, Nashville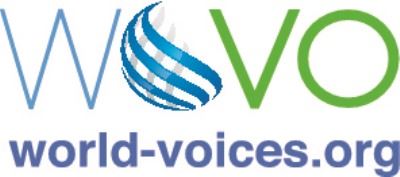 The

World-Voices Organization (WoVO)

- the energetic voice over trade association - hosts a

WoVO Mini-Con

in Nashville on November 18 and 19. Attendance is limited to 50 people – which includes non-members on Saturday.

What happens at a Mini-Con? Learning, sharing and content that WoVO says will be "up to you – what you want to learn and teach."

For more on this, visit world-voices.org.

Whew. Still standing? December holiday parties are just around the corner, too!



Your Daily Resource For Voice-Over Success