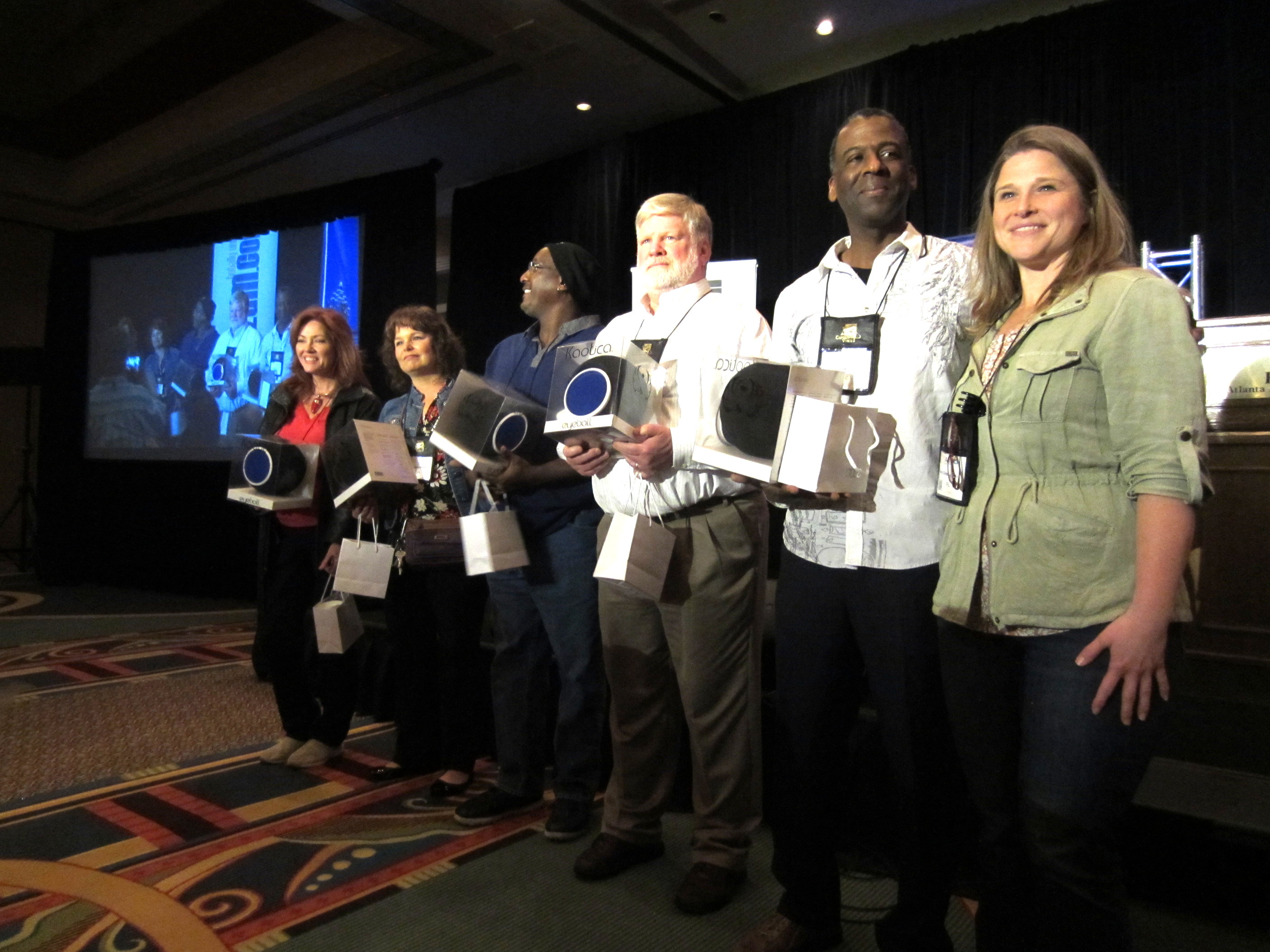 Team 7 wins the mega Team Challenge for creating and voicing a commercial spot at the VO Atlanta 2016 conference this past weekend.
VO ATLANTA 2016
'VO Atlanta 2016' Elevates Voice Actors
- And Itself - In Excellent 4th Conference
March 6, 2016
By John Florian
Story and Photos / VoiceOverXtra
The conference theme this past weekend was "Elevate to Excellence" - in voice over, business and marketing skills - and that indeed was the experience for over 400 in-person attendees of

VO Atlanta 2016

... and likely for hundreds more who joined the event via the Internet in over 10 hours of live streaming of many conference sessions and musical performances.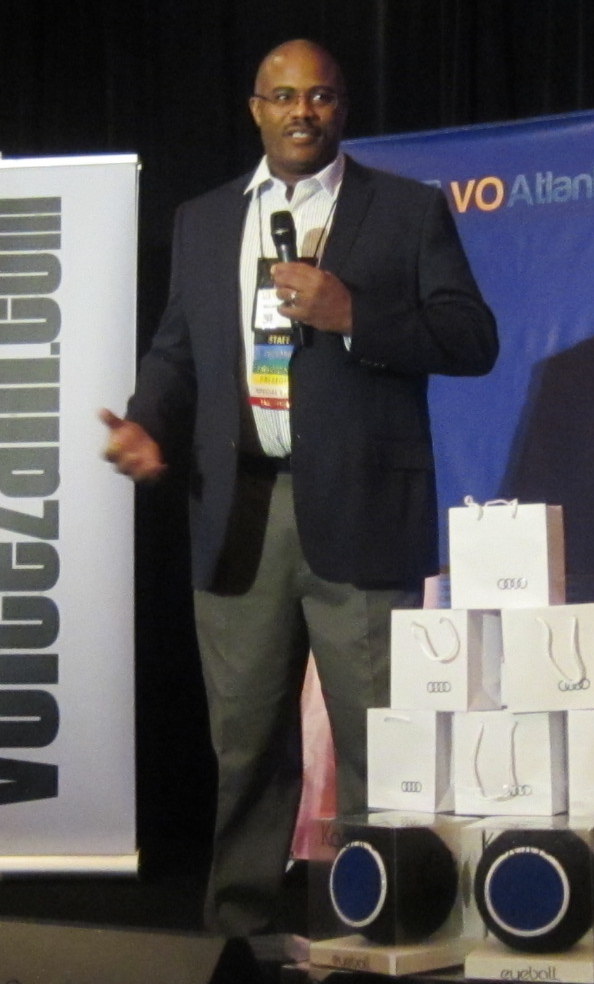 This fourth annual affair presented by

Voiceovercity

and executive producer

Gerald Griffith

(pictured) was itself elevated to premier conference status, becoming the industry's largest annual conference, drawing attendees - and voice over accents - from across North and Latin America, Europe and Japan.

It was, and is, a conference with a heart, beating with a pulse of a community that shares knowledge, friendship and enthusiasm for the success of all. The event hosted a scholarship program in memory of a voice actor no longer with us, and even sponsored an on-site blood drive.

And in a welcome distance from the rancorous tone of today's political campaigns, controversy over certain practices of online casting was addressed as a matter of business, not in personal attacks. "It was not about ranting, but rather about reconciliation - a healing and moving forward," explained

J. Michael Collins

, moderator of two panels on online casting.

NON-STOP ACTIVITIES ...

From Thursday night's opening reception hosted by

VoiceZam

's

Bob Merkel

to

Edge Studio

's Saturday night audition workout with

David Goldberg

and the Sunday morning wrap-up, there was little time for anything at this event but networking, learning and interactive experiences.

Much was recorded and live-streamed by the tireless audio-video team of

'Uncle Roy' Yokelson

,

Kerri Donovan

,

Cam Cornelius

and

Trey Thomas Murphy

.


The Friday and Saturday schedules ran major-theme panel discussions simultaneously with smaller breakout classes and optional X-session training in voice acting and business skills.
Friday morning's keynote address by top Hollywood VO

Bill Ratner

included this tip: preparation for auditions involves studying demos on

Voicebank.net

and other sources to learn and copy the rhythm and characteristics the client is seeking in that job. He added that demos should begin with "your very best."
In addition to Bill Ratner, Hollywood's VO talent drain to the Atlanta conference included VO stars

Joe Cipriano

,

Rodney Saulsberry

,

Beau Stephenson

,

Everett Oliver

,

Marc Graue

,

Scott Brick

and

David Kaye

.
Two panels diplomatically moderated by

J. Michael Collins

addressed opportunities and experiences with voice over online casting and the controversial business move by

Voices.com

to insert personal managers between voice talents and clients. Concerns were over transparency of the middle-man cost (apparently 50% or more of the voice over fee) and ownership of the voice over by Voices.com, which could put voice actors at risk later when voicing a competitor's spot and the original spot runs again. Also represented in discussions were

Realtime Casting

,

Bodalgo

and

Voice123

.
A Team Challenge led by

'Uncle Roy Yokelson

and

Cliff Zellman

(pictured) fielded 156 entries and 10 teams of voice actors who competed in writing and voicing a script for a local auto dealer (see top photo). The auto dealer chose Team 7 as the ultimate winner:

Krista Anderson

,

Vivienne Brown

,

Stacey Glembosk

i,

Leon Nixon

,

Steve Porter

and

Garrick Young

.
A two-day Spanish VO program led by

Simone Fojgiel

and other Spanish language VO pros drew more than 40 attendees from many countries - a doubling of that attendance from the previous years.
Youth Day conducted by

David Rosenthal

and

Christina Milizia

brought youngsters to the mic for training and communications skills they'll use in life - and to be sure, many are already working professional voice actors.
Tireless

Anne Ganguzza

was both Conference Host - interviewing more than 40 presenters, VIPs and attendees - and the Lead Panel Moderator, leading three panels, plus appearing on a panel discussing online casting. Much of this was recorded and also streamed live to remote attendees.
Attendees auditioned for agents and casting directors.
Early risers jumped and sweated in morning Zumba sessions.
Captivating music was presented nightly by VO/coach

Joe Loesch

(pictured) and his rockin' Road Crew band; VO talent/coach

Rodney Saulsberry

in a rousing performance; and VO/jazz vocalist

Nazia Chaudhry

.
The VO Atlanta 2016 Scholarship Program, created, organized and conducted by

Anne Ganguzza

's

VO Peeps

organization, awarded two scholarships to the conference - including travel allowance and accommodations. The National Scholarship - the Carol Joy Memorial Scholarship - was awarded to

David Toback

. And

Sean Daeley

traveled from Japan as the International Scholarship winner.
An exhibit area featured voice over services and gear (and congratulations to VO

Margo Trueblood

, winner of

VoiceOverXtra

's drawing for either a Voice Actor Hat or future webinar - she already has a hat so chose the webinar).
Dozens of VOs lined up on Saturday night for the opportunity to join Edge Studio's

David Goldberg

onstage in an audition workout - and congratulations to any who made it beyond four words before hearing "Stop." Afterwards, Goldberg said the main challenge for voice actors is to think about a script from the client's perspective.
SUNDAY WRAP AND THANKS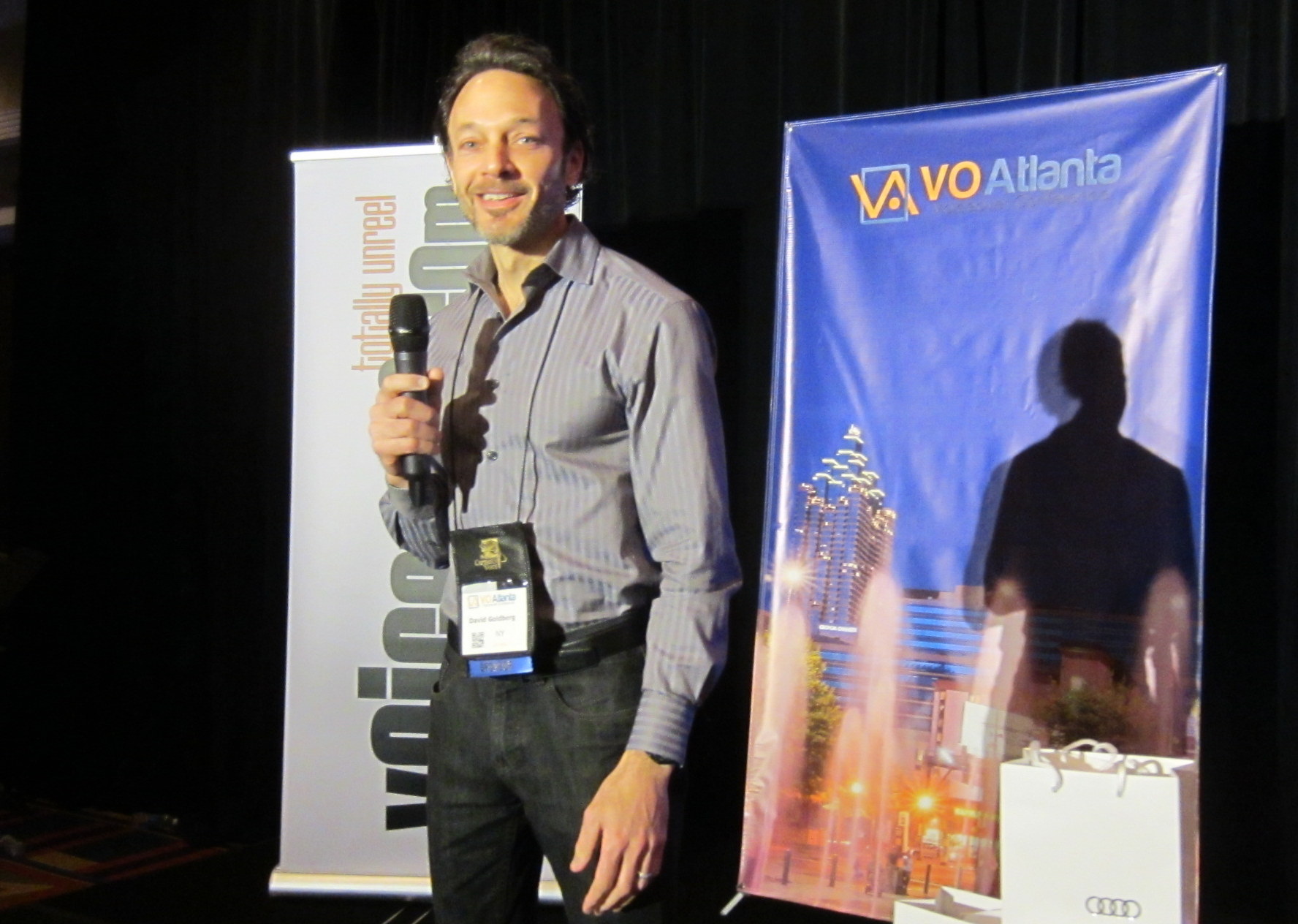 In Sunday morning's wrap session,

Goldberg

(pictured) challenged voice actors to remain relevant in the ever-evolving voice over industry.

"One way to stay on top of this evolving industry is to understand and predict trends." he said. "It's easy to become complacent. Maybe because you're not busy, and therefore lose focus, drive, and determination. Or maybe because you are busy, and end up working

in

your business but never

on

your business."

Emceeing the last event of the conference, executive producer

Gerald Griffith

also challenged attendees: to "Take the next step.

"This weekend we got a whole bunch of seeds. Now it's up to you to build on connections you made and grow," he said.

Griffith added he was "blessed with a great conference team. I opened the curtain and they shined."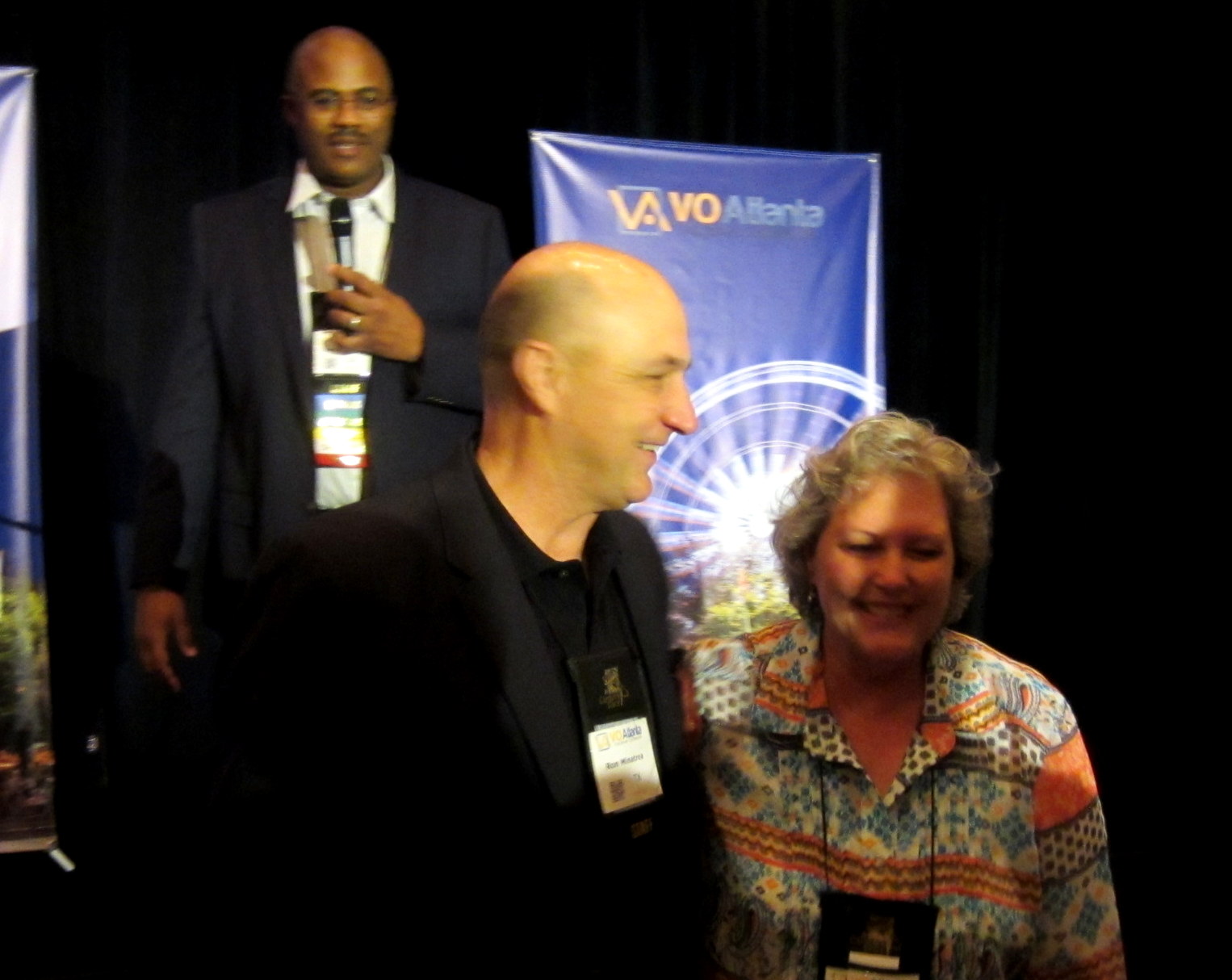 He thanked all staff members and volunteers, and especially singled out assistant producer

Ron Minatrea

and his wife

Susan

(both pictured), who led the team of "ambassador" volunteers.

"I could not have done this conference without their support," Griffith said of the Minatreas.

Susan Minatrea added: "We have found a family here. People who care about each other."

And a standing ovation was given to the ever cool, calm Griffith who founded and has nurtured this growing annual VO family gathering.
---------------------


ABOUT JOHN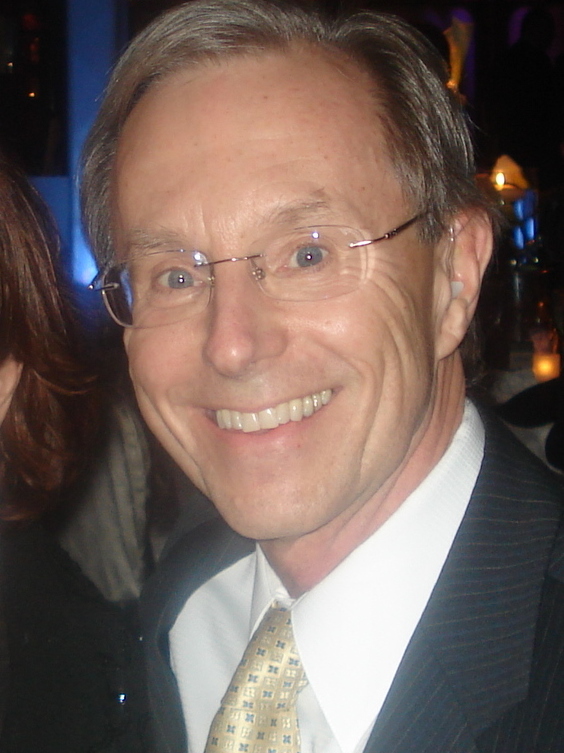 John Florian is a voice actor and publisher of

VoiceOverXtra

, the voice over industry's online news, training and resource center. A former print publishing executive and magazine editorial director, he founded VoiceOverXtra in 2007, which today offers the voice over community industry news, how-to features, online and workshop training, the

Voice Over Legal

guide, and an ever-growing online resource center of articles and links. In 2013, he produced

Voice Over Virtual

, a major online industry conference.

Web: www.VoiceOverXtra.com
Email: johnflorian@VoiceOverXtra.com

Your Daily Resource For Voice-Over Success