The Dry, Flat Read: 'So Shocking
That Everyone Will Sit Up & Notice'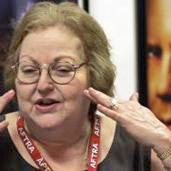 The so-called "natural, real-person read" has been around for more than a decade, and is still going strong.
Of course, there are as many types of "real person" voice-over attitudes as there are "real people" in the world.
But a particular type – the dry, flat, slow read – is gaining in popularity. It's a total monotone. With no inflection. One steady pitch.
National voice talent and coach Bettye Zoller explains the intent of this style is to sound as if "I'm just talking about this subject that has no great interest to me."
That's an about-face from inclinations to punch words with emotion.
But Zoller notes: "As a director once told me, 'Go in the opposite direction and it will be so shocking that everyone will sit up and notice, and you'll stand out from the crowd."
In this podcast, Zoller gives examples of the dry, flat read, along with pointers on achieving it.
"It feels unnatural to do this," she says, "especially for people who are trained in acting."
AWARD-WINNER
The owner of VoicesVoices - a voice-over educational services firm and recording studio based in Dallas - Zoller is a voice-over and speech coach, acting coach, and university educator who also presents voice-over and studio singer workshops nationwide. With over 30 years of experience, she is the recipient of Clio, ADDY, Golden Radio and Audie awards.
She is also currently the Feagin Guest Artist Professor in the Theatre Division at Tulsa University.

Web: www.voicesvoices.com

Contact: btzol@aol.com; 214-638-TALK (8255)
Listen to Podcast
Back to Podcasts