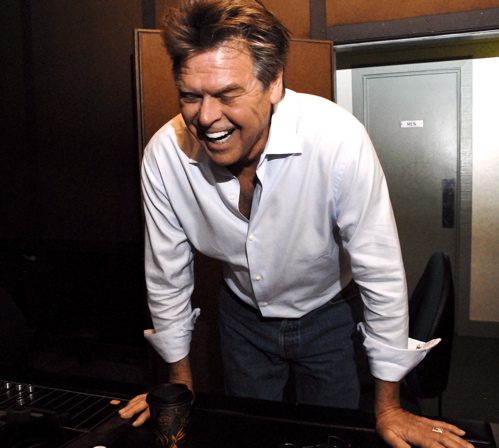 Voice-over animation star Pat Fraley at work ... um, at play.
Pat Fraley Gets Jobs By Having
Fun At The Mic - Voicing For Free!
Voice-over star and master trainer Pat Fraley lets us in on a promotional device he's used for years - something he says "works everywhere, in every market." He clowns around at the mic, creating "aural delights of mayhem for free."
What? You can't be serious ...
Well, maybe Pat can't be serious when he's in the mood to create characters and scenarios that make us laugh. Hey - whadaya want from one of the animation world's top voice-over performers, and the creator of more than 4,000 character voices?
But Pat will send these whimsical recordings to producers, agents and ad agencies - and get work from them.
In this entertaining podcast, he explains how his system works - including examples like the fake commercial that got him in trouble with a union - but landed a job, nonetheless.
It's all part of public relations - establishing and maintaining a relationship, and promotions - demonstrating your skills, he explains.
Listen to Podcast
Back to Podcasts