VOX Talk
Thursdays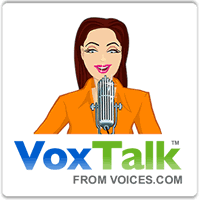 Every Thursday, click your way here for the latest edition of VOX Talk, the weekly voice-over industry podcast from Voices.com.
Hosted by Stephanie Ciccarelli, vice president of marketing for Voices.com, the podcast features news, interviews with voice actors, and technical tips and tutorials.
Also popular is the Tech Talk segment hosted by voice actor Adam Fox, where he and others share … you guessed it – valuable tips for recording from your home studio.
Voices.com is the voice-over industry's online marketplace for voice-over jobs, bringing voice seekers and voice actors together online for job auditions and hiring. A comprehensive suite of web-based services speeds these transactions.
Listen to Podcast
Back to Podcasts