Vocal Health #4: Watch the Way
You Speak - And Do No Harm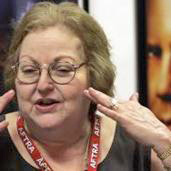 Are you unknowingly harming your vocal folds in normal conversation? The way you speak - not only behind the mic, but everywhere and in any situation - certainly affects your vocal health.
There are many ways in which we abuse our voice, warns voice talent and coach Bettye Zoller.
In Part 4 of her VoiceOverXtra podcast series on vocal health, Zoller reviews dozens of potentially harmful practices. Indeed, continued "vocal hyperfunction" can adversely affect your vocal folds, and thus, your voice-over career. One result could be the formation of nodes, which must be removed.
As in earlier podcasts in this series, Zoller offers solutions. So take notes. And take heed!
You'll also want to review earlier parts in this series:
ABOUT BETTYE



The owner of VoicesVoices, Zoller is a voice-over and speech coach, acting coach, and university educator who also presents voice-over and studio singer workshops nationwide. She backs this with 30 years of experience, and is the recipient of Clio, ADDY, Golden Radio and Audie awards. She is currently the Feagin Guest Artist Professor in the Theatre Division at Tulsa University.

Home base is Dallas, where she owns and is an audio engineer/producer in her recording studio.

She is also introducing two new audiobooks this summer:

The Voice of Experience: Techniques of Voiceovers and Studio Singing for Students and Their Coaches, and Vocal Health for Speakers, Voiceover Performers and Singers.
Listen to Podcast
Back to Podcasts