Dallas Voice Acting Meetup Group
Learns As It Voices Radio Classic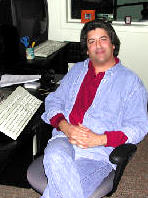 The author is organizer the Dallas Voice Acting Meetup Group, which during the holiday season produced a Christmas classic radio show, and donated more than $500 in proceeds to North Texas Radio for the Blind. It became a great training project, and here's how they did it, stage-by-stage.
By Cliff Zellman
Voice Over Director & Producer
Stage I: The Idea
After one of our Dallas Voice Acting meetups in late October, one of our members suggested having a holiday party and maybe doing a circle-read or two.
Liking that idea, we purchased the rights to an adaptation of Dickens' A Christmas Carol, written specifically for old-time radio production.
This particular adaptation - along with the optional SFX and score package - was perfect for us.
But the idea didn't stop there.
As long as we're doing a table-read, we thought, why not throw in a few mics and record the room for fun?
And after seeing the script and envisioning the possibilities as a wonderful learning experience for our group, I thought: "Let's actually produce it!"
Stage II: Logistics
However, there were some limitations. The venue, for one.
This script called for a 21-character cast with walla and group dialogue.
Our usual meet-up site very comfortably seats eight, ideal for small group interaction, and my studio has one small booth.
I needed to secure a comfortable, reasonably-priced venue that could accommodate all the players and still maintain some sonic integrity.
WHERE TO RECORD
As it happened, a few days later I was discussing the project with one of our other members who reads regularly at Reading & Radio Resource of Dallas, a division of North Texas Radio for the Blind.
He offered to ask their programming director if they would air our production.
I then suggested we do the recording there. They agreed, and my idea of a donation was born.
WHERE TO REHEARSE
But for the table-read / rehearsal, we needed another venue where the entire cast could sit together and read.
Knowing that room noise wouldn't be a big problem for rehearsal since we weren't recording, I scouted a local community center and they generously donated one of their large rooms for a few hours on a weeknight.
I was careful to select an evening that would give our players a day of rest between the table-read and the recording session.
After a few hours of prep time, I posted the audition notice to our group's site, including character back-stories with copy, instructions for auditioning, and a solid deadline for submission.
Auditioning was Lesson 1, as some of our members had never submitted an audition before.
Submissions came in right away and held a steady flow for about two weeks.
At the deadline we had almost 60 submissions - many of those auditioning for multiple parts. And almost all submitted files were correctly slated and labeled.
NOW TO CHOOSE ...
Once the audition deadline passed, I sat at a restaurant with my creative assistant.
We had a laptop, two sets of headphones, a stack of papers, and two really nice pens.
Five hours and two large mexi-grande platters later, we had a cast.
I
posted the cast list, made the full script available to them for download, and asked everyone in the cast to RSVP for rehearsal.
Stage IV: Pre-Production
A Thursday evening. We set up the room at the Heights Recreational Center in Richardson, TX, with several large folding tables arranged together and plenty of chairs.
Punctuality was Lesson 2.
The entire cast arrived well before our 6:30 p.m. downbeat.
Everyone had printed out their own script and brought notepads, pencils, and highlighting pens. And that was
Lesson 3: Be Prepared.
FIRST READ
To start things off, we did one full read with direction, suggestions, and cast input.
Then, a short break for snacks, mingling, and restroom breaks.
Next, we did a complete, uninterrupted table-read incorporating the suggestions and direction from the first pass.
It was a rousing success, each actor in perfect sync with each other, their characters, and the script. It was a magic moment.
That was Lesson 4: Group cooperation and support.
Stage V: Recording Session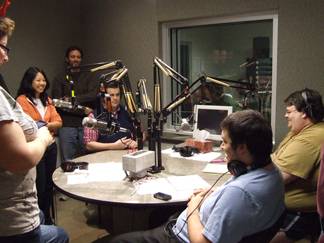 Saturday afternoon.
Two days after pre-production, we all met at Reading & Radio Resource of Dallas.
Downbeat at 2:00 p.m. The entire cast arrived before 1:30. Bravo!
I gave a 10-minute pep talk, explained the procedure, and walked my production coordinator through the scene recording sequence.
SCENE BY SCENE
This particular studio setup gave us the ability to record only five mics at once, so rather than doing the script in sequential order - with the entire cast of 21 voices - we broke it down into scenes.
This way, we could call in just the actors needed for that scene while staging everyone else in the green room.
Our coordinator handled the masses like a seasoned pro. I was in the control room and she was in the green room, communicating through text messaging on our phones.
Five hours of well-organized insanity and the recording was a wrap.
Stage VI: Post Production
Mixing started Monday evening and each evening after that until Saturday.
Cast members had the opportunity to come and watch, as well as offer creative input during the editing and mixing process.
A few were called in for drop-ins.
We used ProTools HD 192 with an Avalon VT 727 SP channel strip when necessary. Lesson 5: Post Production experience. Check. The final mix was distributed to members.
COLLECT DONATIONS
Each cast member's meet-up fee was collected for one purpose only, and that was to "give back".
On December 17th, I hand-delivered a donation of over $500 to North Texas Radio for the Blind.
Final lesson: Apart from the incredible journey of each participant, we all came together in glorious fashion for a wonderful cause.
FANTASTIC CAST
A HUGE thanks to a fantastic cast and staff (see below) and to Heights Recreation Center and everyone at Reading & Radio Resource of Dallas for making this event just one more reason to celebrate the season!
Now, what shall we do for Spring?
Click here to listen to The DVA's presentation of Dickens' A Christmas Carol.
The Cast and Staff
Dan Brantley Intro ANNOUNCER
Brad Venable NARRATOR
Gene Vann EBENEZER SCROOGE
David Garvin MARLEY'S GHOST
Scrooge's partner
Cameron Hall SECOND SPIRIT Old/Young spirit
Greg Vestal FIRST SPIRIT Jovial spirit
Casey G. Smith NEPHEW FRED Scrooge's kind nephew
Justin Barret BOB CRATCHIT Scrooge's meek clerk
Melissa Vestal MRS. CRATCHIT Bob's kind/feisty wife
Mary Morgan BELLE Scrooge's fiancée
Maureen Boutilier KATE Nephew Fred's wife
Jonathan Cook MR. POOLE First charity seeker
Michael Tormos MR. FEZZIWIG Scrooge's old master
Lisa Pimentel FAN SCROOGE Scrooge's sister
Stephanie Bell BELINDA Bob's 9 year-old daughter
Morgan Boutilier TINY TIM Bob's crippled young son
Jim Schrecengost BUCK Street Urchin
Elaine Trahan MARTHA Bob's 15 year-old daughter
Elaine Trahan BOY CAROLER Poor Street caroler
Chris Garvin MR. LAMB Second charity seeker
Chris Garvin PETER CRATCHIT Bob's 12 year-old son
Howard Bohlin Outro ANNOUNCER
Kevin Thomas Closing Credits & Special Thanks
Susan Bernard Lead Stand-in Female - Backing Voices - Walla
Darren Mc Donald Lead Stand-in Male - Backing Voices - Walla
Susan Bernard Production Coordinator
Stan Schrop Studio Continuity Manager
Produced and Directed by Cliff Zellman for the Dallas Voice Acting Meet Up Group, Dallas, Texas.
Dialog recorded by Steve Cumming at Reading and Radio Resource of Dallas.
Additional voice recordings edited and mixed by Cliff Zellman.
The DVA gives special thanks to The Heights Recreational Center of Richardson, TX; Steve Cumming of Reading & Radio Resource of Dallas; Anthony E. Palermo for a wonder adaptation; Greg and Melissa Vestal; Cameron Hall; Gene Vann; Brad Veneble; Jim Schrecengost; Susan Bernard; Steve Scott of RR&R; Meet up.com; RadioVision Dallas and the entire cast of this production.
All proceeds received from DVA members for this production were donated to North Texas Radio for the Blind. Visit their site at: www.readingresource.org.
ABOUT CLIFF ...
Cliff Zellman is a director and producer with over 30 years in the industry, and is also the founder and organizer of the Dallas Voice Acting Meet Up Group. For more information on DVA, please visit
www.meetup.com/voiceover
.

Your Daily Resource For Voice-Over Success