---
How To Ace the Audition # 6
Exclusive interviews with voice-over pros for
VoiceOverXtra.com
subscribers
Opportunity, You Get Luck'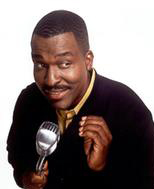 Rodney Saulsberry
Voice talent, Coach, Actor & Author
The voice you've heard countless times in national TV and radio promos, movie trailers, commercials, cartoons and more, has some words specifically for you - about winning auditions:
"What producers are really looking for is confidence," says Rodney Saulsberry, the versatile voice talent, coach, actor and author.
"We all let fear set in every once in a while. But we should stay confident because we know we're prepared for the situation. We know we're prepared for the opportunity."
And therein lies Saulsberry's formula for "luck":
"Luck happens," he explains. But not without effort. "When preparation meets opportunity, you get luck."
AUDITION LUCK
Saulsberry gets lots of work from people who say, "Get me Rodney."
Besides network promos and movie trailers, he's "the voice" of numerous products, including Twix Candy Bars, Toyota Camry - and the animated Zatarain Jazzman, in those long-running TV spots for Zatarain's New Orleans-style cuisine.
"But I still audition," he says. "No doubt about it."
And he finds the key to audition luck is preparation.
"It's not how you sound, but how you interpret the copy that makes the big difference between who works and who doesn't work," says Saulsberry.
Interpretation skills improve with experience. So if you're not working a lot, practice a lot.
"You should always be reading and interpreting scripts, so that when the real deal comes you have the skills. Then the industry will develop a trust in you. They know they can just send you a script and say, 'Send me back a quality dry read.'"
LIKE A SONG
How about a real-deal audition? Whether the audition is in-studio or online, Saulsberry likens your task to preparing to sing. "A voice-over script is analogous to a song," he believes.
For instance, Saulsberry might ask himself, "What kind of melody will I put on this trailer, based on what the producer wants?
"First, look at the script. Determine the interpretation and where the inflections will be. If you can go somewhere to read it aloud, that's great. If not, go over it in your mind. Make notations on the copy."
But also ask questions before reading the script, if you have any.
"I'll ask the director, 'What are you looking for?' Sometimes they'll say, 'Just do what you feel first, and we'll talk after that.'
"If you're prepared with your interpretation, you can do it. And if they like what you did, they'll go back and have you enhance it - or tell you what else they want.
"It's important to be able to switch gears" when the audition director requests another interpretation, Saulsberry adds. "They like people who can take direction and then deliver what is requested."
PROMO PRESSURE
But if auditions give you chills, consider the challenge of the promo voice actor.
"Network promos are tough," Saulsberry notes. "Whether you get invited to the studio or they call you and do it by ISDN, you're on a clock and things go quickly.
"All the times are set - sometimes indicated on your script.
"You'd really better be on your game," says Saulsberry. "Because when you put the headphones on, you watch the countdown on the screen or you listen to the pre-beeps in your headphones and you just have to fly. There's not much rehearsal time. It's intense, and they expect you to get it right."
BANK ON IT
As a coach, Saulsberry offers voice-over workshops nationwide, and also a unique Television Promo and Movie Trailer teleclass.
Plus, he has penned two books for voice actors:
"This is the greatest business in the world," he says. "It really is – to get paid to talk, to do what you love. You'll succeed if you have talent and you're passionate about it."
And Saulsberry praises people in the industry for their willingness to help others. "People are still helping me," he says. "When we serve, great things come back to you. You don't do it for that reason, but that's the way it goes. So keep on serving."
To contact Rodney Saulsberry:

Your online resource for voice-over success