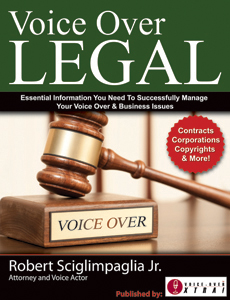 New eBook

Available Soon
by Robert Sciglimpaglia
Voice Actor / Actor / Attorney
© 2012 Robert Sciglimpaglia Jr
More than 100 pages
of powerful
knowledge YOU NEED to manage your voice over business and legal issues.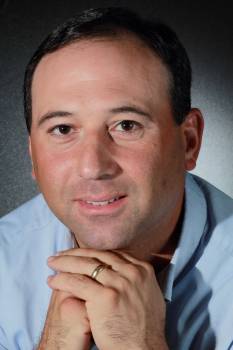 Learn to

structure your business

...

write contracts

(including sample) ... work with

agents

... understand

taxes

,

business

insurance

,

unions

,

copyrights

, restrictive

contract clauses

... avoid costly

legal hassles

... and much more
.

See

Early Praise

.
Published by

Your Daily Online Resource For Voice Over Success
Format choices:
PDF (download to your computer)

eReader (read on Kindle, iPad ...)



You Need to Learn About ...
Business Structure / Organization – Why & How To Incorporate

Clients & Contracts – Including Sample Contract

Avoiding Costly Mistakes

Copyrights, Trademarks, Work for Hire

Agents & Contracts

Unions & Financial Core (Fi-Core)

Business Insurance

Taxes – Recordkeeping & Legal Deductions

Glossary of Legal Terms

Questions & Answers

& More
And You Will Understand More ...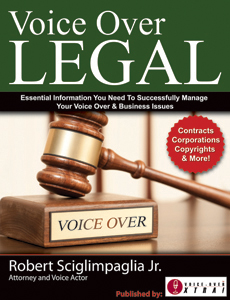 Here
'

s a deeper look at what you'll learn in the more than 100 pages of

Voice Over LEGAL

... invaluable advice to cope with current problems and to have on hand as reference material:



Understand Business Law

… Plan to succeed … Will the IRS think you're a legitimate business – or just a hobby?



Structure / Organize Your Business Legally and Properly

… Save time, money and avoid legal hassles by learning your options … Why and how to incorporate … Tax considerations



Deal with Clients

… Learn to create and negotiate win-win contracts (simple or large) … What MUST be included in contracts to protect yourself (Don't shy from this!)



Avoid Costly Mistakes

… How to avoid libel and slander … Ways to stay out of hot water with celebrity impersonations and product endorsements



Intellectual Property Issues

… Can you use copyrighted music in your demo? Work for Hire vs. Copyrighted works … Trademarks and service marks



Agents & Managers

…. What's the difference? How to make the most of your partnership … Agency and Manager contracts – what to include … Advice from professional agents



Unions

…. AFTRA & SAG … When and how to take non-union jobs … Financial Core (Fi-Core) … Agents comment on unions



Business Insurance

… For your home studio … For your employees … For your away-from-home studio … For other risks



Tax Tips & Consideration

s … Proper recordkeeping … Can you deduct education and travel costs? … What about home studio and other equipment costs?



Glossary of Legal Terms

… Understand what "they" are talking about!
How Can You Succeed Without This Info?
Available Soon to Download to Your Computer or eReader





Questions Now?


Please contact:
info@VoiceOverXtra.com
203-459-8834
Need Hard Copy Answers Quick?
In the pdf format, your instant download copy of

Voice Over LEGAL
gives you the immediate ability to print answers to your immediate questions ... including a sample contract!

Early Praise for

Voice Over LEGAL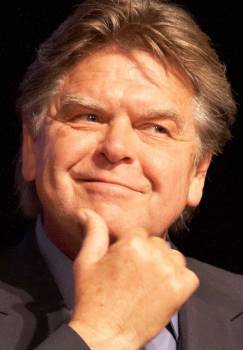 Essential … First and Only Book
Pat Fraley
Voice Talent and Trainer
"Rob Sciglimpagila's book is valuable in any number of ways, but two stand out for me. First, you can thumb through it quickly and note areas to look over immediately or return to later. It's well organized. I love the Question and Answer sections, which are loaded with useful general information.…Second, I believe this is the first and only book specific to the strange and wonderful world of voice over legal and business matters. That in itself makes it essential."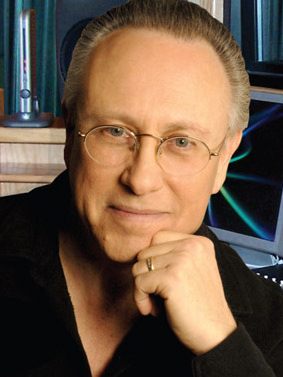 Invaluable Help
Marc Cashman
Voice Talent and Coach
"Robert concentrates on one of the most incomprehensible and misunderstood aspects of voice over, and makes it clear and easy to understand….This book is an invaluable way to help you negotiate virtually any legal questions that pop up."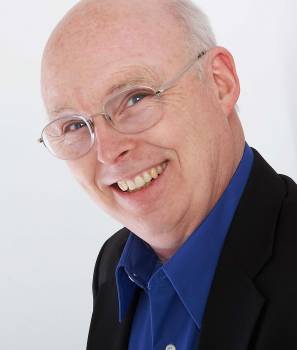 Qualified Expert on Legal Minutia
James R. Alburger
Producer and Coach
"Robert Sciglimpaglia is one of those rare performers who has an in-depth, working knowledge of the legal side of the acting world … truly a qualified expert on the legal minutia that can get in the way of a successful voice over or performing career….Listen to what Rob has to say."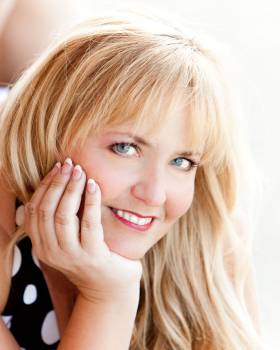 Perfect Go-to-Guy
Julie Williams
Voice Talent and Coach
"Nowhere in this entire industry have I seen someone with so many diverse talents. Rob is a competent attorney, experienced voice over talent, and respectable on-camera actor as well. The perfect go-to guy for any legal or business-related questions you may have about the entertainment industry."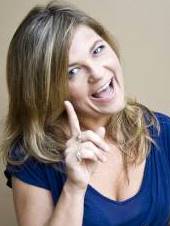 You Relate To This
Deb Munro
Voice Talent and Coach
"I'm sure you'll enjoy this eBook because it was created by someone who is just like you and me – a person everyone can relate to, an everyday guy, taking on a not-so-everyday industry, in an everyday kind of way – legally! It is without hesitation that I recommend this eBook."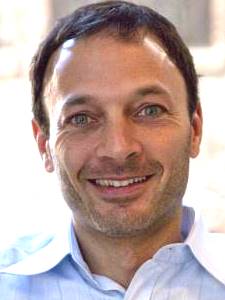 Rob Is Our Man
David Goldberg
Producer and Trainer
"We're voice over experts, not legal advisors. So we rely on Robert. Robert has helped our contracts provide safer working relationships with our clients, while ensuring our safety….Legalise is not for us. Voice over is. Rob is our man."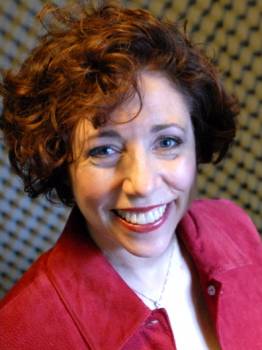 Never Worry Again
Susan Berkley
Voice Actor & Coach
"Rob is a unique combination of successful attorney and actor, both on camera and off. In this groundbreaking eBook you'll get definitive answers to everything pertaining to your voice over business from a legal professional who knows our business inside and out. As you grow your voice over business with Rob's advice you'll never have to worry again about what's "kosher" and what's not."
Voice Over LEGAL
Available Soon to Download to Your Computer or eReader
Questions Now?


Please contact:
info@VoiceOverXtra.com
203-218-8981